Got four questions for you this week, and they all relate to prospects. Well, minor leaguers. Let's put it that way. Please use the Submit A Tip box in the sidebar to send us anything at anytime, including mailbag questions.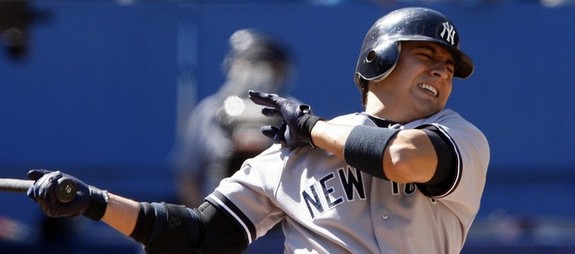 Nick asks: Ramiro Pena. DFA or not DFA?
Yes, Ramiro Pena was designated for assignment last week. However, he remains on the 40-man roster. It's weird, but this situation comes up once or twice a year around the league. Because he had made his Major League debut more than three calendar years ago, Pena had to clear optional waivers to go to the minors. Those are revocable, so players always clear.
Pena was designated to be sent to the minors, not necessarily to be removed from the 40-man or kicked out of the organization. It's weird, but it happens. The Athletics designated Jerry Blevins for assignment in this exact situation multiple times last year, prompting The Todd Van Poppel Rookie Card Retirement Plan to contact the team about what exactly was going on. Check out this post for more info on the procedure. The Yankees will have to do the same thing if they recall Pena and try to send him back down again later this season, and it's completely harmless.
Andrew asks: Any chance we see Slade Heathcott start to climb the organizational ladder again anytime soon? I know he's had a tough time staying healthy, but his bat seems to be fine since his return and he's even back out in the field.
I think he'll stay with High-A Tampa through the end of the season, which at this point is about three weeks away. He's only played the field a handful of times since coming back from the second shoulder surgery, and even counting last season he still has fewer than 175 plate appearances at the level. Slade is hitting extremely well this season with surprising power and a lower than usual strikeout rate, but he pretty much just got there. I'm hoping he continues to perform this way through the end of the season and the Yankees bump him up to Double-A Trenton to start next season. In a perfect world both Heathcott and Mason Williams will be playing center field on an everyday basis in 2013.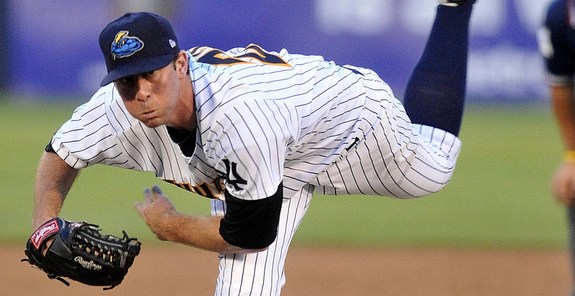 Steve asks: Could Jeremy Bleich sneak his way on to the roster this off-season, especially if he keeps up his solid return as a reliever? He's Rule 5 Draft eligible, he throws with his left hand, and besides Boone Logan and Clay Rapada, the only other upper-level lefties are Justin Thomas, Juan Cedeno, and Mike O'Connor, none of which are of value. I could totally see an NL team plucking him and getting good use of him.
Nah, I don't see it happening. Bleich is coming off the shoulder surgery and is going to finish the season with about 50 innings to his credit, likely none above Double-A. I haven't heard anything about how his stuff looks post-surgery but it wasn't anything special when he was healthy anyway. Thomas and O'Connor (and Pedro Feliciano) are goners after the season but I think the Yankees are going to add Cedeno to the 40-man to keep him from becoming a minor league free agent. That means they'll have him, Logan, and Rapada as lefty specialists going into next year, plus other guys like Josh Romanski and (particularly Francisco Rondon coming up behind them.
I'm not quite sold on Bleich's ability to stick on a 25-man roster next season — unless he's come back with mind-blowing stuff, which we surely would have heard about by now — so I would leave him unprotected. If some team takes him and he sticks, so be it. Losing a left-handed reliever isn't the end of the world, especially one that probably isn't worth a 40-man roster spot on a contending team just yet.
Howie asks: It's almost September call-up time. I figure we'll see a bunch of 40-man guys called up (Ryota Igarashi, Thomas, Adam Warren, Brandon Laird, Eduardo Nunez and Francisco Cervelli seem like no-brainers), but would you expect to see a David Adams or Corban Joseph? What about Dellin Betances after his struggles? Any non-40 man roster guys? Chris Dickerson seems like he deserves it. Would a pitcher like Cedeno or Chase Whitley get the call to soak up innings?
The standings atop the Triple-A International League North Division are very tight at the moment, so Empire State is right in the thick of the playoff hunt. Assuming they stay in the race and qualify for the postseason, we'll only see the bare minimum call-ups on September 1st. That means a third catcher (Cervelli or Austin Romine? I'd go Frankie so Romine can get regular at-bats in Triple-A), another infielder (Nunez seems obvious, though there's always Ramiro), and at least two more bullpen arms. Igarashi and Thomas seem likely since they're already on the 40-man, though Warren is probably better off getting the innings as a starter in the Triple-A playoffs.
Once the Triple-A playoff drive is over, almost everyone will come up. Laird, Warren, Romine/Cervelli, maybe CoJo and Melky Mesa, all those folks. I would be very surprised if they called up Adams even though he's on the 40-man and they have him working out at third. He seems like a candidate to join the team for workouts but not be activated to the roster. I said before that I think they'll add Cedeno to the 40-man, but that probably won't happen until after the season. The 40-man roster is clogged up enough as it is at the moment. Dickerson's probably the only other non-40-man guy worth a call-up, plus he might actually be useful next season. There aren't any Rule 5 eligible guys worth calling up early either, the pitchers like Brett Marshall, Nik Turley, and Mike O'Brien aren't the types of kids you call up in September. They can come hang out with the team and watch from the stands instead.