It's easy to make too much of one game in baseball, especially when you're talking about a game like yesterday's. The Yankees clobbered the Orioles to wrap up an important ten-game stretch in which they went just 4-6, but winning that final game in blowout fashion heading into the off-day sure has a way of making everyone feel like things are going to be okay. The club isn't out of the woods yet though, far from it.
With 22 games left to play, the Yankees still have a number of issues to sort through. The middle relief remains shaky, Mark Teixeira's calf is going to keep him out for at least another few games, a number of other key lineup cogs are slumping, CC Sabathia still isn't pitching as expected, and both the Orioles and Rays remain hot on the Bombers' tail. Yesterday's win was both stress-relieving and encouraging, with signs that maybe a few of those issues are starting to sort themselves out.
Curtis Granderson
Granderson's extended slump has been well-documented around this parts. He took a 4-for-34 skid into yesterday's game and was hitting .207/.297/.410 with a 31.7% strikeout rate in his last 300 plate appearances. That's basically half a season worth of below-average production from the club's second-best hitter a year ago. Curtis simply wasn't doing enough, which is why Joe Girardi did not start him either Saturday or Sunday against the Orioles.
"It's just a matter of continuing to swing the bat," he said to reporters yesterday. "I feel like I'm getting balls to hit and putting good swings on them, but I wasn't able to do much with them for whatever reason. It's just baseball being baseball."
Granderson came off the bench yesterday and did something he was unable to do the day before: he produced. Three hits in three at-bats, including a solo homer to center and a two-run double to right. The two-run bloop to shallow left off a left-hander was his softest hit of the day but arguably his most impactful. It was just his third three-hit game of the season and they felt like his first three hits in about two months. If he's able to build off this and strong contributing more to the offense, it'll be a huge during the final weeks of the schedule. Curtis can do a lot of damage when right.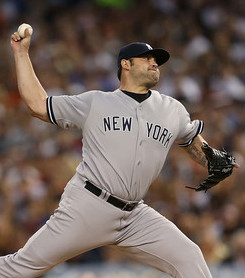 Joba Chamberlain
The Yankees have been looking for a reliable non-matchup middle reliever to couple with David Robertson and Rafael Soriano for about three months now, and there was a lot of hope that Joba would be that guy once he came off the DL. He was anything but reliable at first, allowing seven runs on 20 baserunners in 6.2 innings during his first seven appearances. The stuff was there, the mid-to-high-90s fastball and wipeout slider, but he was making way too many location mistakes. That's not uncommon for guys coming off Tommy John surgery.
Very quietly though, Joba has been rounded back into form. Yesterday's six-batter, five-out, four-strikeout appearance put an exclamation point on a road trip that featured 4.1 strong innings. He allowed one hit during the trip, a solo homer to Mark Reynolds on Thursday. Reynolds has been clobbering Yankees' pitching all year, so it's not like Chamberlain's alone here. Other than that, he walked one, punched out eight, and generated 14 swings and misses out of 76 total pitches (18.4%). This doesn't mean he'll turn into another dominant late-inning arm or anything, but Joba has shown signs of shaking off the rust — he told reporters yesterday that he made a slight mechanical adjustment as well — and has started to assume more responsibility in a bullpen that needs as much help as it can get.
Cory Wade
This one kinda goes hand-in-hand in with the last guy. Wade was dynamite in April and May before completely collapsing in June, to the point where you had to wonder if he was even salvageable. He was that bad. Wade spent a little more than two months in Triple-A and pitched reasonably well (2.27 ERA and 4.12 FIP in 31.2 innings) before returning as a September call-up. In two appearances this month, Wade has retired all eleven men he faced, include six in two innings yesterday. He looked an awful lot like the guy he was last year and earlier this year against the Orioles.
It's easy to write someone like Wade off because he doesn't fit the stereotype of an above-average reliever. He doesn't come out of the bullpen throwing gas with a knockout breaking ball, he relies on changing speeds and locating with a variety of offspeed pitches. He's the Freddy Garcia of relief pitchers. Expecting Wade to return to his previous level of effectiveness is probably unrealistic, but these two most recent looks are encouraging at the very least. If he can step back up and give the team another reliable right-handed reliever for those middle innings, it'll be a huge addition down the stretch.
Late-Inning Rallies
This isn't exclusive to Sunday's game but is worth mentioning. The Yankees put together late rallies in three of the four games against the Orioles, including the two losses. Five eighth inning runs on Thursday tied the game before the bullpen blew it, then Saturday's two-run ninth inning rally was cut short at one when first base ump Jerry Meals blew the call on a not so bang-bang play. Two runs in the seventh and five runs in the eighth put yesterday's game out of reach. Ultimately it doesn't matter what inning the runs are scored in as long as the Yankees push enough across to win, but stringing together hits and scoring multiple runs in an inning had been an issue up until this weekend.
* * *
As I said, one big win has a way of making you forget about all of the team's problems for at least a day. Granderson has shown flashes of busting out of his slump before so maybe this is just another tease. Relievers and their performances are fickle, so who knows what Joba and Wade can contribute going forward, if anything. If nothing else, at least we saw some positive signs in the finale against Baltimore, which is a lot more than what we had in previous weeks.