The best and worst thing about baseball is that they play everyday, so last night's Game One win is already a thing of the past. Game Two is less than nine hours away and the Yankees have a chance to grab a commanding 2-0 lead in the series behind Andy Pettitte.
1. I still can't get over how ridiculous CC Sabathia was last night. He threw first pitch strikes to 25 of 35 batters faced and just overwhelmed the Orioles. For all the grief he catches for his subpar playoff record (4.56 ERA in 94.2 IP), he now has a 3.36 ERA in 69.2 innings in the postseason as a Yankee. In the regular season, he owns a 3.22 ERA in pinstripes. The Yankees have also won nine of his eleven playoff starts now, with the two exceptions being Game One of the 2009 World Series (offense got Cliff Lee'd) and Game Three of the 2011 ALDS (Rafael Soriano gave up a tie-breaking homer to Delmon Young). I throw out the process stuff and just focus on the results come playoff time because all that matters is wins and losses (regardless of how they look), and the Yankees sure do an awful lot of winning behind Sabathia. What a stud.
2. While on the subject, fill in the blank: Sabathia is the best Yankees pitcher since _______________. If we're talking just one specific year, it's probably 2001 Mike Mussina, who was flat-out nasty (3.15 ERA and 2.92 FIP in 228.2 IP). CC's best year in pinstripes was last year (3.00 ERA and 2.88 FIP in 237.1 innings). If we're talking about a four-year stretch, then I guess you have to go back to 1977-1980 Ron Guidry (2.67 ERA and 2.82 FIP in 940.1 IP). During his four years in New York, Sabathia has pitched to a 3.22 ERA and 3.28 FIP in 905 innings. Greg Maddux (Braves) and Randy Johnson (Diamondbacks) will forever be the gold standard when it comes to big money pitching contracts, but CC has been about as good as we could have possibly expected when he signed back in December 2008.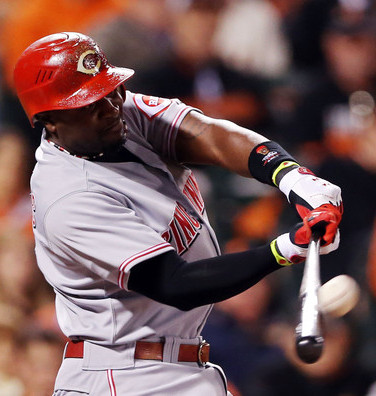 3. I don't know if I underrated the Reds or overrated the Giants. Probably a little of both. Cincinnati has outscored San Fran 14-2 in the first two games of their series, hitting three homers off Matt Cain and Madison Bumgarner in 9.1 total innings. Someone should tell them you can't hit homers off good pitching in the playoffs. The Reds can really score runs and that back of the bullpen — Sean Marshall, Jonathan Broxton, Aroldis Chapman — is as good as it gets, but the big x-factor for them is Johnny Cueto. If the back spasms that forced him out of Game One after two batters linger, they could be in trouble. If he's fine moving forward, I have to think they're the favorites to come out of the NL.
4. You know what the Yankees don't enough credit for? Not striking out much. Yes, I know that sounds silly when they have 195-strikeout man Curtis Granderson on the roster, but this season the Bombers struck out just 1,176 times, the tenth fewest strikeouts among the 30 clubs (sixth lowest among AL teams). Their 18.9% strikeout rate was the ninth lowest in baseball this year. I'm not trying to make them out to be a team full of Marco Scutaros or anything (seriously, go look at his strikeout rate, it's microscopic), but for a club that hits for this much power, the Yankees really don't strike out a whole lot. Baltimore's pitchers threw a total of 186 pitches last night and only got 16 swings and misses. That's pretty good.
5. Might as well close with a fun and mostly useless stat: the Yankees have the same number of playoff wins at Camden Yards as the Orioles (four). There's really nothing meaningful to this, but it is kinda neat in my opinion. It's awesome to watch your team go on the road and take care of business like that. And just for the record, the Yankees also have the same number of playoff wins at Safeco Field as the Mariners (also four). They can pass the Orioles in Camden Yards playoff wins tonight, but I guess it'll be a while before they get an opportunity to break the tie with Seattle.