The Yankees have developed a knack for finding value on the scrap heap, consistently turning other team's discards into useful pieces. It's a wonderful skill for a front office to have regardless of payroll size. As expected, the Yankees dug up two useful veterans who wound up taking on bigger than expected roles this season.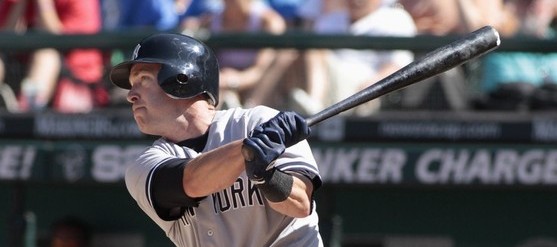 Jayson Nix
One of the team's very first moves last offseason was to sign the 30-year-old Nix to a minor league contract. He had some pop in his bat and was very versatile, with experience at all three non-first base infield spots as well as the outfield corners. Nix showed the team what he could do in Spring Training, but ultimately he was sent down to Triple-A to open the season.
A minor (and unknown) injury delayed the start of his minor league season by two weeks, but he was playing in Triple-A before long. When Eric Chavez dove for a ball and had to be placed on the 7-day concussion DL in early-May, the Yankees recalled Nix to take his spot on the roster. When Eduardo Nunez's defensive troubles became an unavoidable issue, he was sent down to Triple-A while Nix took over as the primary utility infielder.
All told, Nix hit .243/.306/.384 (88 wRC+) with four homers and six steals in 202 plate appearances for New York while starting at least nine games at second, third, short, and left field. He produced a 97 wRC+ against left-handers, a 142 wRC+ at Yankee Stadium, and a 163 wRC+ with men in scoring position. His defense was adequate at worst as well. Nix missed time with a hip flexor strain at the end of the season and played sparingly in the playoffs, but overall he was a rock solid bench piece for a team increasingly in need of quality bench help.

Derek Lowe
The Braves ate a whole bunch of money when they traded Lowe to the Indians last offseason, and before long it was easy to see why. The 39-year-old right-hander pitched to a 5.52 ERA (4.49 FIP) with Cleveland and was released in early-August. The Yankees pounced a few days later when CC Sabathia's elbow forced him to the DL and the pitching staff needed help, signing the former Red Sox through the end of the season.
Lowe agreed to pitch in relief and rewarded the team's faith in him immediately. His first appearance in pinstripes was a four-inning save against Rangers in relief of David Phelps, who had replaced Sabathia in the rotation. Lowe appeared in several low-leverage situations but had worked his way up the bullpen totem pole by mid-September. Joe Girardi was using him regularly as a stabilizing force in the middle innings by the end of the regular season, effectively deploying him as a setup man to the setup men. He was 2009 Al Aceves-esque for a few weeks.
Lowe pitched to a 3.04 ERA (3.77 FIP) in 23.2 innings for the Yankees down the stretch, though he did get hit around in his three postseason appearances. Considering his dreadful performance with the Indians, it was easy to have very low expectations for Lowe. He instead proved his worth as a battle-tested and versatile veteran arm, adding depth to the bullpen down the stretch by essentially replacing Cory Wade as Girardi's go-to middle reliever.