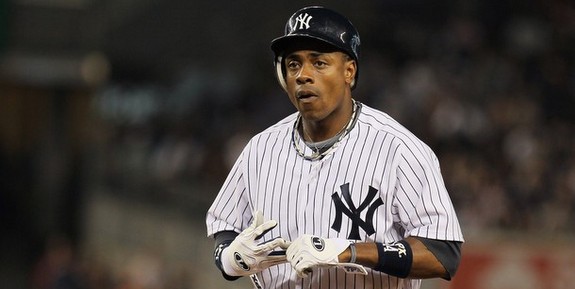 Power is becoming harder to come by these days, and hitting coach Kevin Long turned Curtis Granderson into one of the game's elite power hitters with some mechanical adjustments back in August 2010. He hit a career-high 43 homers in 2012, joining Babe Ruth, Lou Gehrig, Mickey Mantle, and Jason Giambi as the only players to hit 40+ homers in back-to-back seasons for the Yankees. Since the start of 2010, no player has hit more homers than the Yankees' center fielder.
That said, it wasn't all good for Granderson in 2012. Expecting him to repeat his MVP-caliber effort from 2011 was a little unrealistic, but seeing nearly every non-power aspect of his game take a step back this year was unexpected. He became a very one-dimensional power hitter in a lineup that featured a few too many of those guys to start with. Maybe having to play the field nearly every day due to Brett Gardner's injury — Curtis started the team's first 71 (and 89 of the first 90 games) in center — wore him down a bit, but that's not really an excuse. The decline in overall production took a bite out New York's attack.
Batting Average
I don't think anyone is realistically expecting Curtis to his .300+ every year, but I also don't think anyone expected him to hit .232 either. In fact, after topping out at .284 in the team's 28th game of the season, Granderson hit just .220 in his final 556 plate appearances. He came into the year as a .267 career hitter and a .255 hitter as a Yankee, so he failed to meet even his modest standards. The 30-point drop in batting average from 2011 to 2012 coincides with a 35-point drop in BABIP, which doesn't really jibe with the minimal change his batted ball profile. I'm not giving Granderson a pass for his inability to pick up simple base hits, but it is fair to say he got a little unlucky with his balls-in-play this summer.
Strikeouts
This is partially tied to the whole batting average thing but the correlation is often overstated. That said, Granderson's strikeout issues — franchise record 195 strikeouts in 2012 thanks to a career-high 28.5 K% — are a career-long issue that have gotten worse in each of his three seasons in New York…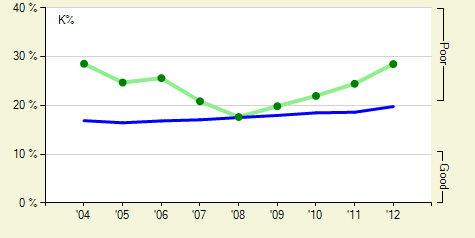 Starting with the four-game series in Detroit in early-August, Granderson struck out 65 times in his final 210 plate appearances (31.0%). He also whiffed an astronomical 16 times in 33 postseason plate appearances. Curtis draws a lot of walks (11.0 BB%) and works deep counts (4.27 pitches per plate appearance, the fifth highest in baseball), which contributes to the strikeout issues, but also he's just the kind of hitter who will swing-and-miss a bunch. It's just who he is. When he's hitting .260-something with 80+ walks and 40+ homers, you live with it. When he's hitting .220 with a sub-.320 OBP, like he did in 2012, they're a problem.
On The Bases
In the three seasons prior to coming to New York, Granderson stole 58 bases in 69 attempts (84.1%). This year he stole just ten bases in 13 attempts, both the lowest full season totals of his career. Heck, he only had three steals through the team's first 69 games. Curtis doesn't get enough credit for being a superb base-runner overall — he's taken the extra base a well-above-average 48% of the time as a Yankees — but for whatever reason he just didn't steal or even attempt to steal many bases in 2012. I wouldn't call it a problem per se, but it's a skill he was supposed to bring to the table that just isn't there anymore.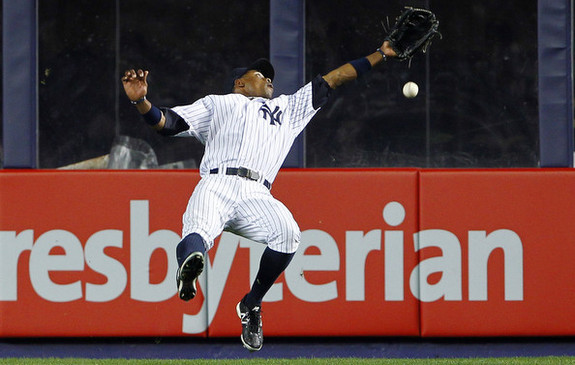 Defense
The various metrics absolutely buried Granderson's defense this year, as he ranked dead last among all qualified outfielders in UZR (-17.8) and bottom ten in both DRS (-10) and Total Zone (-12). I don't believe he's among the game's worst defensively outfielders as the one-year of defensive data suggests, but he's certainly a below-average defender in center. He was worse in 2012 than he was in 2011, when he was worse than he was in 2010. The Yankees aren't oblivious to Granderson's defensive shortcomings either, which is why they're considering putting Gardner in center next year. Frankly, it's a move that has to be made at this point.
* * *
The prevailing thought out there seems to be that Granderson was a flat out bad player in 2012, but that's ridiculous. It's almost impossible for a player to hit 40+ homers in this run-starved environment and be bad. He certainly took a step back in all of the above areas and had a miserable playoff showing like most of his teammates, but his overall production was still much better than average and valuable for New York. Curtis just wasn't nearly as good this year as he was a year ago, and the Yankees missed the lost production.