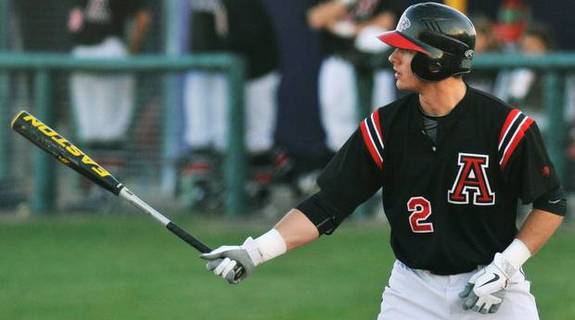 Austin Aune | SS
Background
A Texas kid from the suburbs of Dallas, Aune was a two-sport star at Argyle High School. He led the Eagles to the Texas 3-A football championship game last fall spring by throwing for nearly 3,500 yards with 42 total touchdowns. On the diamond, Aune led the team in batting average (.447) and homers (eight) while also doing some pitching. He was named the district co-MVP in football and district MVP in baseball as a senior.
Aune was a strong quarterback prospect and committed to Texas Christian University, which was going to allow him to play both sports. Baseball America ranked him as the 15th best prospect in Texas and 128th best prospect overall prior to the 2012 draft, though there were plenty of concerns about his signability. The Yankees rolled the dice with their second round pick, taking Aune with the 89th overall selection. It was the compensation pick they received for failing to sign second rounder Sam Stafford in 2011. The Yankees had an agreement in place with Aune before the end of the draft, and he officially signed less than two weeks later. He received a $1M bonus that was nearly double the $548,400 slot recommendation.
Pro Debut
The Yankees assigned Aune to their rookie level Gulf Coast League affiliate after signing, where he hit .273/.358/.410 (130 wRC+) with one homer and five steals (in ten chances) in 163 plate appearances. He did strike out 45 times (27.6 K%), which isn't terribly surprising for a kid who split his high school career between two sports. Aune participated in Instructional League after the season.
Scouting Report
Listed at 6-foot-2 and 190 lbs., Aune is a very good athlete and a toolsy player who the Yankees will keep at shortstop for the time being. He has a balanced left-handed swing with the kind of raw power that has a chance to grow into huge power down the line. Aune also offers a very strong arm and good speed, though his hands and footwork at the shortstop position are rough. Third base or the outfield could be options down the line.
Like most players the Yankees acquire these days, Aune's makeup and work ethic are considered major pluses. He has struggled in showcase events and against advanced pitching, due in part to his inexperience. I'm guessing the strong intangibles are a big reason why the team is confident Aune will be able to turn his impressive tools into baseball skills now that he's stopped playing football. Here's is his MLB.com draft video and there are a number of other clips at YouTube, both baseball and football.
2013 Outlook
Give his lack of baseball experience, I expect the Yankees to hold Aune back in Extended Spring Training when the season begins. They could then assign him to one of their two GCL affiliates or bump him up to Short Season Staten Island in the second half. Neither would surprise me, but an assignment to Low-A Charleston to start the year would.
My Take
I love raw high school prospects as much as anyone, though I think the Yankees gambled an awful lot of draft pool money on Aune. I understand that a seven-figure bonus was needed to keep him away from TCU — Aune was on campus and already participating in early football workouts when he signed — but it's still a huge roll of the dice. I get the sense that he's the type of player New York would have drafted in a double-digit round and blown away financially under the old system, but the new rules meant they had to take him much earlier to make it work. Aune's an exciting prospect with a high ceiling (you can count the number of quality left-handed hitting shortstops on one hand), but he has a lot of work to do these next few seasons.