It has been nearly two months since the Marlins and Blue Jays swung their 12-player blockbuster, a trade that moved every Miami player making decent money north of the border. Ever since that trade, fans of every non-Marlins team have been clamoring for their squad to acquire Giancarlo Stanton. The just-turned-23-year-old is a .270/.350/.553 (140 wRC+) career hitter with 93 homers, the sixth most all-time through a player's age 22 season. Stanton is special and everyone wants him.
A few days ago, Marlins assistant GM Dan Jennings told Jim Bowden that the team will indeed listen to offer for their young slugger, but they're not actively shopping him and are disinclined to move him given his age and near-league minimum salary. In fact, Ken Rosenthal says the chances of a trade are "as close to zero as they can be." They're willing to listen to offers the same way every team will listen to offers for every player. It's part of the business. Due diligence, as they say. The Yankees were one of several teams to contact Miami about Giancarlo this offseason, but obviously nothing has come from it.
The Yankees desperately need to add a young, impact hitter to the lineup, and Stanton obviously fits the bill. The problem is that they really don't have the pieces to acquire him. This isn't an Alex Rodriguez situation, where they were able to acquire one of the game's best players on the right side of 30 despite a middling farm system because they could absorb his contract. Stanton is dirt cheap. He won't be arbitration-eligible until the 2014 season, when he could threaten Ryan Howard's first-time arbitration record of $10M. That's a lot of scratch, but most teams could afford it.
The quartet of Mason Williams, Tyler Austin, Gary Sanchez, and Slade Heathcott will crack pretty much every top 100-ish prospect ranking in the next few weeks, but those guys have a combined eight plate appearances above Single-A ball. The Marlins aren't taking a bunch of A-ball prospects for Stanton, they're going to want MLB ready or near-MLB players. Guys who could step right into their lineup at some point this coming season. Ivan Nova, David Phelps, Adam Warren, David Adams, Corban Joseph … none of them are nearly good enough to pique Miami's interest. They're quantity, not quality. I can't see a trade of Curtis Granderson for prospects that are then flipped for Stanton either. Good idea in theory, but why wouldn't the third team just send those prospects to Miami directly?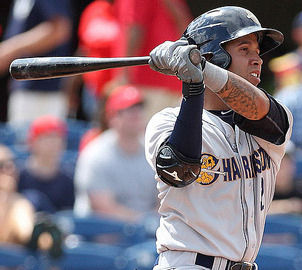 I think that more than anything, this is where drafting the Cito Culvers and Dante Bichette Juniors of the world really comes back to bite the Yankees. Obviously injuries to Manny Banuelos and Jose Campos (and Michael Pineda) hurt as well, but the team passed on better talents (according to the consensus) to draft Culver and Bichette with their top picks in recent years. They haven't developed as expected and leave the team with two untradeable assets. Well, not untradeable, but not all that valuable. Bichette would be what, the fifth player in a realistic Stanton package? Almost like a throw-in.
I understand what the Yankees were getting at with those selections. They targeted high-character guys who could rise to the big league level with the team rather than higher risk, higher ceiling guys. They didn't draft for need per se, but the objective wasn't best available player. If it was, the front office should be asking itself how the hell they managed to rate Culver and Bichette as the best available players at those draft slots. It doesn't make sense. I say this all the time, but teams aren't just drafting for themselves. They're drafting for the rest of the league as well. Look at the Reds, they drafted Yonder Alonso and Yasmani Grandal despite having Joey Votto and Devin Mesoraco, and it helped them land Mat Latos.
Anyway, I honestly don't think the Marlins will move Stanton this offseason. I think they'll wait until his big arbitration award next winter, then look to move him for a massive haul. Their history suggests they'll cut bait once he gets moderately expensive, so I don't think I'm wildly out of line here. Perhaps the Yankees will be in a better position to acquire Stanton next winter, after their top four prospects get time in Double-A and both Campos and Pineda get back on the mound. Maybe Culver and Bichette even boost their trade value, who knows. Everyone wants Giancarlo Stanton right now, but I don't believe the Yankees have enough to entice Miami.