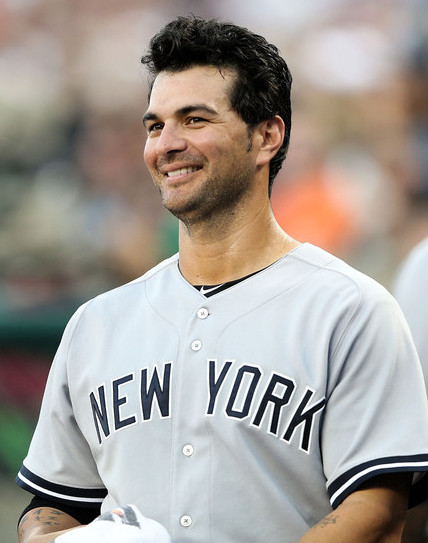 The Yankees downgraded their offense this offseason, most notably by allowing Nick Swisher and Russell Martin to sign elsewhere as free agents. The drop-off from those two guys to their 2013 replacements is in the neighborhood of two wins apiece, and that's being generous to 39-year-old Ichiro Suzuki. It's a lot of power and patience to replace, but the biggest offensive loss of the winter might not have even been an everyday player. Valuable part-timer Eric Chavez signed elsewhere as well.
All told, the 35-year-old Chavez produced a .281/.348/.496 (126 wRC+) line with 16 homers in 313 plate appearances for New York last summer. He played 64 games (50 starts) at third base thanks in part to Alex Rodriguez's hand injury, but he also managed 19 games at DH and another ten at first. Chavez made it easy to forget that he hit .263/.320/.356 (80 wRC+) with two homers in 175 plate appearances a year ago, when he was tolerable at best and easily replaceable at worst. To say his production was unexpected last year would be an understatement.
Chavez signed a one-year contract with the Diamondbacks during the Winter Meetings, taking a $3M guarantee to move closer to his Phoenix home. The Yankees had interest in retaining him, especially once news of A-Rod's hip injury broke, but ultimately the two sides did not have any substantive talks according to Ken Davidoff. Kevin Youkilis was signed to take over third base on a full-time basis, but the Bombers never did get around to finding a Chavez replacement. The closest they've come is Dan Johnson, a third baseman in theory who took a minor league deal.
Now here's the thing: the Yankees were never getting Chavez back, at least not the Chavez they had last year. Even if they had outbid the D'Backs and re-signed him, there's no way they should have expected him to hit like he did last summer. Furthermore, they shouldn't have expected him to stay that healthy again either. Chavez had a stint on the 7-day concussion DL last year and sat out a few games for various aches and pains, but that was it. He was available far more often than not, and given his lengthy medical history, it would have been quite foolish to expect him to do it again. Repeating that kind of production and durability is certainly possible, just unlikely.
The post title is a overly dramatic, but losing Chavez is a pretty big loss for the Yankees. I had no problem with letting him walk under the right circumstances at the outset of the offseason, mostly because I figured it was better to get rid of him a year too soon rather than a year too late. Those right conditions did not include a major hip injury for A-Rod and not bringing in a viable alternative, however. Given the replacement level catching tandem, Joe Girardi is going to need a legitimate threat off the bench to pinch hit in late games. Chavez, the 2011 version, would have been perfect. The Yankees had the right player in the right role, just in the wrong year.