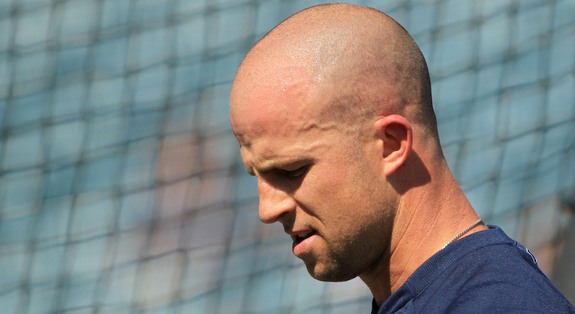 As recently as 15 days ago, the Yankees were planning to improve their defense by moving Curtis Granderson to left field with Brett Gardner taking over in center. Then J.A. Happ broke Granderson's forearm with an errant pitch and the experiment was over. The team's incumbent center fielder will be out until early-May, and the Yankees decided he wasn't going to have enough time to learn the new position while on his rehab assignment. The priority will be getting Granderson's bat back in the lineup as soon as possible, understandably.
With the outfield plan abandoned, Gardner will return to left field after filling in at center for the first few weeks of the campaign. A collection of cast-offs and kinda sorta prospects are battling it out for reserve roles with no candidate standing out from the pack, either on paper or on the field in Spring Training.
The Starter
The 29-year-old Gardner is returning from a lost season, as an elbow injury and numerous setbacks (and eventually surgery) kept him on the shelf from early-April through late-September. The Yankees lacked speed without him and it was painfully obvious at times. Their outfield defense also took a major hit, although Raul Ibanez's effort was admirable. Admirable, but often ugly.
Replacing Ibanez and miscellaneous other fill-in left fielders with Gardner figures to be the biggest upgrade the club made in the offseason. Last year's left fielders gave the team a power-heavy 92 OPS+ with no speed and poor defense, but that has been traded for Gardner's on-base heavy career 93 OPS+ with high-end speed and defense. The Yankees will get fewer homers but much better all-around production. It's a big upgrade even though he doesn't fit the typical profile for the position.
The most important thing will be actually keeping Gardner on the field this year. He's battled numerous injuries in recent years and nearly all of them can be considered flukes — fractured thumb on a stolen base (2009), wrist surgery following a hit-by-pitch (2010), elbow surgery following a sliding catch (2012) — but injuries are injuries and they've added up. Gardner will be an upgrade over Ibanez & Co. only if he stays healthy, which has been a challenge. Given the injuries to Granderson and Teixeira, it's not a stretch to call him the team's second most important player for the early-season.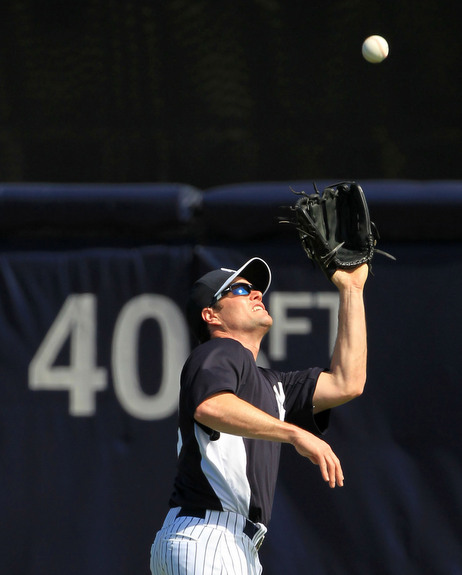 The Backup
This was an unanswered question even before Granderson got hurt — the Yankees were going to sort through the likes of Matt Diaz, Juan Rivera, Melky Mesa and others for the right-handed hitting outfielder's role. Now those guys are competing for a starting job and as of today, there is no obvious favorite. Mesa has been solid in camp and so has Zoilo Almonte, but they are hardly guaranteed the job. Diaz and Rivera have been fine at the plate (considering it's early-March) but less so in the field (particularly Rivera). Two of these guys — we shouldn't forget Thomas Neal and Ronnie Mustelier either — are going to make the team and play regularly while Granderson is shelved. Ichiro Suzuki is always an option to fill-in at left as well.
Knocking on the Door
This ties in with the previous section, but the Yankees are expected to have an all-prospect outfield at Triple-A Scranton this summer. Mesa, Almonte, and Mustelier are the obvious candidates, but one or more could wind up making the big league team. It's a very fluid situation at the moment. Regardless of what happens, a few of these outfield candidates will inevitably wind up in Northeast Pennsylvania and wait their turn in the Bronx.
The Top Prospect
Left field isn't a true prospect position, it's a last report position. Guys wind up there if they can't cut it in center or right, or even third or first bases at times. With Tyler Austin projected as right fielder and both Mason Williams and Slade Heathcott looking like no-doubt center fielders, the team's most obvious future left fielder is Ramon Flores. I aggressively ranked him fifth in my preseason top 30 prospects list. The soon-to-be 21-year-old hit .302/.370/.420 (126 wRC+) with six homers and 24 steals in 583 plate appearances for High-A Tampa this season, and he owns arguably the best plate discipline and approach in the organization. The Yankees added Flores to the 40-man roster after the season to protect him from the Rule 5 Draft and will start him at Double-A Trenton, but he's not going to be a big league factor in 2013. The 2014 season could be another matter entirely.
The Deep Sleeper
We have to reach a little because there aren't many prospects in the lower minors who project as long-term left fielders — kids that far down usually haven't grown out of center field yet — but Nathan Mikolas makes sense year. Last summer's third rounder didn't hit a lick after signing for $400k, producing a .149/.295/.184 (62 wRC+) line with 35 strikeouts in 105 plate appearances (33.3 K%) for the rookie level Gulf Coast League affiliate. He didn't make my preseason top 30 list. The 19-year-old has a "balanced left-handed swing and quality bat speed that give him the potential to become a plus hitter with average power" according to Baseball America (subs. req'd), who also notes "his athleticism, speed, arm and defensive ability are all below-average." That's where the whole left field thing comes into play. Mikolas will be held back in Extended Spring Training to open the season before re-joining one of the two GCL squads at midseason. If he shakes off the rough pro debut and starts showing off some of those hitting skills, he'll quickly become an interesting prospect to follow.
* * *
The Yankees dominated the late-1990s despite a revolving door in left field, but that position is much more important to the current team. New York's best player at something — speed and defense (Gardner) or power (Granderson) — was going to hold down the position one way or the other, whether they went through with the position switch or not. Someone like Mesa or Rivera or Diaz will have to hold down the left field fort for at least 4-5 weeks while Granderson is on the shelf, which is not exactly ideal.
Other Previews: Catchers, First Basemen, Second Basemen, Shortstops, Third Basemen