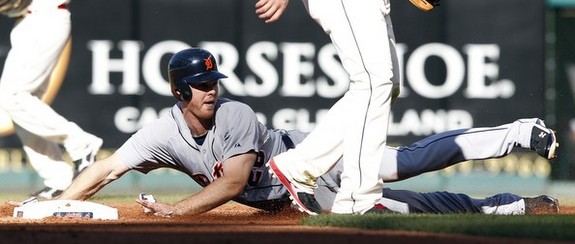 7:14pm: The Yankees have officially announced the signing, so it's a done deal. Boesch will be in camp tomorrow. Michael Pineda was moved to the 60-day DL to free up a spot on the 40-man roster.
4:58pm: Another day, another outfielder. The Yankees have agreed to sign Brennan Boesch to a Major League contract worth $1.5M with $600k in plate appearance-based incentives, according to Jon Heyman. The club will need to make a 40-man roster move to accommodate the Scott Boras client, who was released by the Tigers earlier this week. That's not an issue though, both Michael Pineda and Cesar Cabral are 60-day DL candidates. Boesch was dealing with an oblique issue earlier in camp and probably has to pass a physical before the contract is official.
The 27-year-old Boesch hit .240/.286/.372 (77 wRC+) with 12 homers in 503 plate appearances for Detroit last season. One year earlier he managed a .283/.341/.458 (117 wRC+) with 16 homers in 472 plate appearances before tearing a ligament in his thumb and needing surgery. The Yankees are presumably hoping the further he gets away from surgery, the more his production will increase because Boesch doesn't steal, is a total hacker, and is a terrible defender. He has a slight reverse split (110 wRC+ vs. 92) despite having a much higher strikeout rate (23.3 K% vs. 17.9) and a lower ISO (.134 vs. .162) against lefties, though it could be a sample size issue since we're talking about 374 plate appearances against southpaws over three years.
The one thing Boesch will give the Yankees is flexibility. He has at least one minor league option remaining and can be assigned to Triple-A Scranton without a problem whenever Curtis Granderson's forearm is healthy. Because he only has three years of service time, the Yankees will also control him as an arbitration-eligible player through 2016 as well. Always nice to have that extra layer of control and know the player is more than a rental if he actually proves to be useful.
I don't think the Yankees signed Boesch to a big league contract only to send him down before Opening Day, so he's a safe bet to make the roster as Granderson's replacement. Either full-time or as part of a platoon, I'm sure he'll be in there regularly. Hopefully the short right field porch at Yankee Stadium helps boost Boesch's power output while his defense doesn't completely negate any value he provides. Decent depth pickup but nothing special. One (or maybe two) dimensional player who fills a need created by injury.