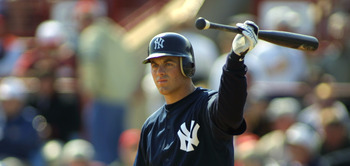 Got a handful of minor league updates for you, mostly coaching stuff. Everything comes from Josh Norris.
Nardi Contreras is now a senior pitching instructor. We heard he was reassigned and replaced by Gil Patterson back in November. Going from minor league pitching coordinator to senior pitching instructor sounds like a promotion, no? Who knows.
Tim Norton and Drew Henson will serve as the pitching and hitting coaches, respectively, for the club's new second Rookie Level Gulf Coast League affiliate. Norton, a former righty reliever, started to make the transition to coaching last year due to continued arm problems. Henson re-joined the organization as a part-time assistant last fall with his eye on becoming a full-time coach this year.
Remember RHP J.B. Cox and 3B Bradley Suttle? Well, both guys are listed in the Yankees' 2013 media guide as players. Norris confirmed they are both still on the restricted list however, meaning they are unlikely to resume their playing career. False alarm. Cox never regained his stuff following Tommy John surgery while Suttle was hampered by multiple injuries, most notably right shoulder surgery. The former left the organization following 2010, the latter last spring.