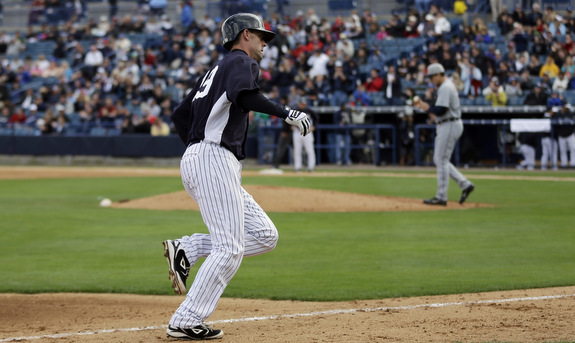 The seven-game losing streak is over. The Yankees won their second game of the Grapefruit League this afternoon, pounding a bunch of Tigers minor leaguers while their regulars stayed home and played a split squad game. Brett Gardner continued his molten hot spring with two hits and two steals, though Robinson Cano, Mark Teixeira, Matt Diaz, and Jayson all had hits as well. Chris Stewart hit a homer (!), if you can believe that.
Ivan Nova threw two scoreless innings and was really, really sharp. He threw a ton of strikes and was living down in the zone. Hopefully that continues and carries over into the regular season. David Aardsma and Clay Rapada each allowed a run while southpaw Francisco Rondon continued to impress (at least me, I don't know about you) with two strikeouts in a scoreless inning. He just needs to work on locating his fastball a bit better, but he's got a real easy delivery and an out-pitch breaking ball. I'm a fan. Anyway, here's the box score and here's the rest from Tampa…
The Yankees announced the first round of roster cuts following the game. First baseman Kyle Roller and right-handers Corey Black, Matt Daley, Nick Goody, Shane Greene, Bryan Mitchell, Zach Nuding, Mikey O'Brien, and Ryan Pope were all reassigned to minor league camp. Daley, who has a few years of big league time, is the only real surprise. The Yankees still have 74 (!) players in big league camp.
Derek Jeter began moving side-to-side while taking ground balls. Unsurprisingly, he looked pretty stiff during the drill thanks to that surgically repaired left ankle. [John Harper]
The Yankees have Eduardo Nunez and Mick Kelleher working on a new throwing motion in an effort to cut down on his errors. They're basically shortening his motion and trading some arm strength — which Nunez has plenty to spare — for accuracy. Will it work? Unlikely. They tried this a few years ago as well. [George King]
In case you missed it earlier, Phil Hughes (bulging disk) has been cleared to play catch while Boone Logan (elbow) and Slade Heathcott (thumb) will be shut down for a few days. MRIs came back clean.
The travel squad for tomorrow's game against the Red Sox is pretty light on projected big leaguers, with Gardner, Nunez, and Juan Rivera being the one ones to really qualify. Adam Warren gets that start and the game will be available on YES.
Here is your open thread for the night. The Nets are the only local team in action tonight, so talk about whatever you like. Enjoy.