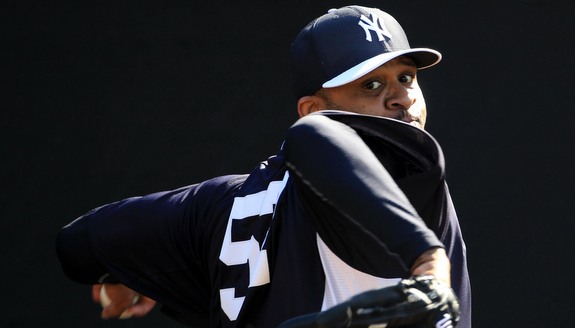 Sixteen days from now, CC Sabathia will be on the mound for Opening Day. Today he will make his first Spring Training start after a series of simulated games designed to keep AL East rivals from seeing him before the season. Sabathia got his pitch count up to around 40 pitches last time out, so he'll probably go 60 pitches or so this afternoon. Given his offseason elbow surgery, this game is a pretty important step. Here's the starting nine…
CF Brett Gardner
SS Derek Jeter
LF Ichiro Suzuki
DH Travis Hafner
RF Juan Rivera
C Frankie Cervelli
3B Ronnie Mustelier
1B Dan Johnson
2B Corban Joseph
And on the mound is the left-hander from Vallejo, CC Sabathia. Here are the day's second stringers, courtesy of Chad Jennings.
Available Pitchers: RHP David Robertson, RHP Joba Chamberlain,LHP Vidal Nuno, and RHP Mark Montgomery are all scheduled to come out of the bullpen.
Available Position Players: C Francisco Arcia, 2B Gil Velazquez, SS Addison Maruszak, 3B Jose Pirela, LF Matt Diaz, CF Melky Mesa, RF Thomas Neal, and DH Bobby Wilson will come off the bench. Johnson will play the entire game, apparently.
The game is scheduled to start a little after 1pm ET and can be seen on YES and MLB.tv (no local blackout). Enjoy.