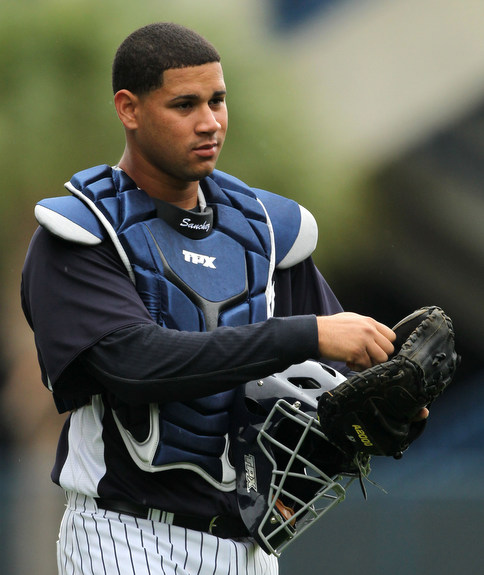 I say this every year, but the Pre-Draft Top 30 Prospects List is (by far) my least favorite of the three prospect lists I put out every year. There are no new faces in the organization and the minor league season is only two months old. The only reasons to change the rankings are injury, trade/release, and extreme performance (good or bad). That's it.
Now, that said, it's pretty obvious this has been a poor year for the farm system so far. Most of the Yankees' top prospects are either hurt or underperforming, and there haven't been enough breakouts to compensate. There's still plenty of talent, but not many guys are putting it to good use right now. Most of the lower level pitchers are being held to strict pitch counts as well, which I suspect comes from new pitching coordinator Gil Patterson. A lot of guys don't have many innings under their belt yet.
Five players dropped off my Preseason Top 30 List, which is actually a lot more than I expected. They're all self-explanatory as well: RHRP Dellin Betances (#23), OF Melky Mesa (#26), OF Ravel Santana (#28), SS Cito Culver (#29), and LHSP Daniel Camarena (#30). All five were borderline top 30 guys who barely made the preseason list, and they've either gotten/stayed hurt or performed miserably.
The ages and levels listed below are as of today, but the stats do not include last night's games. On to the latest top 30…
C Gary Sanchez, 20, Hi-A: Sanchez is pretty much the only one of the team's top position player prospects performing up to snuff this year. He's hit .272/.338/.476 (130 wRC+) with nine homers in 213 PA, and reports about his work behind the plate continue to be positive.
RHSP Rafael DePaula, 22, Lo-A: At long last, DePaula has reached the United States. His debut has been marvelous (2.48 ERA, 2.00 FIP, 38.8 K% in 54.1 IP) and the stuff has proven to be dynamite.
OF Slade Heathcott, 22, AA: Heathcott has stayed healthy so far — only 30 games away from tying his career-high — and after a rough start, he has picked it up of late even though his season batting line (.246/.300/.377, 83 wRC+ in 201 PA) still stinks.
OF Tyler Austin, 21, AA: After being the best statistical performer in the system last year, Austin got off to a dreadful start before hitting his stride last month. He's hitting .258/.359/.399 (111 wRC+) in 234 PA.
OF Mason Williams, 21, A+: Has there been a more disappointing prospect this year? Not only is he hitting .231/.326/.317 (88 wRC+) while repeating a level, but reports suggest he's dogged it and played with little energy. The tools are great and that saves him for now.
RHSP Jose Ramirez, 23, AA: Ramirez started the year on the DL due to fatigue, but he debuted in April and has been electric (2.65 ERA, 3.82 FIP, 30.8 K% in 37.1 IP). Concerns about his durability remain, however.
C J.R. Murphy, 22, AA: No prospect has improved his stock more this year. Murphy's defense continues to improve and he's having a career-best year offensively (.275/.362/.431, 119 wRC+ in 186 PA).
OF Ramon Flores, 21, AA: I love him and he is young for the level, but .243/.328/.329 (84 wRC+) in 257 PA is really disappointing.
LHSP Manny Banuelos, 22, no level: Banuelos had Tommy John surgery in October and will miss the entire season. He's here on reputation, basically.
RHSP Jose Campos, 20, A-: The Yankees have held Campos to a very strict pitch count following last year's injury, but he hasn't been quite as electric or effective (4.21 ERA and 3.42 FIP in 36.1 IP) as he has been in the past.
2B Angelo Gumbs, 20, A+: Gumbs was terrible before missing a month with a finger injury, but he's been better of late despite a .211/.261/.327 (64 wRC+) overall line 119 PA. He's still so young.
RHSP Ty Hensley, 19, no level: Last year's first rounder had hip surgery in early-April and is expected to miss the entire season. Such is life.
LHSP Nik Turley, 23, AA: Had a very rough start to the year but has settled down of late and been his usually effective self (4.14 ERA and 4.03 FIP in 54.1 IP). He's still at least a year away from the show.
RHRP Mark Montgomery, 22, AAA: The Yankees were reportedly unhappy with his offseason work and the results have been below his usual standard so far (3.10 ERA, 4.20 FIP, 26.7 K% in 29 IP). He might have been in the bigs by now had he gotten off to a better start.
RHSP Corey Black, 21, A+: His huge arm is likely destined for the bullpen long-term, but Black has been pleasantly surprising as a starter so far this year (4.22 ERA, 2.66 FIP, 26.0 K% in 53.1 IP).
RHSP Bryan Mitchell, 22, A+: The performance (4.50 ERA and 3.53 FIP in 66 IP) never seems to improve, but Mitchell remains on the list because his stuff is arguably the best in the system.
C Austin Romine, 24, MLB: Instead of getting much-needed regular at-bats in the minors, Romine is masquerading as the big league backup and failing (122 wRC+ in Triple-A, -4 wRC+ in MLB).
RHRP Adam Warren, 25, MLB: Warren has found a niche as a long reliever with the big league team (3.77 ERA and 4.11 FIP in 28.2 IP) rather than spending a third straight year in Triple-A.
SS Austin Aune, 19, ExST: Aune and his big left-handed power will likely join Short Season Staten Island when the season starts in a few weeks.
LHSP Vidal Nuno, 25, AAA: He's bounced between Triple-A and the big leagues all year and been effective in whatever role the team has used him. The ranking is almost entirely probability-based, but I can't ignore him anymore.
IF David Adams, 26, MLB: From released to re-signed to Triple-A to the Bronx in the matter of a few weeks, Adams has already managed to carve out a big league role despite his recent slump (.242/.266/.387, 73 wRC+ in 64 PA).
2B Corban Joseph, 24, AAA: CoJo made his big league debut a few weeks ago, but otherwise he remains nothing more than a backup plan in the minors (.239/.329/.383, 94 wRC+ in 213 PA).
RHSP Brett Marshall, 23, AAA: He made his big league debut with a long relief appearance last month, but otherwise Marshall has been just awful this year (7.27 ERA and 6.59 FIP in 43.1 IP). At least there's nowhere to go but up.
RHRP Nick Goody, 21, A+: Managed three whole innings before blowing out his elbow and requiring Tommy John surgery. We won't see him again until 2014.
RHSP Gabe Encinas, 21, A-: Encinas was having a breakout year (0.77 ERA and 2.89 FIP in 35 IP) before hurting his elbow and having season-ending surgery. Three pitchers who are out for the year due to injury on the list is probably too many. So it goes.
RHRP Preston Claiborne, 25, MLB: Got the call to the show in place of Montgomery and has quickly become a valuable reliever for Joe Girardi (0.55 ERA and 2.27 FIP in 16.1 IP).
LHSP Matt Tracy, 24, AA: Has alternated awesome starts with awful starts so far, so hopefully he settles  into a groove as the season progresses (5.09 ERA and 4.67 FIP in 53 IP).
RHRP Chase Whitley, 23, AAA: An oblique strain delayed the start of Whitley's season and he is still trying to find his way (5.06 ERA and 3.86 FIP in 10.2 IP). He might have been up instead of Claiborne had he been healthy.
3B Dante Bichette Jr.: Following a dreadful start, Bichette had a one-day pow-wow with the hitting coach to clean up some mechanics and the early returns have been positive. His overall season line remains very underwhelming (.229/.294/.328, 76 wRC+ in 221 PA).
OF Zoilo Almonte, 23, AAA: Got off to a fantastic start, but he's returned to Earth a bit in recent weeks (.282/.366/.432, 118 wRC+ in 238 PA). Still doesn't do much other than hit the ball out of the park on occasion.