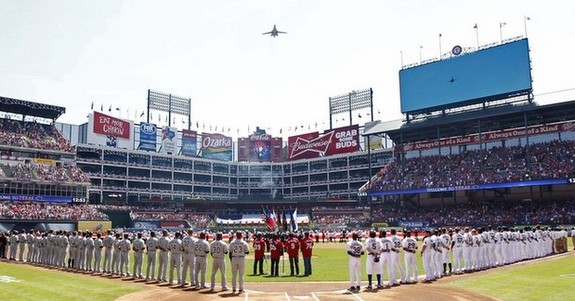 Although the Yankees aren't playing one of their AL East rivals, this four-game series against the Rangers in Texas has some pretty big playoff implications. New York is three back of the second wildcard spot and the Rangers are two games ahead of them, so this is a chance to leapfrog one of their wildcard competitors. Jumping over multiple teams in very hard to do, so winning these head-to-head games is crucial.
What Have They Done Lately?
Quite a bit of losing, actually. The Rangers got swept by the Orioles this weekend and have lost seven of their last eight overall. They've gone 22-27 their last 49 games as well. Texas sits in second place in the AL West at 54-44 with a +16 run differential, three games back of the Athletics.
Offense
At 4.3 runs per game with a team 96 wRC+, the Rangers are pretty close to a league average offense. They certainly aren't the same run-scoring juggernaut they've been for the last decade or so. Texas has a full five-man starting rotation on the DL but just one position player: former Yankee DH Lance Berkman (98 wRC+). He's out with a hip issue and won't return this week.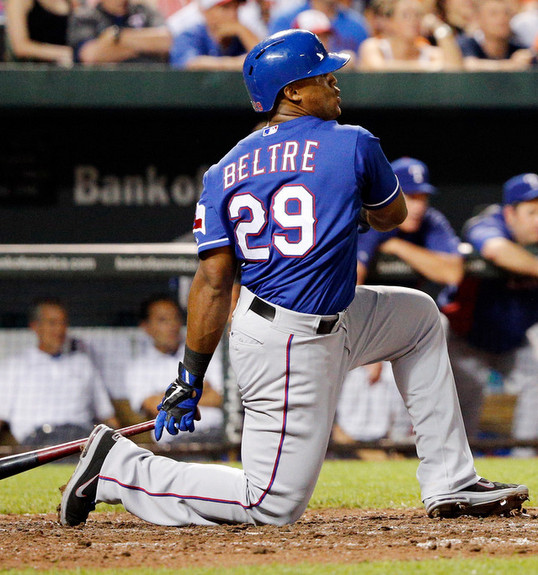 Manager Ron Washington's lineup structure will be a little different than what we're used to seeing. 2B Ian Kinsler (116 wRC+) still leads off and 3B Adrian Beltre (138 wRC+) cleans up, but SS Elvis Andrus (58 wRC+) now hits in the bottom third of the order. OF Nelson Cruz (121 wRC+) bats third and one of OF Craig Gentry (75 wRC+ in limited time), CF Leonys Martin (96 wRC+), or IF Jurickson Profar (78 wRC+ in limited time) bats second.
C A.J. Pierzynski (98 wRC+), 1B Mitch Moreland (107 wRC+), and OF David Murphy (74 wRC+) usually fill out the rest of the lineup. UTIL Jeff Baker (190 wRC+ in limited time) will sub in against southpaws. Backup C Geovany Soto (68 wRC+) and OF Engel Beltre (53 wRC+ in limited time) round out the bench. The Rangers are a top five homer-hitting club (113) and a middle of the pack stolen base team (60).
Starting Pitching Matchups
Monday: RHP Ivan Nova vs. RHP Yu Darvish
Texas took advantage of the All-Star break to manipulate the roster and give their ace a little extra rest. The 26-year-old Darvish will be activated off the DL for tonight's start (technically, it was a trap strain), and he brings with him a 3.02 ERA (3.21 FIP) and a dynamite strikeout rate (11.84 K/9 and 32.5 K%). His walk rate (3.09 BB/9 and 8.5 BB%) is good and his ground ball rate is okay (43.9%), but he is homer prone (1.13 HR/9 and 15.2% HR/FB). Darvish is primarily a four-pitch pitcher who will mix in two other offerings as well. He sits in the low-to-mid-90s with his two- and four-seam fastballs and in the upper-80s with his cutter. His trademark slider — he throws it nearly 40% (!) of the time — comes in around 80 mph. A mid-80s splitter and a slow, mid-60s curve are those rarely used fifth and sixth pitches. He'll throw two or three of each per start. The Yankees have faced Darvish twice before — he dominated them early last year and they tagged him for three solo homers in 5.1 innings a few weeks ago.

Tuesday: RHP Phil Hughes vs. RHP Alexi Ogando
Like Darvish, Ogando will come off the DL for this start. He was actually hurt though — shoulder inflammation has had him on the shelf since early-June. Ogando, 29, owns a 2.93 ERA (4.26 FIP) in ten starts with unspectacular peripherals: 6.99 K/9 (18.7 K%), 3.58 BB/9 (9.6 BB%), 0.98 HR/9 (8.8% HR/FB), and 37.9% grounders. He's using his mid-80s changeup far more than ever before (nearly 20% of the time), so he's no longer that two-pitch, low-to-mid-90s fastball/low-80s slider guy. His velocity is down a tick or two across the board this season. It's a small sample, but Ogando has a massive reverse split this year (.360 wOBA vs. RHB and .255 vs. LHB). That's the exact opposite of the rest of his career. The Yankees have seen Ogando plenty over the last few years, sometimes good and sometimes not so good.
Wednesday: LHP Andy Pettitte vs. LHP Derek Holland
Very quietly, the 26-year-old Holland is having an excellent season (3.10 ERA and 2.93 FIP) thanks to his newfound ability to limit the long ball (0.61 HR/9 and 6.6% HR/FB). He doesn't have a great ground ball rate (40.2%), so he's probably due for some HR/FB regression considering his home ballpark. That doesn't mean it will actually happen, of course. Holland has very good strikeout (8.55 K/9 and 22.8 K%) and walk (2.63 BB/9 and 7.0 BB%) numbers. He's primarily a two-pitch pitcher but will show three others as well. A low-to-mid-90s sinker and low-80s slider are his top two weapons — he throws them more than 80% of the time combined — but he'll use the occasional low-to-mid-90s four-seamer, low-80s changeup, and mid-70s curveball. He'll throw a handful of each per start. The Yankees have hit Holland very hard in the past, but he dominated them earlier this year. Surely you remember that 92-pitch complete-game shutout in late-June.
Thursday: RHP Hiroki Kuroda vs. TBA
The Rangers have not yet announced their starter for this game. They have a trio of internal candidates — righties Ross Wolf, Josh Lindblom, and Justin Grimm — but they've been working the trade phones hard and may or may not be close to landing Matt Garza. Grimm, 24, is currently in the bullpen after pitching to a 6.37 ERA (4.79 FIP) in 17 starts, though he did hold the Yankees to three runs in five innings a few weeks ago. The 26-year-old Lindblom has been up-and-down several times this year, and he has a 5.46 ERA (4.42 FIP) in five starts and three relief appearances for the big league club. Wolf, 30, has a 3.79 ERA (4.54 FIP) in three starts and eleven relief appearances. Obviously the Yankees would be better off facing any of those three guys rather than Garza, who is scheduled to start for the Cubs tonight. If he pitches for Chicago, you can forget about him for Thursday even if the two teams do swing a trade.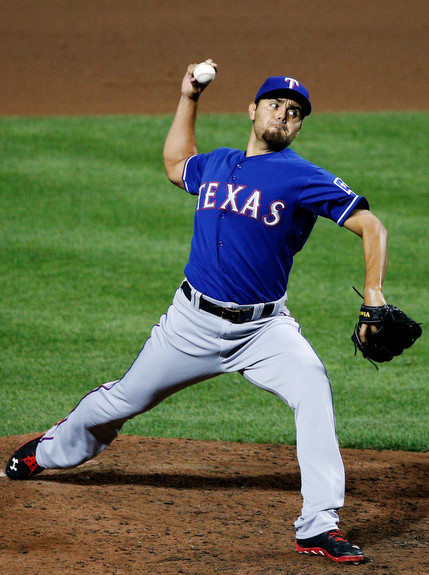 Bullpen Status
Washington's bullpen now features two former All-Star closers. RHP Joe Nathan (2.42 FIP) handles the ninth inning while RHP Joakim Soria (2.30 FIP in limited time) handles the eighth. RHP Tanner Scheppers (4.23 FIP) and LHP Robbie Ross (3.33 FIP) are the late-inning matchup tandem, then there's LHP Neal Cotts (2.21 FIP) and RHP Jason Frasor (3.20 FIP). RHP Cory Burns (4.32 FIP in limited time) and LHP Joe Ortiz (4.29 FIP) are likely to be sent down when Darvish and Ogando are activated.
The Yankees are in decent bullpen shape following yesterday's extra-innings loss, but both Shawn Kelley and Preston Claiborne are unlikely to be available tonight. David Robertson has appeared in two straight games as well. Check out our Bullpen Workload page for exact recent reliever usage info. Now that Baseball Time in Arlington is defunct, Lone Star Ball is my Rangers' blog of choice.