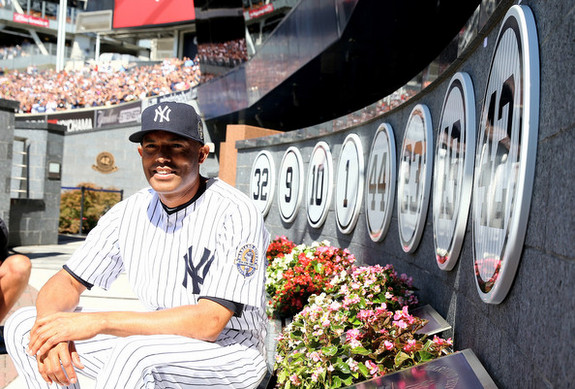 The final week of the regular season is upon us. To make the postseason, the Yankees need to win each of their final six games while the Rays, Rangers, and Indians win no more than two of their remaining games. Or something like that. Let's see the Bombers hold up their end of the bargain before we start worrying about everyone else. Mathematically, the Yankees are still alive. In reality, they're done. Such is life. Here are some random thoughts.
1. I'm not quite sure what the Yankees are supposed to do during this final week. I want them to play kids — Zoilo Almonte, J.R. Murphy, Dellin Betances, and Cesar Cabral, specifically — but mostly because I can't bear to watch guys like Ichiro Suzuki, Vernon Wells, Chris Stewart, and Joba Chamberlain any longer. Six games won't tell us anything about the kids, or least not anything that should change our minds about their long-term potential and possible role in 2013. I've just about hit my limit with Ichiro and Stewart and Joba though. They're unwatchable and there's something to be said for having a watchable team. Forget looking at it as a fan, I can't imagine all those companies paying big advertising bucks aren't so happy with their bang for the buck this year. So please, for my sanity if nothing else, play some young players these last six games and make them interesting.
2. A team official told Erik Boland the return of Phil Hughes for next season "can't be ruled out," which is true of pretty much every free agent, really. That seems especially true for Hughes though because the Yankees will have an awful lot of pitching questions to answer prior to next season. If the price is right, the Bombers should definitely look to bring Phil back. The question is what's the right price? He's got a 5.07 ERA and 4.53 FIP in 143.2 innings this year, which is by far his worst (mostly) healthy season as a full-time starter. Hughes has alternated ~2 WAR seasons with ~0 WAR seasons since moving into the rotation four years ag0 and you'd be hoping for a rebound by re-signing him. A qualifying offer is out of the question at this point, but would one-year at $4M work? Maybe push it to $5M? I'm a) not terrible confident in the team's in-house options, and b) in favor of adding as much pitching depth as possible this winter, so I'd definitely bring Hughes back for a year at $4-5M. The problem is he'll probably get more on the open market — all it takes is one team to overpay.
3. You know how teams who have nothing left to play for — either because they've already clinched their postseason spot or have already been eliminated — will trot out a skeleton crew lineup in the final game of the regular season? I wonder if the Yankees will do that on Sunday. If they do, I'd probably use a lineup along these lines:
CF Ichiro
3B Eduardo Nunez
LF Wells
DH Mark Reynolds
1B Lyle Overbay
RF Zoilo
2B David Adams
SS Brendan Ryan
C Murphy
That … looks dangerously close to their regular everyday lineup, no? The only legitimate starting-caliber MLB players who would be sitting in that scenario are Curtis Granderson, Robinson Cano, Alfonso Soriano and Alex Rodriguez. There aren't that many position player call-ups this year. Hiroki Kuroda lines up to start that day, but since he's out of gas, the Yankees could start Brett Marshall and have him thrown three or four innings before a parade of September call-up relievers take over. I suppose that depends on what they do to replace the injured CC Sabathia this week.
4. With the understanding that the best team doesn't always win the World Series, which postseason team do you think is most dangerous in a short playoff series? A lot of people will probably pick the Red Sox because they wrecked the Yankees (twice) in recent weeks or the Tigers because hey, they won the pennant last year, but I think it might be the Reds. Johnny Cueto is back from his third lat strain, so manager Dusty Baker will have two aces (Cueto and Mat Latos) and a damn-near ace (Homer Bailey) in his postseason rotation. Their lineup is crazy deep — particularly with guys who work deep counts and make pitchers to throw a lot of pitches — and their bullpen is really underrated behind Aroldis Chapman. Sean Marshall is back from the DL, lefty Manny Parra dominates same-side hitters, and Sam LeCure and J.J. Hoover are as good as any right-handed setup tandem in the game. Not big names, but big results. The Reds are probably going to have to play a wildcard play-in game, which could derail their season in an instant, but that is definitely not a team I want to play in a best-of-five or best-of-seven series.