The 2013 season is over and now it's time to review all aspects of the year that was, continuing today with the only Yankees rookie to make an overall positive impression.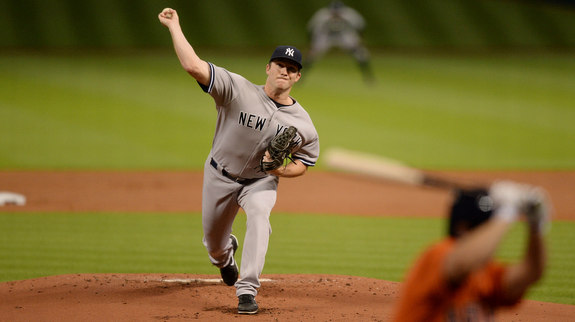 This past season was a very important one for right-hander Adam Warren. Coming into 2013, he was a 25-year-old who had put together back-to-back good but not great seasons with Triple-A Scranton and appeared destined for a third stint in Northeast Pennsylvania because of the numbers crunch. Instead, injuries to Phil Hughes and Clay Rapada opened roster spots and Warren made the team out of Spring Training.T
hanks to Hiroki Kuroda trying to snag a line drive with his bare hand, it took all of two games before the Yankees needed to use their long man this year. Kuroda exited the game early and in came Warren against the high-powered Red Sox, against whom he allowed just one run in 5.1 innings of work. Warren struck out four, walked one, and threw 86 total pitches after being fully stretched out as a starter in camp. It was an excellent follow-up to his ugly big league debut last summer.
As the long man, playing time was predictably sporadic. Warren made just three more appearances in April before becoming something of a regular in May, throwing 15.2 innings across six appearances. By the end of that month, the right-hander was sitting on a 2.10 ERA and 3.20 FIP in 25.2 innings of work. That included three appearances of at least three shutout innings and four appearances of at least three innings and no more than one run allowed. It's a difficult role to excel in, yet Warren was doing it.
Appearances were again infrequent in June — he only pitched three times that month and was actually optioned to Triple-A at one point, but he never appeared in a game in the minors and was recalled four days later when Mark Teixeira went on the DL — but that month also featured Warren's best outing of the season, when he chucked six innings of shutout relief against the Athletics in the marathon 18-inning loss on June 13th:
Warren struck out four, walked two, and allowed only four hits while throwing 85 pitches in the appearance. The Yankees went on to lose the game, but not because of their long man. He was nails.
In 43.2 innings prior to the All-Star break, Warren managed a 3.09 ERA and 3.83 FIP. His strikeout (7.21 K/9 and 19.1 K) and homerun (1.28 HR/9 and 12.8% HR/FB) rates were just okay, but he was limiting walks (2.47 BB/9 and 6.6 BB%) and getting ground balls (48.5%). By no means was he star or even a super important cog in the pinstriped machine, but Warren had established himself as a big leaguer. A young big leaguer at that, something the Yankees desperately needed.
The second half of the season didn't go as well — 3.78 ERA and 4.97 FIP in 33.1 innings — particularly a five-game stretch after the All-Star break. Warren allowed seven runs on ten hits (three homers) and six walks in 9.1 innings across those five appearances, but thankfully it was just a minor hiccup. He recovered in mid-August and closed out the season well, allowing just seven runs in his final 24 innings (2.63 ERA). That includes five scoreless innings in a spot start in Game 160, after the Yankees had been eliminated.
All told, Warren pitched to a 3.39 ERA and 4.32 FIP in 77 innings across two spot starts and 32 long relief appearances in 2013. He made six appearances of at least four innings and in those games he surrendered only four runs total (1.27 ERA), three of which came in one outing. Joe Girardi even used him in some seventh inning setup situations as his bullpen got worn down and depleted by injury later in the season. It is worth nothing, however, that Warren's platoon splits were pretty drastic:
| | TBF | K% | BB% | GB% | HR/9 | Opp. OPS+ | FIP |
| --- | --- | --- | --- | --- | --- | --- | --- |
| Overall | 331 | 19.3% | 9.1% | 45.3% | 1.17 | 114 | 4.32 |
| vs. RHP | 158 | 21.5% | 8.9% | 48.4% | 0.72 | 83 | 3.47 |
| vs. LHP | 173 | 17.3% | 9.3% | 41.7% | 1.60 | 140 | 5.13 |
Does that mean Warren should never face left-handed batters again? No, at least not yet. We've got a long way to go before we relegate him to righty specialist status. Getting lefties out is definitely something he will have to work on going forward though, especially if he's going to continue being a multi-inning guy.
I think an important part of the season for Warren was that he stayed true to his starter roots and threw five different pitches in relief. According to PitchFX, he threw his low-to-mid-90s four-seamer, low-90s sinker, mid-80s slider, and low-80s changeup all at least 18% of the time. He broke out his upper-70s curveball about 11% of time. Most guys stop using their third or fourth (or fifth) pitches and stick with their two best out of the bullpen, but not Warren. He mixed it up and as a result, he should come to Spring Training with an overall better feel for all of his pitches.
When he does come to camp next year, Warren is expected to compete for a rotation spot, pending the team's moves this coming offseason. He showed he can turn over a lineup more than once as a long reliever this year and, if nothing else, he's earned the opportunity to compete as a starter next year. Even if the competition is rigged in favor of someone else — the Yankees are known to do that from time to time, you know — Warren still deserves a nice long look during Grapefruit League play. New York didn't have much success with young players or their farm system this year, but Warren was a definite bright spot. He could have easily stalled out by repeating Triple-A a third time, but instead he got an opportunity with the big league team and took advantage.