The 2013 season is over and now it's time to review all aspects of the year that was, continuing today with a bullpen stalwart and one of the most undeserved punching bags in recent Yankees history (I'm guilty).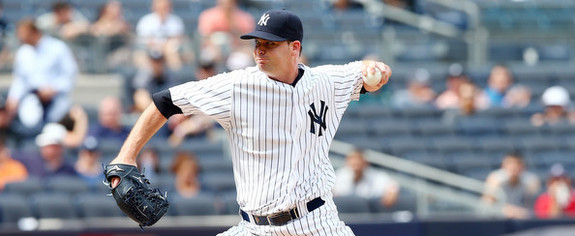 Given all the money they've spent over the years, it's pretty obvious the Yankees value having a quality left-handed reliever in the bullpen. And they should. The AL East is full of powerful lefty bats, from David Ortiz to Chris Davis to Colby Rasmus to … uh … James Loney. Once upon a time they had to deal with guys like Carlos Pena and Carlos Delgado as well. It definitely makes sense for New York to have that shutdown southpaw. For the fourth straight year, Boone Logan was that guy.
Fittingly, Logan's season was book-ended by elbow problems. He was on the 2013 Yankees, after all. The team took it easy on him in Spring Training — Logan only appeared in four Grapefruit League games, less than half what a regular big league reliever usually makes — because of a tender elbow, which likely had something to do with his a) career-high 55.1 innings and league-leading 80 appearances in 2012, and b) extreme slider usage (51.4% in 2012 and 44.8% from 2011-2012). Lots of appearances — not to mention all the times he warmed up but didn't get into the game — and lots of sliders are usually bad for the elbow.
Despite the elbow issue, Logan was his usual self for most of the regular season. He had his first notable meltdown on May 5th and even that was just a solo homer by MVP candidate/right-handed batter Josh Donaldson to break a tie in the eighth inning. Logan allowed only three runs between that game and the All-Star break, striking out 26 and walking three (one intentionally) in 16.1 innings across 27 appearances. He was dominating both lefties (.189/.225/.324, 50.0 K%) and righties (.190/.217/.333, 26.1 K%).
Logan hit a rough patch in mid-August, allowing four runs on four base-runners in one full inning of work across two appearances against the Angels. He allowed one run in nine appearances going into that stretch and followed with seven straight scoreless outings. It was just a hiccup. When August came to an end, Logan had a 2.68 ERA and 3.51 FIP in 37 innings across 56 appearances. Lefties hit .230/.266/.392 with a 38.8% strikeout rate against him during the first five months of the 2013 season. A little too much power (three homers), but fine overall.
For all intents and purposes, Logan's season came to an end on September 6th. That was the game in which he inherited a bases loaded situation and allowed the grand slam to Mike Napoli. I know you remember that game. He left that game with what was originally called tightness in his biceps, and subsequent tests showed only inflammation. Logan received a cortisone shot and started a throwing program, but he didn't improve and headed to see Dr. James Andrews. Andrews found a bone spur in Boone's pitching elbow. He was given the okay to continue pitching but Joe Girardi only used him once more that season: on September 24th, when he struck out the only man he faced (Sam Fuld).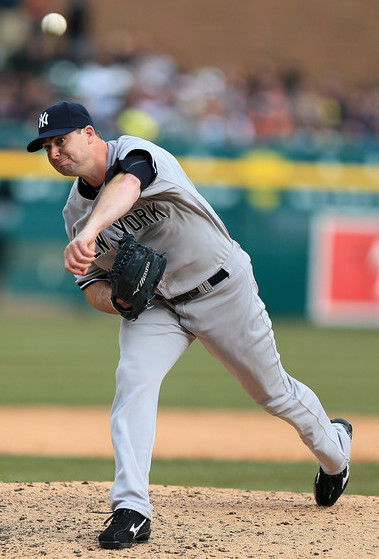 Logan ended the season having thrown 39 innings across 61 appearances, posting a 3.23 ERA and 3.82 FIP overall. Obviously his primary job was to neutralize lefties and he did that, limiting same-side hitters to a .215/.274/.377 (.281 wOBA) line with very good to great strikeout (14.57 K/9 and 40.0 K%), walk (2.57 BB/9 and 7.1 BB%), and ground ball (44.2%) rates. Among left-handed pitchers, only Clayton Kershaw (41.5%) had a higher strikeout rate against lefty batters this summer (min. 20 IP). In the quirky stat department, Logan led all relievers in appearances in which he struck out every batter he faced this year with 12. Kinda cool, I guess.
Homeruns were a bit of a problem for Logan this summer, as he allowed a career-high seven dingers in those 39 innings (1.62 HR/9). That's a lot of homers even for Yankee Stadium, especially for a pitcher with a very good 47.3% ground ball rate overall. His 20.0% HR/FB ratio was more than double the 9.3% HR/FB ratio he posted during his first three years in pinstripes. The long ball spike could be due to a number of things, including the elbow issue that he acknowledged had been bothering him all year. The homers were a bit of a bugaboo this summer.
Logan had surgery to remove the bone spur right after the season and is expected to both start throwing again in December and be ready in time for Spring Training. He will become a free agent in the coming days and has already expressed an interest in returning to the New York, though it's unclear if the feeling is mutual. The Yankees are trimming payroll and lefty reliever sure seems like a potential spot to save money. Either way, Logan capped off a rather successful four-year stint in pinstripes with another very good performance this year. He has been, by far, the team's best left-handed reliever since Mike Stanton.