The 2013 season is over and we've had a week to catch our breath. It's time to review all aspects of the year that was, continuing today with the Yankees leadoff hitter.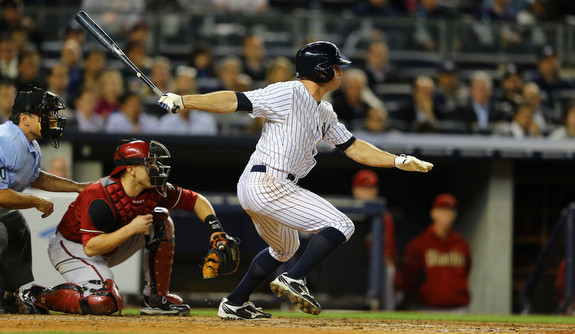 The Yankees were pretty inactive last offseason, at least in the sense that they didn't import any actually good players from other teams, so the biggest upgrade they made was getting one of their own back from injury. Brett Gardner missed just about the entire 2012 season with an elbow injury that, three setbacks later, eventually required surgery. All told, he appeared in just 16 of the team's 162 games last year.
Gardner was essentially replacing Raul Ibanez in the lineup and in the outfield. Ibanez did an admirable job for the Yankees last year, though his contributions are greatly overstated because he became a clutch homer machine in the final two or three weeks of the year. For the first five and a half months, he was pretty bad at the plate and downright terrible in the field. The two-way upgrade was obvious.
Oddly enough, Gardner's season started with a position change. The Yankees dubbed it an experiment at first, but their plan was to move Gardner to center and Curtis Granderson over to left to best use their defensive skills. Brett has way more range and is the all-around superior defender, so he should play the tougher position. The team didn't commit to anything and only said they were trying it out in camp, but J.A. Happ made it official when he broke Granderson's forearm with a pitch in his first Grapefruit League at-bat. Took the decision right out of the team's hands.
Just like that, Gardner was the full-time center fielder. The full-time center fielder and full-time leadoff man thanks to Derek Jeter's ankle injury and Ichiro Suzuki's noodle bat. The Yankees had tried Gardner in the leadoff spot in the past and the results were pretty bad, bad enough that he never stuck atop the lineup. This year was different. This year he had no choice but to be the leadoff man because the team had no other alternatives. Maybe that lack of competition helped Brett feel more comfortable, who knows?
Anyway, with the understanding that every everyday player will have ups and downs throughout the 162-game season, Gardner remained remarkably consistent at the plate over the course of the year. I give you two graphs: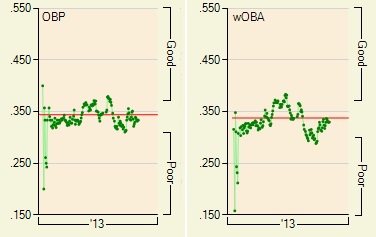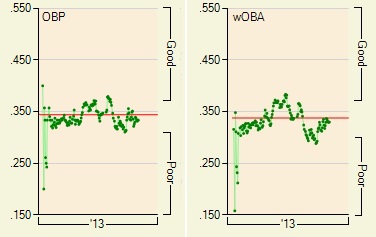 The left graphs shows Gardner's day-by-day OBP (the most important thing for a leadoff man) while the right shows his day-by-day wOBA (overall offensive production). There's not a whole lot of deviation there, especially with the OBP. Pretty much the same guy from start to finish. There was a never point where taking him out of the leadoff was considered because he wasn't hitting.
Gardner did have two notable hot streaks over the course of the summer. He hit three homeruns in a 13-game span from May 24th through June 5th, which is notable because he isn't a power hitter. Not even close. The last of the three homer was his sixth of the year, one short of his career-high after only 59 games. As Jeff Sullivan noted, Gardner was doing it by being more aggressive at the plate — three of those six homers came on the first pitch while another came on the second pitch. He was ambushing fastballs early in the count instead of taking them for the sake of working the count. The power surge didn't last — he hit only two homers in the team's final 103 games of the season — but it happened.
The second hot streak, weirdly, started when the power surge ended. Starting on June 5th, Gardner went on a 24-game tear in which he went 35-for-100 (.350) with six walks (.387 OBP) and eleven doubles (.540 SLG). He had multiple hits in half of those 24 games. Near the very end of that insane hot streak, Gardner's batting line topped out at .290/.348/.456 and had him in the conversation as a bubble player for the All-Star Game. He didn't get elected obviously, but it was still cool just to hear him be considered. Hooray arbitrary endpoints.
Unfortunately, Gardner's season ended prematurely when he strained an oblique muscle on a swing in his first at-bat of the September 12th game against the Orioles in Camden Yards. The injury ended his year — there was talk he could be available as a pinch-hitter late in the season, but that never happened — and left the team with a gigantic hole atop the lineup. Granderson had returned to take over center field by then, that wasn't an issue, but the Yankees didn't have anyone to properly set the table from the leadoff spot. The offense really sputtered down the stretch.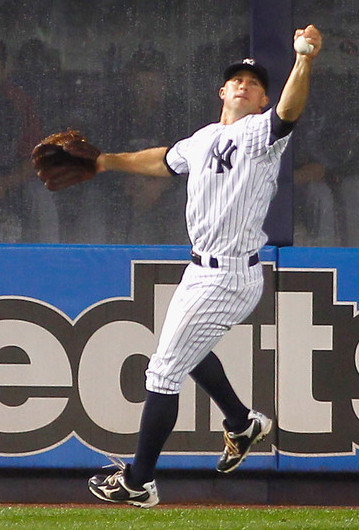 Overall, Gardner hit .273/.344/.416 (108 wRC+) while setting new career-highs in doubles (33), triples (ten), homers (eight) and plate appearances (609). He held his own against lefties (.247/.317/.427, 100 wRC+) and was a monster with men on base (.311/.379/.467, 130 wRC+). Pretty much the only complaint about Gardner's offensive game was his relative lack of steals. After swiping 47 and 49 bases in his previous two full seasons, he only went 24-for-32 (75%) in stolen base chances in 2013.
Defensively … I'm not really sure what you can say. Gardner was very good overall but not truly elite like he was in left field, at least in my opinion. The defensive stats — +6 DRS, -0.5 UZR, -7.3 FRAA, -20 TotalZone (?!?) — aren't too kind but a one-year sample doesn't tell us much of anything. You'd expect the numbers to come down because Gardner was being compared to other center fielders and not other left fielders like he was the last few years, but geez, they shouldn't come down that much. The FRAA and TotalZone numbers definitely do not pass my sniff test. You're welcome to feel differently.
From start to finish, Gardner was the team's second best position player behind Robinson Cano this season. By far too. It was Cano (big gap) Gardner (big gap) everyone else. That's as much a statement about Gardner's strong season as it is the rest of the roster. He didn't show any lingering effects from the elbow injury and, even with the (lack of) stolen base weirdness, he was an above-average player on both sides of the ball. Again, that's based on my opinion of his defense. The Yankees didn't have many bright spots this year, but Gardner was very obviously one of them.