The 2013 season is over and we've had a week to catch our breath. It's time to review all aspects of the year that was, continuing today with the Yankees' ill-advised outfield pickup.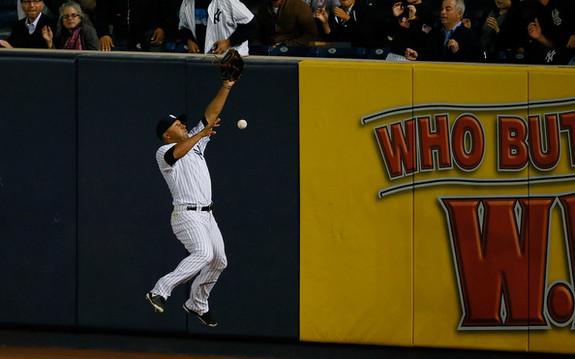 The Yankees traded for Vernon Wells at the end of Spring Training and paid him $11.5M this past season. On purpose. Despite a .222/.258/.409 (82 wRC+) batting line in 791 plate appearances for the Angels from 2011-2012, someone in the front office looked at Wells and thought he would be a good use of a roster spot and tens of millions of dollars. Desperation makes people do weird, weird things.
Injuries had taken their told on the Yankees even before Opening Day arrived. Derek Jeter and Alex Rodriguez had offseason surgeries delay the starts of their seasons while Curtis Granderson and Mark Teixeira got hurt in camp. Add in Nick Swisher leaving as a free agent, and the Bombers lost five of their six best hitters from last season without importing adequate replacements. That's how you wind up trading for a guy like Vernon Wells. Desperation.
Amazingly, Wells actually made the Yankees look good for the first few weeks of the year. He hit .300/.366/.544 (148 wRC+) with six homeruns in April and legitimately belonged in the middle of the order. Against righties, against lefties, whatever. Wells was an everyday player and a big reason why the club exceeded expectations for the first 50 games or so. It looked like the pro scouting department had found another gem like Eric Chavez or Bartolo Colon, the guy with something left after everyone wrote him off.
But, of course, it didn't last. I mean, it really didn't last. There was no gradual decline, no steady slide back to Earth. Vernon just fell right off in the middle of May and stopped hitting all together. He just … stopped. Rollover grounder to short after rollover grounder to short, that's what followed. It was unlike anything I've ever seen before. Healthy players — maybe Wells was nursing an injury, who knows? — just don't stop hitting like that. Here, look: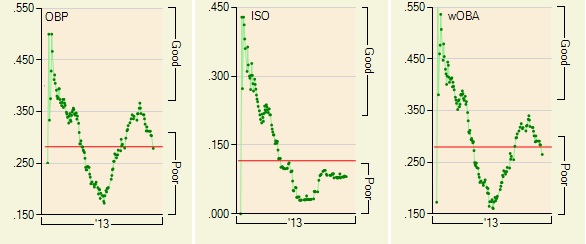 That's what it looks like when a hitter goes from really really good to really really bad in a heartbeat. Wells hit a homer on May 15th to raise his season batting line to .301/.357/.538 in 157 plate appearances, but his next 157 plate appearances? How about a .185/.204/.225 batting line. It didn't stop there though. After hitting that homer on May 15th — his tenth of the season — Wells put up a .199/.243/.253 line with one (!) homer in his final 301 plate appearances of the year. One homer! It wasn't even a real homer either. Look at this thing:
Hit Tracker says that homer traveled 344 ft. and would have been out in exactly one ballpark — Yankee Stadium. Vernon hit one dinger in his final 300 or so plate appearances and it bounced off the top of the wall of the shortest right field porch in baseball. Unbelievable.
Relegated to platoon status by the end of the season (even that was generous on Joe Girardi's part), Wells hit .233/.282/.349 (70 wRC+) with eleven homers in 458 plate appearances this summer. That includes a .269/.318/.379 (89 wRC+) line in 198 plate appearances against left-handed hitters, so he didn't even have much platoon value. On top of all of that, Wells was downright Andruw Jones-esque in the outfield, with little range and half-hearted retrieval skills. The total package was sub-replacement level (-0.2 bWAR and -0.8 fWAR) for the low price of $11.5M.
Big league teams know more about stuff than fans ever will, but every so often a move is made that is just so head-scratching and obviously bad. The Yankees asked Wells to buck two years of terrible performance and paid good money to do it. I guess the good news is that because of the way the money in the trade is structured, Vernon will count $0 against the luxury tax in 2014. The team still owes him $2.4M in real dollars though, so it's not like he's free. Wells was awful for two straight years before coming to New York and he made it three straight in pinstripes. I just don't know why anyone expected otherwise.