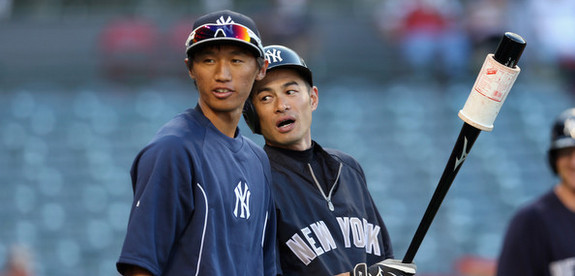 Gosuke Katoh | 2B
Background
Katoh was born but not raised in Tokyo — his family moved from Japan to Southern California when he was a child. He got into baseball when his parents enrolled him in Little League to help him learn English and socialize. Katoh starred at Rancho Bernardo High School — he hit .451 with 12 doubles and eight homers as a senior — and really jumped onto the prospect map during the Area Code Games last year. He was a very good student with a strong commitment to UCLA.
Prior to the 2013 draft, Baseball America (no subs. req'd) ranked Katoh as the 39th best draft prospect in California and the 189th best draft prospect overall. The commitment to UCLA had many clubs thinking he was going to be a tough sign, but the Yankees rolled the dice and selected Katoh with their second round pick, the 66th overall selection. He signed within two weeks of the draft for a straight slot $845,700 bonus.
Pro Debut
The Yankees assigned Katoh to one of their two Rookie Gulf Coast League affiliates after signing and he absolutely mashed. I'm talking a .310/.402/.522 batting line while leading the league in homers (six) and OPS (.924) in 215 plate appearances. Among the 2,144 players to have at least 200 plate appearances in the minors this season, only 16 bested his 171 wRC+. Just one of those 16 players was younger than Katoh.
Scouting Report
High school second basemen usually aren't serious pro prospects, but Katoh is a rare exception. He's listed at 6-foot-2 and 180 lbs. and stands out for his high-end athleticism, which allows him to play the defense at a well-above-average level. His hands and range are both outstanding, as is his throwing release. The only thing holding him back from playing shortstop is his arm strength, which is below-average. I don't know if a throwing program can fix that, but the Yankees reportedly may give him time at short in the future just to see what happens.
Offensively, Katoh is a natural right-handed hitter who learned to hit left-handed at a young age because he idolizes Ichiro Suzuki. He is strictly a lefty hitter and I doubt becoming a switch-hitter is a realistic possibility at this point. Katoh has a very level swing geared for contact and line drives to the opposite field. He doesn't pull the ball all that much and his power is surprising for his wiry frame but still just okay in the grand scheme of things. His bat plays up because of a disciplined approach. Katoh has speed and he uses that to his advantage both on the bases and by pressuring the defense on ground balls. As you might suspect, the Yankees love his makeup and work ethic.
Video
There is a bunch more video on YouTube, all from high school this spring.
2014 Outlook
The Yankees tend to be conservative with their high school position players in their first pro seasons, holding them back in Extended Spring Training before assigning them to one of the short season leagues. The last guy they bumped up into a full season league right away was Dante Bichette Jr., who tore the GCL apart just like Katoh. Bichette has been a disaster but I'm not sure if it'll be a deterrent. New York has a ton of middle infielders at the lower levels, enough that I expect them to take it slow with Katoh and hold him back in ExST.
My Take
Nothing gets people excited about a prospect quite like a dominant pro debut, but it's important to put the performance in context and not read too much into it. Heck, I mostly ignore short season numbers all together. That said, Katoh is better than I realized at the time of the draft because he has an elite carrying tool in his defense. The vast majority of prospects don't have an elite anything. I underrated Brett Gardner as a prospect for the longest time because I overlooked his defense. Katoh has the defense part of the game figure out, now he just needs to work on the offensive side. He's a classic old school two-hole hitter who handles the bat well and uses his speed, though I'm curious to see what happens as he climbs the ladder and starts facing fastballs that can knock the bat out of his hands.