The 2013 season is over and now it's time to review all aspects of the year that was, continuing today with the baseball world's most expensive sideshow.
I don't even know where to start this post. Alex Rodriguez brought an unprecedented amount of negative to the Yankees this past season, both in terms of off-the-field distractions and in a pure on-field baseball sense. It was remarkable. A chore to sit through on a day-to-day basis but utterly fascinating at the same time. I guess the best way to do this is chronologically. Links take you to the pertinent RAB post.
December 3rd: Oh hey, Alex needs major hip surgery
During the very first day of the Winter Meetings, Brian Cashman took to the podium not to announce a trade or a free agent signing, but to announce that Rodriguez needed surgery to repair a torn labrum and a bone impingement as well as correct a cyst in his left hip. The injury apparently occurred sometime late in the regular season and was to blame for his dreadful postseason showing. (Unfortunately the rest of the team had no such excuse.) The surgery required 4-6 weeks of "pre-hab" and a 4-6 month recovery time, meaning A-Rod would be out until the All-Star break or so. The Yankees scrambled to sign Kevin Youkilis as a replacement third baseman and he managed to play fewer games than Alex in 2013, but I digress.
January 26th: Enter Anthony Bosch
This is the first time most of us heard about Bosch, a seedy quasi-doctor in South Florida who was being investigated by MLB and the DEA for allegedly providing performance-enhancing drugs to athletes, including A-Rod. This would not be the last time we heard about him. Not by a long shot.
January 29th: A-Rod is officially connected to Bosch and PEDs
A few days later, The Miami New-Times published a lengthy exposé that included detailed records showing A-Rod had indeed received HGH and other banned substances from Bosch during a period of time from 2009-2012. The records included payment schedules and all sorts of other stuff. A number of other players were connected to Bosch and his Biogenesis clinic in the report as well. Over the next few days, we heard there was basically no chance the Yankees would be able to void the remaining five years and $114M left on Rodriguez's contract.
February 12th: No camp for A-Rod
As MLB conducted their investigation into Bosch and Biogenesis behind the scenes, the Yankees started Spring Training without Alex. He was directed to stay home and continue his rehab following the hip surgery in New York. The injury provided a convenient excuse but it obvious the team wanted their third baseman nowhere near the club. They didn't want the distraction. One day after the announcement, A-Rod was transferred to the 60-day DL to clear a 40-man roster spot for the newly-acquired Shawn Kelley.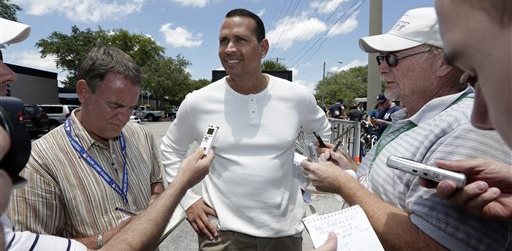 April 12th: A-Rod may or may not have purchased Biogenesis documents
The Biogenesis story started to get cooky in mid-April, when it was reported A-Rod tried to purchase documents from people connected to the clinic in an effort to keep them away from MLB. Later that afternoon, a different report shot that down. Meanwhile, MLB was in the process of filing lawsuits against Bosch and several other important parties, but not Alex or any other players.
May 2nd: Cleared for baseball activities
A little less than five months following the surgery, Rodriguez and his surgically repaired hip was cleared to resume baseball activities. This was the first step of a long, long road. It wasn't a typical rehab. A-Rod had to slowly build himself up before returning to the team.
June 6th: Attempted extortion
By now we all knew MLB was out for blood. They wanted to bury A-Rod and Ryan Braun specifically, the biggest names in the Biogenesis scandal. The league was looking to suspend upwards of 20 players, but especially those two because they were considered serial users and multiple time offenders. On this date, we learned Bosch tried to extort a six-figure sum from Rodriguez before agreeing to cooperate with MLB's investigation. In exchange for Bosch's cooperation, MLB dropped their lawsuit, covered his legal bills and civil liability, and provided him with bodyguards. Jumping into bed with the league after trying to extort A-Rod is shady, shady stuff.
June 10th: A-Rod to Japan?
Oh, by the way, the Fukuoka SoftBank Hawks in Japan called the Yankees to inquire about Rodriguez's availability over the winter, but New York never bothered to call them back. This is a real thing that really happened.
June 25th: STFU
In a passive aggressive attempt to annoy the Yankees and MLB and whoever else, A-Rod was tweeting out details about his rehab. The team didn't take too kindly to that, to the point that Brian Cashman suggested his third baseman should "shut the f**k up" while talking with a reporter. The GM eventually apologized and all that, but frustration had started to boil over.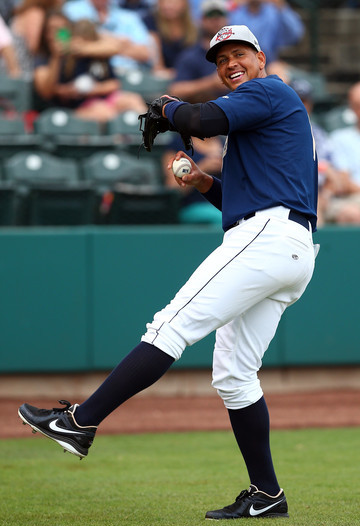 July 2nd: Rehab games
Seven months after surgery and two months after being cleared to resume baseball activities, Rodriguez began an official minor league rehab assignment with Low-A Charleston. He went 0-for-2 and played three innings at third base. His 20-day rehab window had begun.
July 20th: When quads attack
Bad weather forced Alex to jump between minor league levels during his rehab, but he was with Triple-A Scranton in the middle of July and was only a few days away from rejoining the team when he felt some tightness in his left quad. Supposedly it wasn't bad, so he was not scratched from that night's game. They shifted him to DH instead.
July 21st: Grade I
The Yankees sent A-Rod for tests on his quad, tests that revealed a Grade I strain. Rather than meet the team in Texas to be activated off the DL as scheduled, he would be shut down for roughly two weeks. I am convinced the team delayed his return as long as possible because they hoped he would be suspended so they could be rid of him and the distraction. Completely convinced.
July 24th: Quad injury? What quad injury?
Three days after the Grade I strain diagnosis, Dr. Michael Gross called into Mike Francesa's show to say he saw no quad strain when he gave Rodriguez an unofficial second opinion. "To be perfectly honest, I don't see any injury there," said Gross. A-Rod reported no pain and said he felt ready to be activated off the DL and play that night. The Yankees later fined Rodriguez because he sought a second opinion without first notifying the team in writing per the Collective Bargaining Agreement. He was sent for a third opinion the next day that confirmed the Grade I strain diagnosis. Things were starting to get weird, needless to say.
August 2nd: Rehab, part deux
Rodriguez returned to Double-A Trenton to start his rehab (again) and homered in his first game. He drew four walks the next day, in what was ultimately his final minor league game of 2013.
August 5th: A-Rmageddon
This is when things got completely nuts. On the afternoon of August 5th, A-Rod and a dozen other players were officially suspended for their ties to Biogenesis. Those 12 other players all received 50-game bans and started serving their suspensions immediately. Rodriguez received a record 211 games that covered the rest of 2013 and all of 2014. MLB essentially gave him 50 games for being a first-time offender and 161 games for trying to interfere with their investigation. Despite rumors that Bud Selig would invoke a commissioner's power that would ban Alex from baseball in the "best interests of the game," he did no such thing.
Unlike the other 12 players, Rodriguez appealed his suspension and rejoined the team that night. On the same day he was given a historic suspension, he played his first game of the season. Crazy. A-Rod met the club in Chicago for a three-game series with the White Sox and went 1-for-4 with a walk in his first big league game of 2013. Not coincidentally, the YES Network recorded their highest ratings of the season that night. Alex went 15-for-47 (.319) with two doubles and two homers (.897 OPS) in his first 12 games back and gave the offense a major shot in the arm.
August 17th: Enter Joseph Tacopina
Tacopina, A-Rod's lawyer for his appeal, blasted the Yankees during an interview and said the team deliberately endangered his client's health by playing him with the hip injury during the postseason last year in an effort to get him out of baseball. He claimed the team hid MRI results that showed the labrum tear. "They rolled him out there like an invalid and made him look like he was finished as a ballplayer … They did things and acted in a way that is downright terrifying," said Tacopina. The next day we learned Alex's camp had started the process of filing a medical grievance. Cashman told reporters he felt uncomfortable around A-Rod but rooted for him because he wore pinstripes. So very weird.
August 18th: Officer Ryan Dempster, Baseball Police
In the finale of a three-game set with the Red Sox at Fenway Park, Dempster took it upon himself to punish Rodriguez for his alleged PED crimes. He threw the first pitch of their first encounter behind A-Rod's legs, the next two inside at his waist, and the fourth at his ribs. Joe Girardi got tossed after storming out of the dugout because both benches were warned but Dempster was not ejected despite obviously throwing at a player. The righty would be suspended five games a few days later. A few innings later, Alex hit a monster solo homer to dead center against Dempster, the team's longest homer of the season. New York came from behind in the late innings to win what was then a huge game. Probably the highlight of the season, no?
September 10th: Hamstrung
With his batting line sitting at .301/.388/.496 after 31 games and 129 plate appearances, Rodriguez was forced out of a game against the Orioles with tightness in his left hamstring. No tests were performed and A-Rod returned to the lineup the very next night as the DH. The Yankees were fighting for a wildcard spot, after all. He would not play the field again the rest of the season.
September 15th: Now, the calf
Five days later, Alex had to leave a game against the Red Sox with tightness in his right calf. The team was off the next day and A-Rod returned to the lineup the day after that, again as the DH. At this point he was playing on a bad calf, a bad hamstring, and two surgically repaired hips. It was obvious the mounting leg injuries were affecting him at the plate as his swing was basically all arms late in the season. He looked like he did during the postseason last year. In his final 13 games of the season, basically from the hamstring injury through the end of the year, A-Rod went 4-for-43 (.093) with two homers (.483 OPS), including his record 24th career grand slam. He finished the season with seven homers and a .244/.348/.423 (113 wRC+) batting line in 44 games and 181 plate appearances.
September 30th: Now the show really starts
The appeal hearing of Rodriguez's suspension started the first day after the end of the regular season. MLB kicked things off with about a week's worth of testimony — the two sides traded public barbs the whole time — but scheduling conflicts put the hearing into a recess until mid-November. The hearing will resume on November 18th and a ruling is not expected until sometime in mid-December.
October 4th: Lawsuits for everyone
If A-Rod goes down, he's going down with guns blazing. Early last month, his legal team filed two separate lawsuits: one against Selig and MLB for their "witch hunt" and trying to push him out of the game, and another against team doctor Christopher Ahmad for misdiagnosing his hip injury last fall. Refer back to the August 17th entry. He reportedly asked the union to step down as his lead counsel during the appeal because he felt they had not take advantage of opportunities to challenge the league's shady investigation. Rodriguez is burning every bridge in an attempt to clear his name. Proceedings for the lawsuit against MLB started just yesterday. Nothing had started in the case against Ahmad as far as we know.
* * *
So that is all of it. Eleven months of scandal and injuries and baseball and more scandal. It's something only A-Rod could pull off, really. The Yankees can now do nothing but sit and wait as the appeal process plays out, hoping their highest paid player gets suspended for a most if not all of next season so they have some extra money to work with this offseason. What a crazy world we live in.