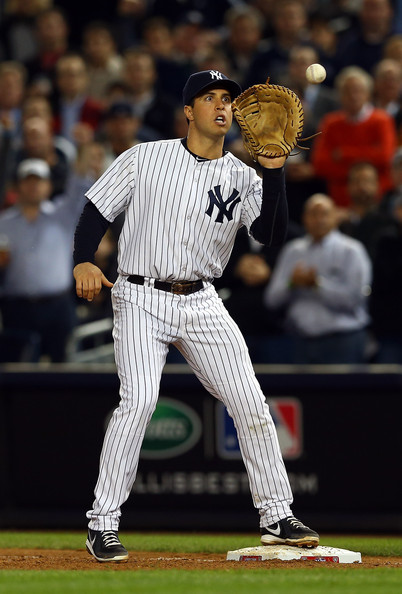 The Yankees came into this offseason with a lot of needs. They needed to upgrade their lineup, their rotation, and their bullpen, so pretty much entire team. The offense was addressed weeks ago and the team is working on the pitching staff at the moment — only 55 hours or so left in Masahiro Tanaka's signing period! — but there is still more work to be done. There never isn't a move to be made, really.
One spot we haven't discussed this winter is Mark Teixeira's backup at first base. That position is a low priority in the grand scheme of things and that was especially true this offseason. There were so many other and more important things to worry about first. Now that we're getting closer to Spring Training and Teixeira says his wrist is still stiff — probably not that uncommon less than seven months out from surgery, but still not ideal — we should probably sit down to think about this a bit.
Russ Canzler is the obvious in-house option. The Yankees signed him to a minor league deal a few weeks ago and his best position is first base, so he's a logical option. I expect him to start the year with Triple-A Scranton, though winning a bench spot in camp isn't completely out of the question. After that there's … uh … Kelly Johnson? He has a total of 18 innings (across three games) at the position in his career, all last year with the Rays. Not exactly a ton of experience.
That's pretty much it as a far as internal options. Playing Brian McCann at first every once in a while seems like a good idea but he's never played the position during his professional career. I can't help but think back to Gary Sheffield in 2006, when the Yankees stuck him at first and he looked completely lost. Like he'd never picked up a glove in his life. First base is the easiest position on the field but that doesn't mean it isn't tough to learn, especially on the fly. This applies to guys like Carlos Beltran, Alfonso Soriano, and even Derek Jeter as well.
As far as options outside the organization, the list of available free agent first baseman is pretty small right now. From MLBTR:
First Basemen

Jeff Baker (33)
Yuniesky Betancourt (32)
Casey Kotchman (31)
Kendrys Morales (30)
Carlos Pena (36)
Chad Tracy (34)
Ty Wigginton (36)
Betancourt and Wigginton are both terrible and not worth roster spots, Tracy and Kotchman have both been awful in three of the last four years, and Pena is pretty much toast at this point. Baker would be a fine pickup given his ability to pound lefties and play all over the field, plus the Yankees have interest in signing him, so that's cool. He could backup Teixeira.
At this point Morales would be a long-term solution, as in Teixeira's wrist acts up and he needs to miss a big chunk of the season again. Otherwise what would the Yankees do with him? They already have about five guys slated to spend a bunch of time at DH next year and adding another — Morales has played 214 games at DH and only 59 at first the last two years — doesn't make sense at all. They have nowhere to play him. If Tex hurts his wrist again and misses a bunch of time, sure, Morales would be a fit. But that's the only situation in which he makes sense for the current roster.
There is one other free agent out there who would fit the roster as a backup first baseman, but he's hiding away under another position. Here, look:
Third Basemen

Michael Young (37)
Sneaky. The Yankees had interest in Young earlier this winter but Ken Rosenthal says he's been mulling retirement so he can spend more time with his family. Luring a player away from retirements feels like something right out of the Yankees' roster building playbook, so we can't rule him out just yet. Young has played a bunch of first (and third base) in recent years and his bat wasn't terrible last season (102 wRC+), though I'm not sure how much gas is left in that tank at age 37. Just a year ago he hit to a 79 wRC+, remember.
I think that, if the season started today, Johnson would be the backup first baseman whenever Teixeira needs a day off almost by default. That last open bench spot figures to go to a second/third base capable infielder like Scott Sizemore or Eduardo Nunez, not a lumbering guy like Canzler. That could always change but right now it seems unlikely. If Teixeira suffers a setback in camp and has to miss the start of the season, I think the Yankees would do what they did last year and wait to see who gets released in March. Scrounging the scrap heap for a first baseman in Spring Training is not ideal, but given the current roster construction, that's probably what it'll come to if Teixeira gets hurt. Until then, Johnson seems to be the guy.