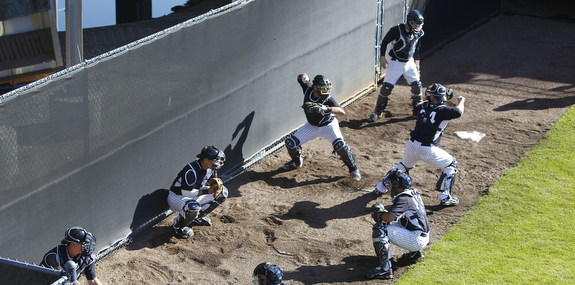 The complex in Tampa is going to get much more crowded when position players officially report to Spring Training on Wednesday. Sure, a bunch of them are already in camp working out, but everyone will be there tomorrow. The Yankees will play their first exhibition game one week from today (vs. Florida State) and one week from tomorrow will be their first televised Grapefruit League game (vs. Pirates), so hooray for that. Here's the latest from Tampa:
Chad Jennings has the day's workout groups. Ivan Nova threw live batting practice while CC Sabathia, Hiroki Kuroda, and Masahiro Tanaka threw in the bullpen. Pretty light day otherwise.
Joe Girardi told Jacoby Ellsbury he will indeed bat leadoff and play center field. No surprise there. Also, the broken foot Ellsbury suffered late last year and played on during the postseason is fully healthy and not expected to limit him in camp. [Dan Barbarisi, Nick Cafardo]
Derek Jeter will talk about his decision to retire following the season during a press conference at 11:30am ET tomorrow, which will air on the YES Network.
Here is your open thread for the evening. The Knicks are playing, plus the Olympics are still going on as well. Talk about that stuff, Spring Training, Jeter, or anything else right here. Have at it.