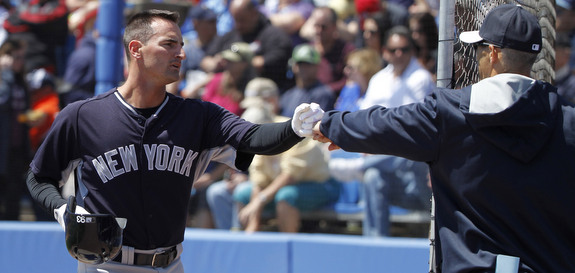 There are only three Spring Training games left, so everyone is pretty much ready to go. The pitchers, like today's starter CC Sabathia, will throw light tune-up sessions more than full "working on something" starts. In fact, Sabathia is only scheduled for 45-50 pitches today. These last few days are about staying sharp and not getting hurt, not building pitch count or anything like that. The real work is already done. These are the last low-stress games the team will play for months.
The Yankees are making the hour-long trip south to Bradenton to play the Pirates this afternoon. Pittsburgh is playing most of their regulars, including Starling Marte, Neil Walker, Andrew McCutchen, former Yankee Russell Martin, and former Yankees farmhand Jose Tabata. Righty Stolmy Pimentel, who I wrote about as a possible trade target not too long ago, is on the mound. Here's the starting lineup as the competition for the final bench spot winds down:
CF Ichiro Suzuki
3B Eduardo Nunez
1B Mark Teixeira
C Brian McCann
LF Zoilo Almonte
2B Yangervis Solarte
SS Dean Anna
DH Zelous Wheeler
RF Adonis Garcia
LHP CC Sabathia
Available Position Players: C Jose Gil, 1B Corban Joseph, SS Carmen Angelini, LF Ben Gamel, and CF Antoan Richardson will all come off the bench. C Roybell Herrera, C Radley Haddad, UTIL Addison Maruszak, UTIL Jose Pirela, and OF Mason Williams are also available.
Available Pitchers: RHP David Phelps, RHP Adam Warren, and LHP Vidal Nuno are all scheduled to pitch after Sabathia. LHP Cesar Cabral, RHP Dellin Betances, LHP Fred Lewis, RHP Graham, Stoneburner, RHP Manny Barreda, RHP Danny Burawa, RHP Branden Pinder, RHP Shane Greene, LHP Aaron Dott, and SwP Pat Venditte are the extra arms.
It has been raining for most of the morning in Bradenton but it is expected to stop very soon if it hasn't already. There might be a short delay, if anything, but it looks like they'll have no trouble getting in a full nine innings. First pitch is scheduled for a little after 1pm ET and you can watch live on both YES and MLB.tv. Yeah, this is one of the rare YES road games. Enjoy.