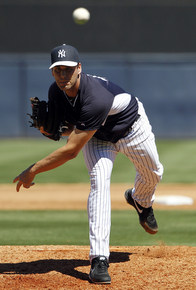 Even though he caught an awful lot of crap, the Yankees had a pretty reliable lefty reliever in Boone Logan over the last few years. They wisely walked away when the Rockies offered Logan a total of $16.5M across three years this winter, instead opting to sign the veteran Matt Thornton to a more sensible two-year, $7M pact. Lefty reliever is a hardly a position worth big free agent bucks.
Logan is recovering from offseason elbow surgery and has yet to appear in a Spring Training game for Colorado while the 37-year-old Thornton has made four Grapefruit League appearances so far this spring. They've been four pretty terrible appearances: 14 batters faced, seven hits, one strikeout, three runs charged. He has only faced four left-handed hitters but three have hits. The other grounded out. Not ideal, but it is only spring.
"I know where I need to make improvements," said Thornton to Brendan Kuty earlier this week. "The off-speed is coming along. I can use it in any situation. I was talking to Brian McCann after [my last] outing. He feels confident with any pitch we're throwing out there, whether it's the four-seamer, two-seamer slider or split, but you still have to get ahead. The next few outings I'm going for strike one, no matter what it is. You can't fall behind guys."
Thornton was once one of the top relievers in the game regardless of handedness, but, as I detailed in the season preview, his performance has slipped with age and he's strictly a lefty specialist at this point. The Yankees know this and Joe Girardi is usually very good with platoon situations, so I don't expect it to be much of an issue. He'll be a glorified Clay Rapada rather than someone who is asked to get righties out with any sort of regularity.
As it stands right now, it seems unlikely the Yankees will carry a second lefty in the bullpen come Opening Day. Cesar Cabral continues to pitch unimportant late innings in spring games and appears to have been passed by Fred Lewis on the depth chart. Lewis has been impressive in camp but doesn't have a promising minor league track record. Vidal Nuno is the most likely candidate for a potential second lefty spot, and he could wind up in Triple-A stretched out as the sixth starter.
Michael Pineda looked fantastic yesterday and solidified his hold on the fifth starter's spot, meaning David Phelps and Adam Warren moved one step closer to the bullpen. That leaves only two open bullpen spots, one of which will go to Dellin Betances based on his performance this spring. Nuno could grab that last spot, it wouldn't be that surprising, but Cabral and Lewis are a bit more off the radar. The Yankees could take a second lefty north if they're concerned with Thornton, but I think they'll go with him as the only southpaw until he shows he's not up to the task in the regular season.