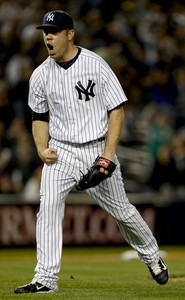 This past offseason, the Yankees signed their five arbitration-eligible players to one-year contracts totaling $16.4875M. Next winter's class figures to be pricey as well, mostly because Michael Pineda will qualify for arbitration for the first time and Ivan Nova will be eligible a second time. Shawn Kelley will also be due a nice raise in his final year of eligibility.
Kelley is a Super Two, meaning he will go through arbitration four times instead of the usual three. The full explanation is here, but the short version is that some players (the top 22% in service time, specifically) with more than two years but less than three years of service time qualify as Super Twos and get four years of arbitration. It puts some more money in their pocket in exchange for teams manipulating their service time, basically.
According to agent Ryan Galla at CAA Baseball (h/t MLBTR), the projected Super Two cutoff for this coming offseason is two years and 128 days of service time, which is typically written as 2.128. David Phelps came into the season with 1.156 years of service time, so unless he gets shipped to the minors for about four weeks, he will qualify as a Super Two and go through arbitration four times instead of three. He will still not be eligible for free agency until after the 2018 season.
Phelps will get a nice raise through arbitration but nothing crazy. He'd have to move into the rotation and pitch very well (and do it soon) for that. Phelps came into the season with ten wins and a 4.11 ERA in 186.1 career innings, and that's the stuff that matters in arbitration. Not his FIP or his WAR. Old school stats reign supreme in arbitration. Tyson Ross went to arbitration with nine wins and a 4.34 ERA in 273.2 career innings last winter, which earned him $1.98M in his first year as a Super Two. That seems like a decent comparable for Phelps at this point.
The only other Yankee on the Super Two bubble is Austin Romine, who came into the year at 1.143 years of service time. He collected a bunch of service time while on the DL two years ago, in case you're wondering why that number seems so high. Romine will reportedly not get the call to replace Frankie Cervelli today, which hurts his Super Two chances. He needs to get called up very soon and remain on the MLB roster (or the DL) for the rest of the season to have a shot at qualifying. That seems unlikely, but who knows. Even if does qualify, his 2015 salary should be a six-figure sum.
Nova and especially Pineda will be the Yankees' big arbitration cases after this season. If Pineda keeps pitching like he has in his first two starts, he'll be due a huge raise even after missing all that time to shoulder surgery. Kelley could get a nice salary bump depending on how many saves he picks up as well. Phelps will likely be a Super Two, and while he isn't due a huge raise for next season, it does carry over and affect his future salaries.