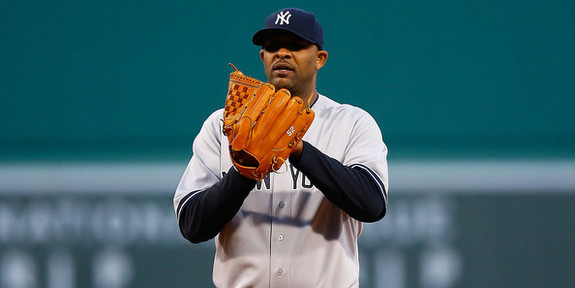 The Yankees have lost another one of their starters for an extended period of time. Brian Cashman confirmed to Joel Sherman that CC Sabathia will be out until at least July due to his continued right knee problems. Just last night we heard Sabathia was going to see another doctor after receiving a cortisone injection and stem cell treatment from Dr. James Andrews a few days ago.
"It will be no sooner than six weeks from now,"said the GM to Sherman. "Our dialogue with Andrews has been good and the small sample of stem cell procedures, the results are very successful, but he has to be pain free before strengthening, so there is a way to go. Because he is a starter it will take longer. I have no idea how long it will be and if it will be successful. We are hoping it is six weeks to a Major League return."
Sabathia, 33, has what Cashman called "degenerative change" in his right knee, referring to the cartilage. He had surgery to repair a torn meniscus in the knee after both the 2006 and 2010 seasons. Even the slimmed down version of Sabathia is a large man and he's been coming down on that right knee — his landing leg — for a long time now. Joe Girardi said he is unsure if surgery will be necessary if the stem cell treatment doesn't work.
"I have not been told that (surgery is possible), but I think you have to wait and see how all of this works," said the manager to Chad Jennings yesterday. "I think any time you deal with a degenerative knee issue, at some point in your life something is probably going to flare up. I'm not a doctor, and I can't tell you when that's going to happen. When you have degenerative back (problems), it usually gets to the point where usually you have to have something done, so we'll have to see."
The Yankees are also without Ivan Nova and Michael Pineda, so three-fifths of their Opening Day rotation is hurt. Nova is done for the year following Tommy John surgery and Pineda recently started throwing bullpens as part of his throwing program, but he is still several weeks away from returning from his back/shoulder muscle injury. David Phelps, Vidal Nuno, and most recently Chase Whitley have stepped into the rotation and have been … hit or miss. Let's put it that way. They have combined for ten starts and have completed five full innings of work only six times (combined 3.62 ERA and 4.08 FIP).
We already know the Yankees are open to trading for pitching — "Generally at this time of year, nothing materializes. We will keep an eye out to see if something does," said Cashman to Sherman — because they're always open to trading for pitching. Hal Steinbrenner has indicated a willingness to take on salary and increase payroll, which seems unavoidable if the team wants to lands a rotation upgrade. Expect a lot of Cliff Lee and Jeff Samardzija chatter over the next few weeks.
The Yankees have just about exhausted their internal rotation candidates, with Alfredo Aceves, Brian Gordon, and Shane Greene next in line to make starts (not necessarily in that order). Manny Banuelos might be an option in the second half, and, if worst comes to worst, they could always pull Adam Warren out of his setup role and stretch him back out into a starter. Putting Dellin Betances back in the rotation should be a non-option given his history.
Sabathia has been pretty awful both this year (5.28 ERA and 4.72 FIP) and since the start of last year (4.87 ERA and 4.21 FIP), but that doesn't mean the Yankees are better off without him. Far from it. Phelps, Nuno, and Whitley are five and fly pitchers who drain the bullpen — Betances can throw two innings every other day for only so long — and the Yankees run of the risk of burning out their key relievers later in the season. They need to get some more length from their starters, including Hiroki Kuroda.
On the other hand, it's possible Sabathia will come out of this ordeal as a better pitcher once he's healthy. He's shown he will pitch through pain in the past, most notably pitching on the torn meniscus in 2010, with the bone spur in his elbow in 2012, and after blowing out his hamstring mid-start last September. Who knows how long the knee was bothering Sabathia and how getting it taken care of will help him? If he was unable to land comfortably, it would explain some of his location issues, no doubt. We'll find out eventually, I guess.
For now, the Yankees are stuck with the totally awesome Masahiro Tanaka, the inconsistent Kuroda, and three rolls of the dice in the rotation. Pineda will hopefully be back early next month and that will be a huge help based on the way he was pitching earlier this year. At the very least, Sabathia's ability to take the ball every fifth day and soak up some innings will be missed, especially by the middle relievers who have to pick up the slack.