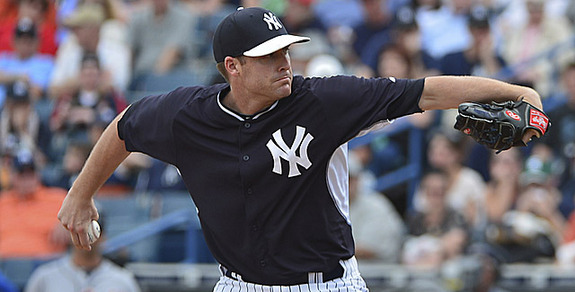 Thanks to injuries to each team's Opening Day starter, both the Yankees and Mets will have a pitcher make his MLB debut tonight. Righty Chase Whitley is filling in for CC Sabathia (knee) while fellow righty Jacob deGrom steps in for Dillon Gee (lat). Neither Whitley nor deGrom is a top prospect, but they have the potential to be useful big league arms in some capacity. Whitley only recently converted from reliever to starter, so it'll be interesting to see how he handles turning over a big league lineup.
Via Bryan Hoch, Elias says this is the first time the Yankees have been involved in a game in which both starters were making their MLB debut since October 1908. They were still the Highlanders back then. That is kinda nuts. The Mets were involved in one of these games back in September 2010, when Gee made his debut against Yunesky Maya. That's the last time two starters have made their debuts in the same game. It just so happened to include the Mets. Here is the Mets lineup and here is the Yankees lineup:
LF Brett Gardner
SS Derek Jeter
CF Jacoby Ellsbury
1B Mark Teixeira
C Brian McCann
RF Alfonso Soriano
3B Yangervis Solarte
2B Brian Roberts
RHP Chase Whitley
It is cloudy and cool in New York, and it was raining overnight and for a good chunk of the morning. There is no more rain in the forecast though, so they shouldn't have any trouble getting this game in. First pitch is scheduled for 7:10pm ET and you'll be able to watch on both YES and SNY locally, as well as MLB Network nationally. Depending on where you live, of course. Enjoy the game.
Roster Moves: In case you missed it earlier, Carlos Beltran (elbow) has been placed on the 15-day DL. That cleared a 25-man roster spot for Whitley. The Yankees are back to a normal seven-man bullpen and four-man bench. Righty Bruce Billings was activated off the 15-day DL and designated for assignment to clear a 40-man roster spot for Whitley, the team announced. He was out with a forearm strain.