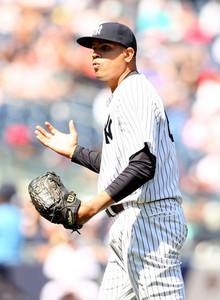 The draft signing deadline was last Friday, and the Yankees were able to sign everyone they were expected to sign. There were no surprises, good or bad. Because they didn't have a first round pick (or a supplemental round pick), this wasn't the most exciting draft for the Yankees, who went heavy on college pitching and took a reliever with their top selection.
The Yankees did, however, add an amazing amount of talent to the farm system through international free agency earlier this month. My unofficial tally puts the spending spree at approximately $28.5M total between bonuses and penalties, though I'm sure there have been several deals that were not reported. Most of those players signed 2015 contracts and are not technically Yankees yet, so they are not included in this snapshot of the farm system. I usually wait until international signees show up in the U.S. to rank them anyway.
Two players — righties Dellin Betances and Chase Whitley — have graduated to the big leagues since the pre-draft list was posted late-May. I've been doing these for eight years and this is the very first RAB prospect list without Betances. I'm kinda sad. Another prospect, righty Rafael DePaula, was traded away just this week. Those three departures plus the draft and some stateside debuts have led to a healthy amount of turnover since the last list in May.
I feel like it's clear who the top two prospects are (in whatever order), clear who the next seven prospects are (again, whatever order), and then a total mess after that with no obvious order. As always, this list is my personal opinion and based on how I value things like tools and probability and performance and all that. You're welcome to disagree with the rankings. I'm sure you will. Rankings don't mean anything anyway. They're just fun to look at it. Anyway, the ages listed are as of today, and the levels listed are the player's current level. The fun starts after the jump.

OF Aaron Judge, A+, 22: Takes over as the top prospect not only because of his potential to be an impact two-way player, but because he's shown much better contact skills and polish at the plate than expected. We could be talking about Judge as a big league option at this time next year.
RHP Luis Severino, AA, 20: Judge and Severino are basically 1 and 1A. You could easily argue Severino should be first. The right-hander has an electric fastball and a very good changeup with a work in progress breaking ball. The Yankees have been pretty aggressive with him this summer.
C Gary Sanchez, AA, 21: It's easy to forget Sanchez is still only 21 and nearly four years younger than the average Eastern League player. He's performed much better in recent weeks but the maturity issues persist as he was benched for nearly a week last month due to an undisclosed issue.
C John Ryan Murphy, AAA, 23: Murphy's ready to be an MLB backup right now and has all the look of a future everyday catcher. Not a star, but a solid everyday option. He will be a prime piece of trade bait over the next seven days.
LHP Ian Clarkin, A-, 19: Clarkin missed two weeks with an ankle problem earlier this month but otherwise has shown come-and-go command of three pitches and the ability to miss bats. The fastball/curveball/changeup combo is legit, he just needs refinement.
3B Eric Jagielo, A+, 22: An oblique injury sent Jagielo to the sidelines for more than a month and his defense has been less than stellar at the hot corner, but he's showing left-handed power and the solid bat that got him drafted in the first round last year.
1B Greg Bird, A+, 21: After missing the start of the year with a back injury and getting off to a slow start once healthy, Bird has mashed in recent weeks and looks like the hitter he was last year. Health is the key going forward. He stopped catching because of back trouble and it bothered him again this year.
C Luis Torrens, SS, 18: In a sense, the shoulder injury that sent Torrens to the DL for two months might have been the best thing to happen to him. The Yankees aggressively sent him to Low-A Charleston to start the year but held him back with Staten Island after the injury, a more appropriate level given his age and general lack of catching experience. Torrens has all the look of the next great Yankees catching prospect.
2B Rob Refsnyder, AAA, 23: I (grossly) under-ranked Refsnyder on the pre-draft list. His defense at second needs work — the Yankees have been giving him time in right because whatever — but his simple all-around offensive game makes him a high probability everyday second base prospect.
LHP Manny Banuelos, AA, 23: Manny is still only 23, but his post-elbow reconstruction stuff has not been as good as it was before the injuries. He is coming off what amounts to two lost years and has to make up for a lot of lost development time. This is more of a reputation ranking than anything.
OF Jake Cave, AA, 21: Cave has jumped over some of the bigger name outfield prospects in the system because, unlike the other guys, he's stayed healthy these last two years and put up numbers. The tools aren't as sexy, but he gets more out of them than other outfielders in the system.
LHP Jacob Lindgren, A+, 21: I will be very surprised if Lindgren, the team's top pick in the draft, is not in the big leagues at this time next year. He's manhandling Single-A hitters with his wipeout slider and could almost certainly get big league lefties out as a matchup reliever right now.
OF Tyler Austin, AA, 22: That monster 2012 season feels like so long ago. Austin's power has disappeared over the last two years, possibly due to the wrist issue that has been hampering him since last April. Austin is a bat-first, second, and third prospect, so he's gotta hit.
C/1B Peter O'Brien, AA, 24: If you're only going to have one tool, huge right-handed power is the one to have. O'Brien can hit the ball a long way when he connects, but there are serious questions about his position and whether he will be able to tap into that power at the MLB level given the holes in his swing and less than stellar plate discipline.
SS Abi Avelino, Rk, 19: Good tools, not great tools, but Avelino's a very smart and instinctual player who gets the absolute most out of what he has. He's a whole is greater than the sum of the parts guy. A quad injury cost him a big chunk of the season.
3B Miguel Andujar, A-, 19: Andujar is a young guy with a bit of a history of starting slow at a level before finding his way, which is exactly what he's done this year with the River Dogs. The tools are excellent and over the last month or so he's been one of the best performers in the system.
RHP Shane Greene, MLB, 25: Injuries at the MLB level created an opportunity and Greene has taken advantage in his three starts. His turbo-sinker/slider combination is plenty good enough to start in the big leagues as long as he commands it, which doesn't always happen.
RHP Bryan Mitchell, AAA, 23: Mitchell has actually been called up twice this year but has not pitched. I wonder if he's the next Betances as a huge stuff/bad command guy who moves to the bullpen and takes off. No need to make that move just yet though.
OF Mason Williams, AA, 22: If we were ranking pure tools only, Williams would be in contention for the top spot. Those tools have not yet translated to baseball skills or production yet, and he's had to be benched for insubordination on more than one occasion this year. Not a good look.
RHP Ty Hensley, Rk, 20: He's finally healthy! Hensley is over his hip(s) and hernia surgeries and pitching regularly for the first time since being the 30th overall pick in the 2012 draft. As was the case before the injury, the development of his changeup and command are the challenges going forward.
OF Slade Heathcott, AA, 23: It's becoming more and more clear Heathcott just isn't ever going to stay healthy enough to fully develop. He had knee surgery in the offseason, returned for nine whole games with Double-A Trenton, then went down with another knee surgery, this one a season-ender. Hooray tools and athleticism all that, but health is a skill Slade doesn't have.
2B Gosuke Katoh, A-, 19: Following a brutal start to 2014, Katoh has turned his season around over the last month or so and is now holding his own in full season ball despite being more than two years younger than the average South Atlantic League player. The tools to be a strong two-way second baseman never went away, they just hid for a few weeks.
SS Jorge Mateo, Rk, 19: Mateo is an absolute burner with the best speed in the system. There's a little pop in his bat but otherwise it's a true leadoff hitter profile with bat-to-ball skills and a good approach, plus the defensive chops to stay at short. Long way to go, of course.
OF Ramon Flores, AAA, 22: Flores was flashing some nice power potential with the RailRiders earlier this year, but we haven't been able to see if it was real or a fluke because he's been out with an ankle injury for about two months now. There's no word on when he'll return either.
RHP Brady Lail, A+, 20: Lail is remarkably polished for a kid out of Utah, which is hardly a baseball hotbed. His velocity has ticked up under pro instruction and he's since added a cutter, so he works with command of four pitches on most days. Lail won't blow anyone away but health is the only thing standing between him and an MLB future.
OF Leonardo Molina, Rk, 16: Molina was the team's top international signing last summer and the Yankees have already brought him to stateside. Forget the stats at this point. Molina has a ton of bat speed and the tools to be an impact two-way player down the line.
RHP Austin DeCarr, Rk, 19: DeCarr is the rare polished prep pitcher from the Northeast. He already has an out-pitch in his big breaking curveball plus good low-90s velocity. Needs to improve his changeup and gain experience, etc. Standard teenage pitcher stuff.
RHP Nick Goody, AA, 23: Currently on the temporary inactive list for an unknown reason, but the return from Tommy John surgery was going wonderfully before that. Goody will be a big league bullpen option next year.
RHP Jose Ramirez, AAA, 24: Ramirez made his MLB debut earlier this year but he's currently hurt in Triple-A, again. His fastball/changeup/slider combination is electric, though his ability to locate leaves a lot to be desired, and he can't work on that when he's visiting the DL once or twice a year.
LHP Jordan Montgomery, 21: Montgomery, this year's fourth rounder, won't impress anyone with his raw stuff. He's cut from the Adam Warren/David Phelps cloth as a guy with four pitches and feel, just from the left side.
In case you're wondering, I had DePaula slotted in at No. 20, between Williams and Hensley, in my first draft earlier this week. The last three names who just missed were OF Alex Palma, RHP Danny Burawa, and RHP Mark Montgomery. Next year's list figures to look much, much different because of the international free agent haul.