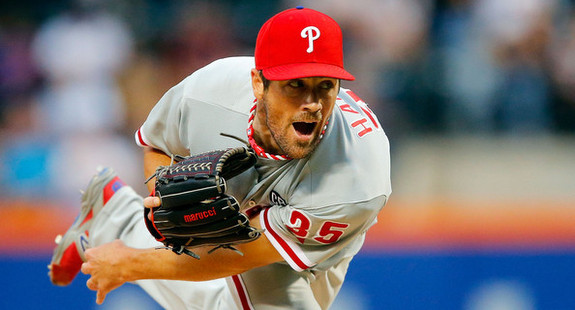 The non-waiver trade deadline is 4pm ET this Thursday, and between now and then there will be a ton of rumors and speculation. Some actual moves too. The Yankees have already swung trades for Brandon McCarthy and Chase Headley, but Brian Cashman has said he is still seeking another starter and another bat. I don't know if they'll get another deal done, but I fully expect plenty of Yankees-related rumors.
On Monday and Tuesday we learned the Yankees are "in on everything" but they do not want to part with their top minor leaguers. Josh Willingham, John Danks, Jake Arrieta, Justin Ruggiano, and Chris Denorfia were among the names connected to the club. They are not targeting Justin Masterson, however. We'll keep track of the day's Yankees-related rumors right here in this post, so make sure you check back throughout the day. All of the timestamps below are ET.
4:59pm: In addition to Benoit, the Yankees have also checked in on Antonio Bastardo of the Phillies and James Russell of the Cubs. Both are lefties but I don't think that says they're unhappy with Matt Thornton. [Stark]
4:33pm: The Yankees continue to be connected to Marlon Byrd, but they are wary of his $8M price tag for next season. Like I said before, they will need a right fielder next year, Byrd on what amounts to a one-year deal at $8M wouldn't be the worst thing in the world. [Jayson Stark]
4:31pm: In case you were thinking about a reunion, former Yankees corner infielder Eric Chavez announced his retirement today. He was pretty awesome.
2:16pm: Although the Yankees and White Sox continue to discuss Danks, they are still far apart in talks. I'm sure both the money and prospects are an obstacle. [Heyman]
2:07pm: Justin Masterson has been traded to the Cardinals. The Yankees did not have interest in him, but it presumably takes St. Louis out of the running for Jon Lester and David Price, muddling the pitching market. [Peter Gammons]
1:57pm: As they look to bolster their bullpen, the Yankees are eyeing Joaquin Benoit. They had some interest in him over the winter. There is "nothing going on" right now as far as talks go, however. [Heyman & Martino]
12:49pm: The Yankees are still involved in talks with the Padres about Ian Kennedy, but those talks are said to be "medium," whatever that means. San Diego cleared a lot of money with the Huston Street and Chase Headley trades and have said they don't have any problem with holding onto Kennedy into next season. [Chad Jennings]
12:06pm: The Yankees prefer rentals to players under contract next year and beyond. Rentals are cool, but the team does have holes to address next year (like right field). Trading for someone signed for next season wouldn't be the worst thing in the world. [Andrew Marchand]
10:28am: In addition to rotation help, the Yankees are looking to bolster their bullpen as well. Adam Warren and Dellin Betances look like they have been running on fumes of late. [Nick Cafardo]
10:06am: The Yankees are picking through the second tier of starting pitchers and they have discussed left-hander Brett Anderson. The Rockies intend to keep him and either exercise his club option for 2015 or sign him to a longer term contract, however. [Buster Olney & Ken Rosenthal]
9:30am: The Phillies requested a package of multiple top prospects from the Yankees and several other teams in exchange for Cole Hamels. The assumption around baseball is that Philadelphia isn't serious about moving their lefty ace. The Yankees are more likely to add another mid-rotation arm than an ace-caliber pitcher at this point. [Jon Heyman & Andy Martino]
The Yankees continue to have interest in Willingham. With Carlos Beltran continuing his throwing program and potentially returning to the outfield as soon as next week, the DH spot would be open for Willingham, who hasn't played right field in five years. [Heyman]
Both the Rays and Rangers had special assignment scouts watching Double-A Trenton last night. Special assignment scouts are sent to see specific players. They aren't there for general coverage. [Keith Law]
Also, I understand we have a new flood of commenters coming over from LoHud for whatever reason. Please look over the Commenting Guidelines if you're new and especially note that we ask you to keep comments on topic. Also use the "reply" button to keep conversations organized. We're not asking much. Thanks in advance.