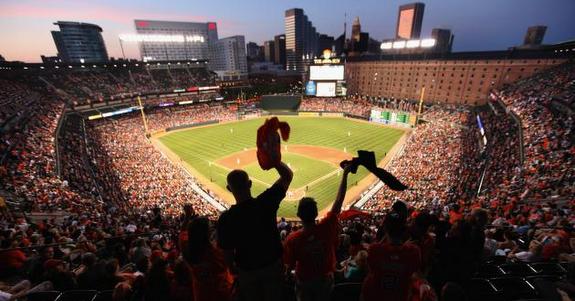 The final series before the All-Star break is the biggest series of the season, at least to date. The Yankees are in Baltimore for three games against the Orioles, the team they are chasing in the AL East. Needless to say, winning these head-to-head games is extremely important if they want to make a run at the division. The Yankees lost two of three to the O's in each of their previous two series this season, though this is the first time they will play in Camden Yards.
What Have They Done Lately?
Manager Buck Showalter's club just took two of three (with a rainout mixed in) from the Nationals and has won eight of its last ten games overall. They currently hold the top spot in the AL East at 50-41 with a +26 run differential, four games better than the Yankees. Best case scenario is New York ending the first half one game back. Worst case scenario is heading into the break seven games back.
Offense
At 4.38 runs per game with a team 103 wRC+, the O's have a roughly league average offense despite hitting 113 homers, the second most in baseball. They simply don't get enough guys on base (team .320 OBP) in front of the power hitters. The Orioles' only injured position player is C Matt Wieters (129 wRC+), who is done for the year following Tommy John surgery. They're completely healthy otherwise.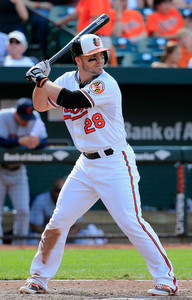 Showalter's lineup is built around three legitimate 30+ homer bats: OF Nelson Cruz (153 wRC+), OF Adam Jones (123 wRC+), and 1B Chris Davis (91 wRC+). Davis is having a down season but Cruz currently leads baseball with 28 homers. OF Nick Markakis (109 wRC+) sets the table from the leadoff spot and former Yankee 1B/OF Steve Pearce (165 wRC+) is having an unbelievable year as the number two hitter. What in the world is that about? Steve Pearce? Really?
SS J.J. Hardy (85 wRC+) and 3B Manny Machado (101 wRC+) are the household names near the bottom of the lineup. IF Jonathan Schoop (57 wRC+) has been playing second base just about everyday lately while C Nick Hundley (80 wRC+) and C Caleb Joseph (55 wRC+ in limited time) split catching duties. Caleb is the brother of Yankees farmhand Corban Joseph. OF Delmon Young (109 wRC+), OF David Lough (60 wRC+), and IF Ryan Flaherty (82 wRC+) fill out Baltimore's bench.
Pitching Matchups
Friday: RHP Hiroki Kuroda (vs. BAL) vs. RHP Miguel Gonzalez (vs. NYY)
Gonzalez, 30, has a 4.22 ERA (5.19 FIP) in 81 innings across 14 starts and one relief appearance this season, so the magic of his excellent 2012 rookie season has all but worn off at this point. His strikeout rate (7.11 K/9 and 17.8 K%) is okay, but he walks too many (3.56 BB/9 and 8.9 BB%), doesn't get enough ground balls (40.2%), and can't keep the ball in the park (1.56 HR/9 and 13.5 HR/FB%). Both lefties (.374 wOBA) and righties (.364 wOBA) have hit him pretty hard, but hey, at least he doesn't have much of a platoon split. Gonzalez's money-maker is a split-changeup hybrid that sits in the low-80s. He sets it up with low-90s fastballs and also throws a low-80s slider and mid-70s curveball. That split-change keeps him in MLB. The Yankees scored three runs in six innings against Gonzalez back in April.
Saturday: RHP Shane Greene (No vs. BAL) vs. RHP Ubaldo Jimenez (vs. NYY)
The Orioles toyed with the idea of skipping Ubaldo's final start before the All-Star break, but they opted to remain on turn and throw him this weekend. The 30-year-old has a 4.52 ERA (4.68 FIP) in 18 starts and 99.2 innings this summer, so it's safe to say his strong second half last year was just a mirage. Jimenez has fine strikeout (7.95 K/9 and 20.1 K%), homer (0.99 HR/9 and 12.2 HR/FB%), and ground ball (45.7%) rates, but he walks far too many (5.42 BB/9 and 13.7 BB%). That's a career-high walk rate by nearly one full walk per nine innings, which is really saying something given his career. Lefties (.363 wOBA) have been much harder on him than righties (.308 wOBA). Ubaldo is a five-pitch pitcher with a low-90s fastball setting up his mid-80s splitter, low-80s slider, low-80s changeup, and upper-70s curveball. He has faced the Yankees twice this season, allowing four runs in six innings back in April and one run in 5.2 innings last month. I honestly would not be surprised if Jimenez dominated or got knocked out in the second inning. Dude is as unpredictable as it gets.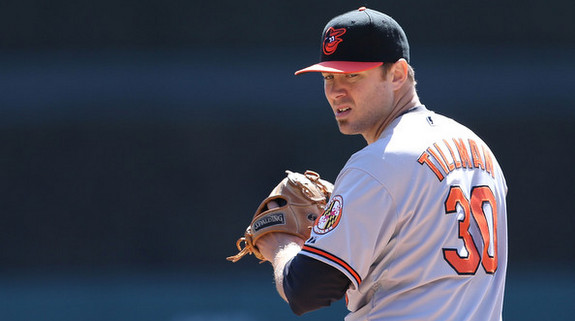 Sunday: TBA vs. RHP Chris Tillman (vs. NYY)
I think one of the reasons the Orioles have not been able to run away the division this year is Tillman's inability to take that next step forward and go from interesting young pitcher to someone who belongs near the front of the rotation. He was solid the last two years, but this season the 26-year-old has a 4.11 ERA (4.55 FIP) in 19 starts and 111.2 innings. Meh. Tillman has curbed his long ball problem (0.97 HR/9 and 8.5 HR/FB%) but otherwise has yucky strikeout (5.64 K/9 and 14.3 K%), walk (3.63 BB/9 and 9.2 BB%), and ground ball (39.9%) numbers. Lefties (.336 wOBA) have hit him harder than righties (.305 wOBA) and it's worth noting Tillman has pitched much better at home (.289 wOBA) than on the road (.347 wOBA). Low-90s four-seamers and cutters set up his mid-80s slider, low-80s changeup, and rainbow mid-70s curveball. He's lost about one mile an hour off his fastball for the second straight year, perhaps explaining why he's been able to take that step forward. Tillman threw seven shutout innings against the Yankees last month.
Bullpen Status
Showalter used three of his key late-inning relievers last night, but I don't think that will change much this weekend with the All-Star break coming up. He can work his guys a little harder knowing the four-day rest is coming. LHP Zach Britton (2.99 FIP) has taken over as closer with the trio of RHP Darren O'Day (2.88 FIP), RHP Tommy Hunter (3.75 FIP), and LHP Brian Matusz (5.23 FIP) handling setup duties. Britton, O'Day, and Hunter all pitched yesterday but none threw more than 23 pitches.
The Orioles took advantage of the All-Star break by sending down starter Bud Norris, who wasn't scheduled to pitch this weekend, and calling up an extra reliever. They're carrying RHP Brad Brach (3.97 FIP), LHP T.J. McFarland (3.75 FIP), RHP Preston Guilmet (4.19 FIP in limited time), and RHP Ryan Webb (2.54 FIP) in the bullpen in addition to Showalter's four main end of the game guys. McFarland is more of a multi-inning reliever than a lefty specialist. Check out our Bullpen Workload page for the status of the Yankees' bullpen, then check out Camden Chat for the latest on the Orioles.
Update: The Orioles placed Jimenez on the 15-day disabled list with an ankle injury this afternoon. Righty Kevin Gausman has been called up and will start in his place this weekend.