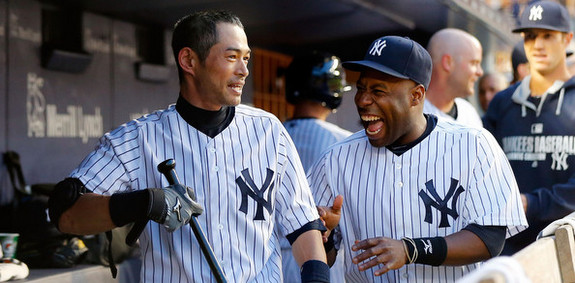 Following last night's come-from-behind win, the Yankees have now won 17 straight games over the Blue Jays at Yankee Stadium. That dates back to August 2012. It's pretty unbelievable, really. Yankee Stadium for the Blue Jays must feel like what Angel Stadium feels like for the Yankees.
Anyway, Chris Capuano makes his Yankees debut this afternoon and, based on how things go, I suppose this could be anything from a spot start to the beginning of an extended stay in the rotation. Hopefully he gives the team something to think about. Here is the Blue Jays lineup and here is the Yankees lineup:
LF Brett Gardner
SS Derek Jeter
CF Jacoby Ellsbury
DH Carlos Beltran
1B Brian McCann
3B Chase Headley
RF Ichiro Suzuki
2B Brian Roberts
C Frankie Cervelli
LHP Chris Capuano
It's warm and the sun is trying to poke through some clouds here in New York. Tonight's game is scheduled to begin at 1:05pm ET and can be seen on YES locally and, depending on where you live, MLB Network nationally. Enjoy the game.