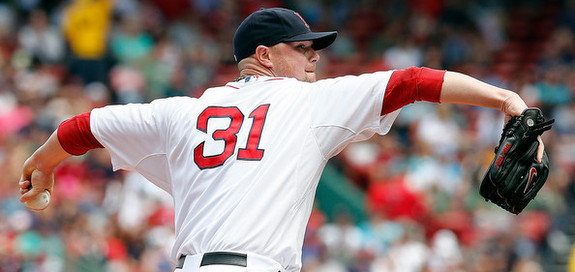 I usually do these thoughts posts first thing in the morning and following an off-day, but I figure with the trade deadline looming tomorrow, I might as well run it now. Tomorrow figures to be pretty busy even if the Yankees do not make a move. There will still be lots of rumors. Here are some scattered thoughts heading into the series finale with the Rangers as well as the trade deadline.
1. I fully expect the Yankees to make a move before the deadline tomorrow and I think they're going to end up making multiple moves, actually. One for a pitcher, one for a bat, maybe another really minor deal for additional pitching depth. As for who they're going to wind up with … I have no idea whatsoever. John Danks and Josh Willingham are as good a guess as anyone, but the Yankees tend to keep things very close to the vest and most of their moves come out of nowhere. It would really surprise me if a) they did nothing between now and the deadline, and b) if they traded away any top prospects. The last time they traded away top prospects was when, the Curtis Granderson deal? Brian Cashman & Co. are all about buying low, expecting players to rebound, and giving up mid-range prospects. The only way a top prospect goes is if a stud like David Price comes to New York. I don't see that happening within the next day and a half.
2. It blows my mind the Red Sox are (probably) going to trade Jon Lester rather than extend him. They made all those moves these last few years to emphasize financial and roster flexibility, and for what? Isn't Lester exactly the kind of guy you keep forever and ever? This is different than the Yankees and Robinson Cano because the Red Sox don't already have like four crippling long-term contracts on the books. You sign Lester long-term knowing you're probably going to end up with the 2013 version from 2015-18 or so, not the 2014 version, but that's fine. What's the point if that flexibility if you're not going to use it to keep a homegrown ace who helped you to two World Series titles and is still in his prime? The Red Sox are going to try to win next year, right? It's much easier to win with Lester than without him. Yeah, sure, they could re-sign him after the season, but they've yet to make anything close to a market value-ish offer and if they haven't done it yet, I'm not sure why you'd expect them to make one in free agency. Plus as soon as he gets traded away, the chances of re-signing him go down some amount.
3. If the Red Sox do trade Lester — it really does seem inevitable at this point, though I expected them to scratch him from today's start anyway, he could always wind up starting Friday against the Yankees if no deal gets done — it would help the Yankees a lot. For starters, they wouldn't have to face him anymore this season. The teams most rumored to be on him right now are NL clubs (Dodgers, Pirates, Brewers, Cardinals) and the Athletics, who the Yankees do not face again in the regular season. Of course, New York's main competitors like the Orioles and Blue Jays won't have to face him anymore either. Also, once Lester is traded, his new team won't be able to make him a qualifying offer after the season, meaning the Yankees won't have to surrender a first round pick when they inevitably sign him over the winter. Well, maybe it's not inevitable they sign him, but it is inevitable they will be connected to him. AL East and postseason proven lefty ace? C'mon, that dude has pinstripes written all over him. Plus the Yankees seem to love their former Red Sox players. The fit is too perfect.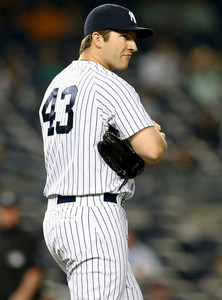 4. The bullpen really seems to be getting worn out, especially Dellin Betances and Adam Warren. They're currently on pace for 97 and 80 innings, respectively, and their effectiveness has waned in recent weeks. They haven't been bad (last night notwithstanding), just not as good as they were earlier in the season. I know they were both starters in the past and the bulk innings total shouldn't be a problem, but airing it out for one or two innings at a time in high-leverage situations is not at all the same as starting on a set five-day schedule with a comfortable routine. Shawn Kelley has been much better of late and he will lighten their workload just a little bit, plus I think Chase Whitley could become a factor as a one or two-inning bullpener, but the Yankees play nothing but close games these days. It's tough to see how Betances and Warren will get some more rest in the coming weeks. Trading for relievers is always sketchy, but getting another end-game capable arm to help spread the workload around would both help this year and in the future by allowing Joe Girardi to take it easy on the young guys with an actual future with the team.
5. So I had to look it up after last night's game: J.P. Arencibia is hitting .269/.269/.808 against the Yankees this year and .154/.209/.269 against everyone else. Seven of his 19 hits and half of his 42 total bases have come against New York. This is Delmon Young in the postseason kind of stuff. Arencibia has always hit the Yankees hard — 126 OPS+ vs. NYY compared to a career 77 OPS+, plus 12 of his 70 homers (17%) have come against the Yankees in 11.6% of his career plate appearances — and man it sucks because he's such a bad hitter overall. The guy went from a 36 OPS+ to a 69 OPS+ just last night. Some guys just have it in for a certain team or a certain pitcher for whatever reason. It's like Brett Gardner owning Yu Darvish. It just happens. Baseball is weird like that.