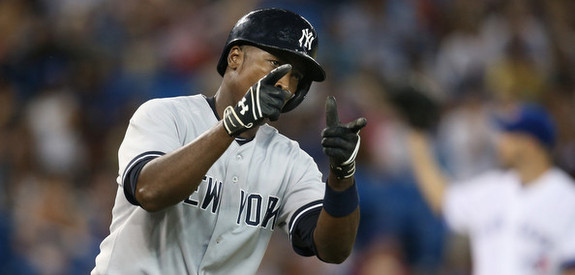 The Yankees have designated Alfonso Soriano for assignment, the team announced. The move clears both a 25-man and 40-man roster spot for Bruce Billings, who has been called up from Triple-A Scranton to help the overworked bullpen.
Soriano, 38, hit a miserable .221/.244/.367 (61 wRC+) with six homers in 238 plate appearances this season. He started the year as the everyday DH and, thanks in part to Carlos Beltran's elbow injury, wound up as a platoon right fielder losing playing time to Ichiro Suzuki. Soriano went 0-for-4 with two strikeouts and some awful defensive plays yesterday, which might have been the final straw.
The Yankees are paying $5M of Soriano's $18M salary this year — the Cubs are paying the other $13M — and they still owe him that. They now have ten days to trade him, release him, or place him on waivers. It's inevitable he will clear waivers and be released with that salary. Soriano was a monster after being re-acquired last year, hitting .256/.325/.525 (130 wRC+) with 17 homers in 58 games. Father Time remains undefeated, unfortunately.
Earlier this season Soriano said he will consider retirement if he has a poor year and I have to think this qualifies. Another team can sign him for the pro-rated portion of the league minimum once he is released, so he might get another chance (Red Sox?) to show he still has something left in the tank. Soriano was as fun a player to watch as anyone when he was locked in, but the time had come to move on. He wasn't helping at all this year.
Once the pitching staff gets settled in following the Brandon McCarthy trade, the Yankees figure to call up another position player to replace Soriano. Zoilo Almonte and Yangervis Solarte are on the 40-man roster, but Jose Pirela is an interesting non-40 man option. He has crushed Triple-A pitching this year (124 wRC+) and started playing right field about a week ago. That's probably not a coincidence. We'll see.