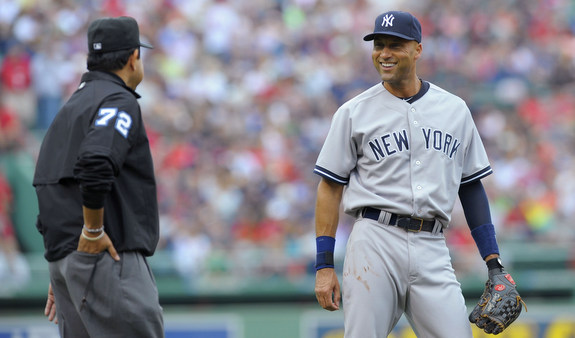 The Yankees received some good news and some bad news today. First, Masahiro Tanaka played catch for the first time since landing on the disabled list, and, by all accounts, everything went well. Well enough that he'll do it again tomorrow. Then, unfortunately, David Phelps was placed on the 15-day disabled list with elbow tendinitis. He won't even pick up a ball for two weeks, so his stay on the shelf will be longer than the minimum 15 days. That bites.
What can you do? The Yankees have been dealing with pitching injuries all year so what's another starter on the shelf? Oh, and the first place Tigers are in town to start a four-game series tonight. I guess that's another piece of bad news. Detroit is starting the reigning Cy Young winner tonight. The Cy Young winner from two years ago goes tomorrow. The Cy Young winner from the year before that goes on Wednesday. No one ever said getting back to the postseason would be easy. Here's the Tigers lineup and here's the Yankees lineup:
LF Brett Gardner
SS Derek Jeter
CF Jacoby Ellsbury
1B Mark Teixeira
DH Carlos Beltran
C Brian McCann
3B Chase Headley
2B Stephen Drew
RF Martin Prado
RHP Brandon McCarthy
It's hot, humid, and cloudy in New York with no threat of rain. Not the most comfortable night in the world but good enough for baseball. Tonight's game will start a bit after 7pm ET and you can watch on YES locally and ESPN nationally. Enjoy.
Injury Updates: In addition to the news on Tanaka and Phelps, Michael Pineda (shoulder) said he feels fine following yesterday's rehab outing. He is scheduled to throw 75-80 pitches in his next rehab outing on Friday. Pineda's spot conveniently lines up with Phelps' spot.
Late Update: Mark Teixeira has been scratched due to light-headness. Headley is playing first, Prado is playing third, and Ichiro Suzuki is in right field. Same lineup, but with everyone moving up a spot and Ichiro batting ninth.