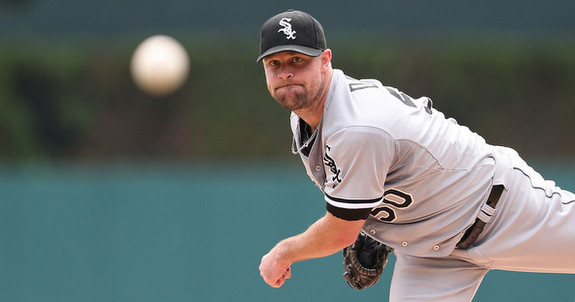 The Yankees were unable to land pitching help before last Thursday's trade deadline but that doesn't mean they are out of the market for arms. David Phelps just landed on the disabled list and the team is somehow more desperate for pitching now than at any other point in the season, and that's with Michael Pineda and Masahiro Tanaka seemingly on the mend. At best, Pineda is about ten days away while Tanaka could return next month.
The August trade season has been surprisingly active the last few years. Just last year guys like Justin Morneau, Alex Rios, Marlon Byrd, and David DeJesus were dealt in August. The Dodgers-Red Sox blockbuster went down in August two years ago. The Yankees themselves haven't been all that active on the August trade front the last few years — they acquired Chad Gaudin in August 2009, but their only August trade since was the Steve Pearce pickup a few years ago — but that hardly means they're against August moves. That's just the way things shook out.
The Phillies got the August trade market going yesterday by putting just about everyone on waivers — Ken Rosenthal says Byrd, Jonathan Papelbon, Cole Hamels, A.J. Burnett, Roberto Hernandez, Kyle Kendrick, Antonio Bastardo, Jimmy Rollins, Chase Utley, Carlos Ruiz, and Ryan Howard were placed on trade waivers. The Yankees don't have interest in a reunion with Burnett, Hernandez and Kendrick are blah, and Hamels seems unattainable at this point. Cliff Lee's injury completely killed his trade value as well.
Players have already started to hit waivers though, and that's the most important thing. The August trade engine is revved up. Here are some potential pitching trade targets for the Yankees, with an emphasis on guys who might be available for little more than salary relief.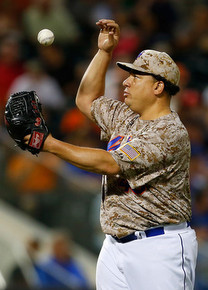 RHP Bartolo Colon, Mets
The Mets tried hard to unload the 41-year-old Colon at the deadline, but found no takers because he is owed another $3M or so this year plus $11M next year. He's pitched well enough in 2014, with a 4.12 ERA (3.51 FIP) while averaging 6.2 innings per start, but something about a pitcher that old and with that arm injury/PED history scares teams away. Can't say I blame them. The Mets will reportedly try to move Colon again in the offseason, when one year of him at $11M might be an appealing alternative to the free agent market.
The Yankees obviously know Colon after helping him bring his career back from the dead in 2011, but that doesn't necessarily mean they will be eager to trade for him. It could mean the exact opposite, in fact. It could scare them away. I don't think the Mets would let Colon go on waivers for nothing just to dump salary — he does still has some trade value as an innings-eater — but I am certain he's available.
LHP John Danks, White Sox
We heard an awful lot about the Yankees and Danks these last few weeks, especially in the days leading up to the trade deadline. The two teams were unable to work out a deal in part due to a disagreement over how much of the ~$33M left on his contract the ChiSox would eat. Danks is signed through 2016 at $14.25M per year, and he's been nothing more than serviceable since coming back from a torn shoulder capsule last year (4.63 ERA and 4.96 FIP). That includes a 4.50 ERA (4.85 FIP) in 136 innings this year.
Given all the money left on his contract and the fact that he's coming off a recent major injury, an injury that usually ends most pitchers' careers, I do think the White Sox would let Danks go on waivers for nothing but the salary relief. They could try to work out a trade to get a prospect in return first, but, if push came to shove, I don't think they would pull him back. Either way, no team will take the risk and claim him. He'll clear waivers, allowing him to be traded anywhere. If Danks was a pure rental, it would be a much different story. But since he's signed for another two years at significant dollars, I don't think the Yankees should go after him without Chicago paying down a decent chunk of the salary.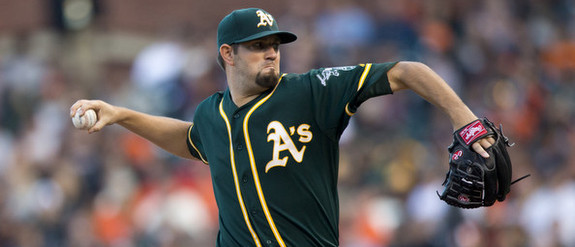 RHP Jason Hammel, Athletics
Since being acquired from the Cubs early last month, Hammel has a 9.53 ERA (7.31 FIP) in four starts and 17 innings for Oakland. (Five homers with a 12/10 K/BB.) He's been terrible since the trade — two of his starts have been disasters, the other two okay at best — so much so that I have to think it's more than a simple statistical correction after he pitched over his head for the Cubbies for three months. Maybe he's hiding an injury or a mechanical mess, a la Jim Johnson. Hammel was pretty awesome for Chicago, remember (2.98 ERA and 3.19 FIP). I doubt he forgot to pitch on the flight to join his new team.
Anyway, Rosenthal says the A's placed Hammel on trade waivers yesterday and, right before the trade deadline, Jon Morosi reported GM Billy Beane was "getting flooded" with calls about the righty in the wake of the Jon Lester deal. That doesn't mean they will trade him, he is still penciled in as their fifth starter following the Lester pickup, but maybe they're open to moving Hammel after adding another ace to the rotation and pushing him down the depth chart. He's owed another $2M this season before becoming a free agent. Beane could look to save some cash and recoup a prospect rather than carry a potentially terrible starter these last few weeks. I know he's stunk lately, but when you have Matt Daley on the roster and are considering starting Esmil Rogers, claiming Hammel and his $2M salary off trade waivers seems like a no-brainer to me. I suspect some team will beat the Yankees to it.
RHP Colby Lewis, Rangers
Lewis beat the Yankees twice in the last two weeks, though he still has a 5.98 ERA (4.29 FIP) in 19 starts and 102.1 innings overall this year. He's coming back from elbow and hip problems that cost him the second half of 2012 and all of 2013. Lewis has been much better over the last few weeks (thanks in part to the Yankees!), allowing no more than two earned runs in four of his last six starts and no more than three earned runs in five of his last six starts. The one exception was a total disaster (13 runs in 2.1 innings!). Look at his gamelog and you'll see he's been good more often than not over the last month or so.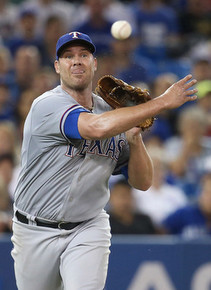 There have been no trade rumors involving Lewis this year mostly because he hasn't pitched well, but also because the Rangers are desperate for pitching themselves. They have six pitchers on the 60-day disabled list, including starters Derek Holland, Martin Perez, and Matt Harrison. Rotation options Alexi Ogando and Tanner Scheppers are also hurt. Lewis is only owed another $700k this season, give or take, so his salary isn't an issue either. Holland is due to back relatively soon and maybe Texas would be open to dealing Lewis to a contender for a prospect or salary relief or whatever, but that seems unlikely. He's an August trade candidate only in the sense that every player on a bad team is an August trade candidate.
* * *
Lee would have been the ultimate August salary dump trade candidate, but his latest injury put an end to that. He's going to miss the rest of the season with a recurring structural problem in his elbow, so his trade value is shot both for this month and the offseason. Ian Kennedy, whose named popped up in plenty of rumors before the deadline, may still be available, but he'll require giving up something of actual value. Brian Cashman has done nothing but add players on the cheap this summer.
Aside from getting Hammel for nothing on waivers — I really doubt that will happen, Beane's no idiot and he won't let pitching depth walk away for nothing but salary relief — the best case August trade scenario is getting James Shields from the Royals. He's a pure rental and he's a very good AL East proven workhorse, which is pretty much exactly what the Yankees need. Kansas City would both have to fall out of race — they're 4.5 back in the AL Central and 1.5 back of the second wildcard spot — and acknowledge they can't afford to re-sign him after the season. Plus the Yankees would have to give up something more valuable than the supplemental first round pick the Royals would receive when he signs elsewhere. Shields (and Hammel) seems very unlikely, so the Yankees will have to pick through scraps to boost their starting staff down the stretch.