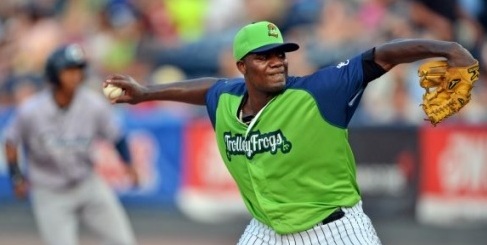 At some point in the next day or two, the Yankees will officially announce whether Esmil Rogers or Michael Pineda will start Wednesday's series finale against the Orioles. Rogers pitched very well in a spot start on Friday, giving the team five innings of one-run ball on a limited pitch count, but it's obvious he's just keeping the spot warm for Pineda, who made his second minor league rehab start that same night. He threw 72 pitches in that rehab game.
"We haven't made a decision. A lot depends on what happens the next few days," said Joe Girardi to Dan Martin when asked about Pineda possibly rejoining the rotation this week. "Ideally you'd like to get him to 90 pitches … We'll talk to the people who saw him and decide what's next. You have to make sure the player is ready."
Naturally, Pineda feels ready to come off the disabled list because just about every player thinks they're healthy and ready to return to the team after a rehab outing or two. "Everything is there. The velocity is there. I'm feeling good. I'm happy with that," he said to Brian Heyman the other day. Pineda has allowed one run on nine hits and one walk in 7.2 rehab innings, striking out eleven, so statistically the rehab assignment has gone well.
Girardi indicated the decision to bring Pineda back could depend as much on the shape of the bullpen as it does how he feels. The Yankees aren't getting much length out of their starters in general and Rogers could be used in long relief as soon as Tuesday, according to the skipper. "The bullpen has been used a lot. Sometimes plans change," said Girardi to Martin. If Rogers is needed to bail out Shane Greene tomorrow, Pineda would start Wednesday by default.
At this point though, I think it's time for the Yankees to bring Pineda back regardless of his pitch count in his most recent rehab start. If the team doesn't feel he is where he needs to be with his pitches, that his fastball command isn't all the way back or he doesn't have feel for his slider yet, that's different. Pineda can't be effective without fastball command or feel of his slider. If he needs another rehab start to get that stuff back, so be it. Then he'll have to make another start with Triple-A Scranton.
But, if we're talking only about a matter of pitch count, being stretched out to throw 85 pitches vs. 100 pitches, then I don't think there's much to consider here. In that case the Yankees should absolutely bring Pineda back this week, upgrade their rotation, and simply keep an eye on his pitch count until he is fully stretched out. Rogers did very well in his spot start but nothing in his track record suggests we should expect more of the same going forward. Pineda limited to 85 pitches or whatever is still better than maybe any other pitcher on the staff at this point. It's not like he threw 45 pitches last time out. He's stretched out enough to give the team the same five innings as Rogers.
The Yankees head into this series with the Orioles six games back in the AL East, though they are only 2.5 games back of the second wildcard spot. The division isn't completely off the table at this point but it sure does seem like a long shot. The wildcard is still very much up for grabs though, there's just a ton of competition. The Blue Jays, Royals, and Mariners are all right there with the Yankees, so every little upgrade is huge. Brian Cashman's been talking about incremental upgrades these last few weeks, and, well, Pineda is an upgrade over Rogers, even if he's only out there for 85 pitches on Wednesday.