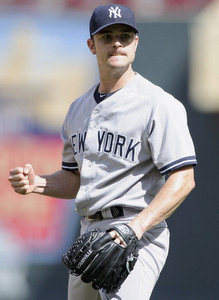 Just about all summer, Joe Girardi and the Yankees have enjoyed arguably the most dominant setup man/closer tandem in baseball in Dellin Betances and David Robertson. The team has scaled back on Betances' workload in recent weeks but for the most of the season he was a multi-inning monster who would regularly bridge the gap from starter to closer all by himself. Robertson has been dynamite in his first season as closer, making the transition to the post-Mariano Rivera era relatively painless.
The Yankees had a similarly dominant late-game duo the last few years thanks to the Robertson and Rivera, though Robertson has always been a true one-inning reliever, not a four or five or six out guy. The multi-inning reliever is a dying breed, especially when it comes to late-inning guys. The last time the Yankees had a duo like Betances and Robertson, meaning an overwhelming multi-inning setup man and a shutdown closer, was way back to 1996, when Rivera was setting up John Wetteland.
There are more than a few similarities between the 1996 duo and the 2014 duo. Betances, like Rivera, was scuffling along for much of his early-20s, trying to make it work as a starting pitcher before moving into the bullpen full-time. They both opened the season in an undefined middle relief role before pitching their way into some more responsibility — Rivera threw 15 straight hitless innings at one point from mid-April through early-May in 1996, which is a great way to earn the manager's trust — and eventually a no-doubt high-leverage role. Robertson has a knack for making things interesting but gets the job done more often than not, similar to Wetteland.
Statistically, there isn't much of a comparison. Betances and Robertson have been quite a bit more effective this year than Rivera and Wetteland in 1996, at least on a rate basis. Wetteland and (mostly) Rivera did throw a ton of innings back in the day, a workload Betances and Robertson won't sniff this year:
| | Innings | WHIP | ERA | FIP | K% | BB% | K/BB |
| --- | --- | --- | --- | --- | --- | --- | --- |
| 2014 Betances & Robertson | 137.1 | 0.84 | 1.97 | 1.84 | 39.4% | 7.6% | 5.18 |
| 1996 Rivera & Wetteland | 171.1 | 1.06 | 2.36 | 2.57 | 28.8% | 8.0% | 3.43 |
Rivera and Wetteland also excelled in the postseason in 1996, combining to allow only four runs in 26.2 innings (1.35 ERA) during the team's march to the World Series title. Wetteland saved four games in five days en route to being named World Series MVP. Hopefully Betances and Robertson get a chance to strut their stuff in the postseason next month, but eh. Things aren't looking too hot right now.
The similarities don't stop there either. Betances (26) and Robertson (29) are the same age right now that Rivera and Wetteland were back in 1996, respectively. That's sorta freaky. Robertson is also due to become a free agent this offseason just like Wetteland became a free agent following the 1996 season. The Yankees let him walk and installed Rivera as their closer. The team is going to face a similar decision this winter — do they let Robertson go and hand the ninth inning reigns over to Dellin?
I don't think there's anything wrong with re-signing Robertson and keeping one of the game's most dominant late-game bullpen pairs together for another few seasons. In fact I would prefer it. I don't mean that as a slight on Betances either. I think he'd be able to close no problem just like I thought Robertson would have no trouble closing this year, but there is no such thing as having too many great relievers. The game has changed a lot in the last two decades. Deep bullpens are imperative these days because no one scores runs anymore and every game is close.
Eighteen years ago, the Yankees had an advantage over every team they played thanks to Rivera and Wetteland. Rivera's ability to go multiple innings — he went two full innings in 35 of 61 appearances and three full innings eight times — combined with Wetteland's ninth inning reliability effective made it a six-inning game for New York. Girardi has had the same luxury this year thanks to Betances and Robertson. Both guys are having phenomenal seasons and they've been essential in keeping the Yankees in the race this summer.