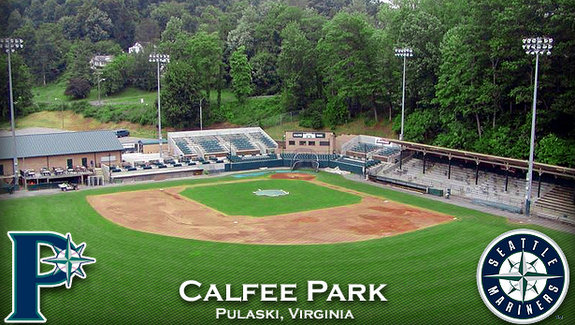 The Yankees have added another minor league affiliate to the organization. Yesterday afternoon the team announced the addition of the Pulaski Yankees, a rookie level affiliate in the Appalachian League. The franchise had been affiliated with the Mariners from 2008-14. The team will play in 2,500-seat Calfee Park in Pulaski, Virginia.
"We are excited to add an Appalachian League team to our affiliation. Obviously baseball is our business and in that business you try to find the best ways to develop your talents," said Brian Cashman in the team's statement. The Yankees and Pulaski still have not finalized the length of their player development contract but that is only a formality. They wouldn't have announced the affiliation if they weren't close to a deal.
The Appalachian League is a short season league — they begin play in late-June every summer — and although it is technically classified as a rookie league, the quality of competition is generally better than what you'll find in the rookie level Gulf Coast League but not quite as good as the Short Season NY-Penn League. Consider it a stepping stone between the GCL Yanks and the Staten Island Yankees.
The press release called the Pulaski franchise the Yankees' tenth minor league affiliate, indicating they will still continue to field two GCL squads in the future. Pulaski joins the organization's four full season affiliates (Triple-A Scranton, Double-A Trenton, High-A Tampa, Low-A Charleston), one short season affiliate (SI Yanks), two rookie ball affiliates (GCL Yanks1 and 2), and two Dominican Summer League affiliates.
There is nothing but good that can come from adding another minor league club to the organization. Anything that allows prospects to get more playing time that early in their careers — the Appy League average age was approximately 19.5 this summer — is a positive. The Yankees went bonkers on the international market this summer and they're going to need places to play all of those kids in the near future, and the new Pulaski affiliate will help accomplish that. Good news all around.