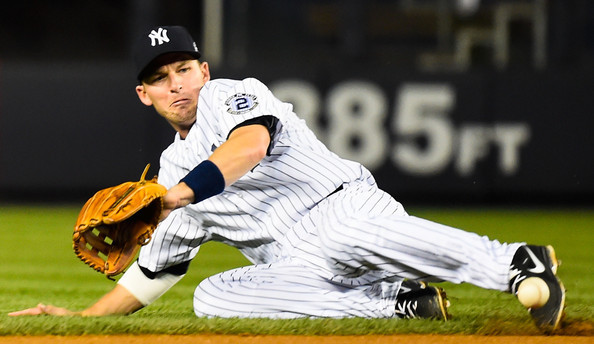 The Yankees have a bunch of needs this offseason like every other team, yet because they need to replace the iconic Derek Jeter, I think the hole at shortstop will be discussed more than anything. Don't get me wrong, needing a shortstop is a big deal, but the club also needs help at either second or third base and on the mound. I just think the search for a shortstop is going to get a ton of attention. A ton.
As Brian Cashman said earlier this week, the trade market for shortstops is limited right at the moment. The free agent market offers a bunch of imperfect solutions now that J.J. Hardy has re-upped with the Orioles, as Hanley Ramirez, Jed Lowrie, and Asdrubal Cabrera all belong at other positions. The only true shortstop left in free agency is a player who spent the last two months of 2014 playing second base for the Yankees: Stephen Drew.
Cashman acknowledged he will "have a conversation with" Drew's agent Scott Boras this offseason and they're planning to "stay in touch and see where it takes us." Drew had a miserable 2014 season, first getting hung out to dry by the qualifying offer system then not hitting a lick once he did finally land a job in late-May. There is some thought that a regular Spring Training would help him next year, but who really knows? Does bringing Drew back make sense anyway? Let's try to find out.
The Injury History
I think we have to start with Drew's recent injury history. His problems all started in July 2011, when he destroyed his ankle sliding into home plate. It was ugly. He caught a spike sliding into the plate and his foot basically turned the opposite way. Drew shattered his ankle and tore a ton of ligaments. He had surgery and it kept him out almost an entire season — Drew didn't return to the field until June 2012.
Then in Spring Training last year, Drew was hit in the head by a pitch and suffered a concussion. It kept him out for a bit more than a full month and forced him to start the season on the disabled list. Drew missed three weeks with a hamstring strain last summer and missed two weeks with a hamstring strain back in 2009, but that's nothing, really. It happens. His two most severe injuries, the ankle and the concussion, were fluke injuries and not some kind of chronic problem. That doesn't mean they haven't affected his game though. Drew hasn't really been the same player since the ankle injury, coincidence or not.
The Sagging Offense
Once upon a time, Drew was one of the better hitting shortstop in the game. He put up a .278/.352/.458 (113 wRC+) line with 15 homers in 2010 — remember the days when a batting line like that was only 13% better than league average? I miss offense — but was hitting only .252/.317/.396 (92 wRC+) with five homers in 354 plate appearances when he hurt his ankle in 2011. After returning in 2012, Drew hit only .223/.309/.348 (80 wRC) with seven homers in 327 plate appearances. He wasn't particularly good before or after the ankle injury.
Then, with the Red Sox in 2013, Drew managed to hit .253/.333/.443 (109 wRC+) with 13 homers in 501 plate appearances. It was part of the whole "everything's going right" thing that swept through Boston that summer (and most World Series winning teams each year). Drew then hit a very weak .162/.237/.299 (44 wRC+) with seven homers in exactly 300 plate appearances this past season between the Red Sox and Yankees. He didn't have a normal Spring Training in 2012 (ankle), 2013 (concussion), or 2014 (qualifying offer mess), remember.
All together, we're talking about a player who has hit .228/.305/.382 (85 wRC+) in a bit less than 1,500 plate appearances over the last four seasons. That's broken down into .243/.326/.410 (100 wRC+) against righties and .192/.252/.313 (50 wRC+) against lefties, making him a pure platoon player. Drew's one good year since 2011 came in hitter friendly Fenway Park —  he hit .283/.367/.491 (127 wRC+) at home and .222/.295/.392 (88 wRC+) on the road — which is a bit weird because Fenway usually doesn't favor dead pull left-handed hitters. Or at least it doesn't favor them as much as pull happy righties.
Now, that said, Drew is a dead pull left-handed hitter, which ostensibly makes him a good fit for Yankee Stadium. Drew didn't hit in the Bronx last year (19 wRC+) and other pull happy lefties like Kelly Johnson and Travis Hafner didn't tear the cover off the ball during their time in pinstripes, so the short porch does not guarantee success all by itself. More important than the ballpark situation is Drew's continually increasing strikeout rate and propensity to hit fly balls:
| | PA | K% | BB% | GB% | FB% | LD% | O-Zwing% | Z-Swing% | Swing% | Contact% |
| --- | --- | --- | --- | --- | --- | --- | --- | --- | --- | --- |
| 2010 | 633 | 17.1% | 9.8% | 40.2% | 40.8% | 19.0% | 24.6% | 60.7% | 42.3% | 82.6% |
| 2011 | 354 | 20.9% | 8.5% | 38.9% | 40.5% | 20.6% | 23.8% | 61.0% | 42.6% | 79.3% |
| 2012 | 327 | 23.2% | 11.3% | 32.2% | 40.2% | 27.6% | 18.9% | 56.6% | 38.2% | 79.5% |
| 2013 | 501 | 24.8% | 10.8% | 33.2% | 41.6% | 25.2% | 22.6% | 57.1% | 40.5% | 77.7% |
| 2014 | 300 | 25.0% | 9.0% | 31.3% | 51.3% | 17.4% | 23.6% | 61.3% | 43.1% | 78.8% |
Drew's plate discipline hasn't changed all that much these last five years. For whatever reason he didn't swing as much as usual in 2012, either at pitches in (Z-Swing%) or out (O-Swing%) of the zone, but otherwise his swing and contact rates have held steady the last few seasons. He's drawing the same number of walks but his strikeout rate is climbing, faster than the ever-increasing league-wide strikeout rate. If Drew isn't swinging at substantially more pitches out of the zone or making substantially less contact in general, it suggests that maybe selectivity is the problem. He's taking too many hittable pitches. I dunno.
The fly ball stuff is a bigger problem than the increased strikeouts because fly balls will kill a player's batting average, especially when the player's average fly ball distance has gradually declined over the last few seasons like Drew's (via Baseball Heat Maps):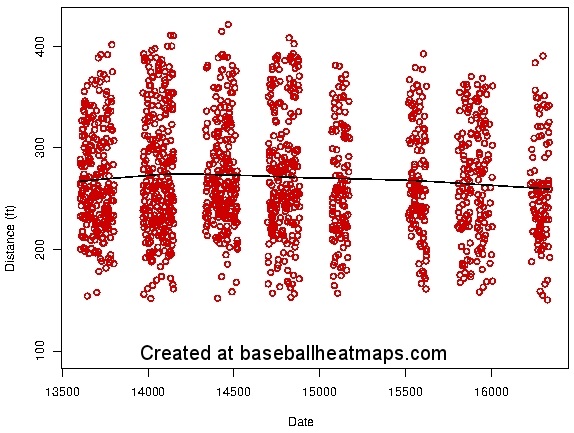 It's not a huge decline, but it's a decline nonetheless. Most 250-something-foot fly balls are caught for outs. Especially these days with teams focusing on defense more than ever. Drew's batting average continues to sink and this explains why, at least somewhat. (Remember, batted ball data includes some scorer's bias. One scorer's fly ball is another's line drive.) More strikeouts and more medium-depth fly balls has killed Drew's offensive production these last few years, and not all of it can be blamed on the traumatic ankle injury either.
Now, that said, I don't think Drew will be as bad as he was last year again. He almost can't be that bad again, right? He is only 31 (32 in March) and he's an athletic guy, so falling off from a 109 wRC+ in 2013 to a 44 wRC+ in 2014 and having that be his true talent level doesn't seem possible to me. I'm not saying he's a true talent 109 wRC+ guy either. The truth is likely somewhere in the middle. I just don't know know where. Drew's last few seasons have been very weird. The scouting report will be a huge factor here. Forget the numbers; how do teams think he's looked?
Glovework
The Yankees moved Drew to second base in deference to Jeter last year even though he had never played a position other than shortstop in his entire career, MLB or minors. He had some inexperience-related hiccups at first but settled in eventually, and I thought he actually looked quite good at second by the end of the season. That's a testament to his athleticism and baseball instincts, I think.
Of course, the Yankees would be looking at Drew as their regular shortstop now, no questions asked. The defensive stats all agree he was a disaster at short earlier in his career, back around 2006-08, but the numbers have been all over the map these last five seasons. Here are the stats:
| | Innings at SS | DRS | UZR | Total Zone | FRAA |
| --- | --- | --- | --- | --- | --- |
| 2010 | 1,259.1 |  0 | 8.9 | -2 | -2.3 |
| 2011 | 731.1 | 3 | 4.3 | -1 | -2.5 |
| 2012 | 658.2 | -7 | -7.0 | -4 | -4.2 |
| 2013 | 1,093.1 | -2 | 5.3 | -3 | -4.6 |
| 2014 | 413.1 | 4 | 3.0 | -2 | -0.3 |
| Total | 4,156.0 | -2 | 14.5 | -12 | -13.9 |
So we've got some differences of opinion, huh? Both Total Zone and FRAA have rated Drew as consistently below-average while UZR has him above-average with the exception of 2012, which makes sense because he was coming off the ankle injury. DRS is all over the place. I guess that means the consensus is he's below-average in the field?
That goes against what my eyes tell me. I've always thought Drew was very good in the field. But my opinion could be skewed after watching hundreds and thousands of ground balls scoot by Jeter over the years. I'd like to think I watch enough non-Yankees baseball to know an above-average shortstop when I see one, but maybe my brain needs to be re-calibrated. For what it's worth, Keith Law (subs. req'd) said he believes Drew "can play average defense at shortstop for 120 games or so" in 2015.
Contract Estimates
It's obvious at this point Drew is going to wind up a one-year "prove yourself" contract. Maybe something with a low base salary and a ton of incentives based on plate appearances. That would be the best case scenario for the team, not so much Drew himself. Here are some contract estimates from around the world wide baseball web:
FanGraphs Crowdsourcing: One year at $7M.
Keith Law (subs. req'd): One year at $8M to $10M.
Jim Bowden (subs. req'd): One year at $8M. (He predicted the Victor Martinez contract exactly. Like I said, he's so weirdly excellent at this.)
Sounds about right to me. Drew signed for the pro-rated qualifying offer last year and wound up taking home approximately $10.1M. A one-year deal at $8M would represent a pay cut strikes me as fair value. You'd be asking the guy to be your starting shortstop. That job doesn't pay, like, $2M on the open market, even after the year Drew had.
In Conclusion
Drew might be the most complicated and difficult to analyze free agent on the market this winter. Between his awful but Spring Training-less season in 2014, his injuries from 2011-13, and his production in 2013, who knows who the real Stephen Drew is? The best case scenario seems to be the 2013 version and the worst case scenario (2014) was so bad I can't possibly believe that's the real him. It can't be, right?
I think we can all agree Plan A for filling the shortstop hole this offseason would be acquiring a young player who could man the position not only in 2015, but for the next five or six years as well. I prefer Starlin Castro but maybe you prefer someone like Didi Gregorius or Jose Iglesias. That's cool. We all have our own favorite flavors. But trading for that young shortstop might not be possible. Trading for an older shortstop like Alexei Ramirez or Jimmy Rollins might not be possible either.
If that is the case, the Yankees will have to decide between going short-term and rolling the dice with Drew on a one-year contract, or committing multiple years and many millions of dollars to another free agent like Hanley, Asdrubal, or Lowrie. Drew's recent history is ugly and there are a lot of reasons not to sign him. But, if the Yankees opt for one of the other free agents, chances are they'll have to move that guy to another position and find themselves looking for a shortstop again next winter, just like they will be if they sign Drew.