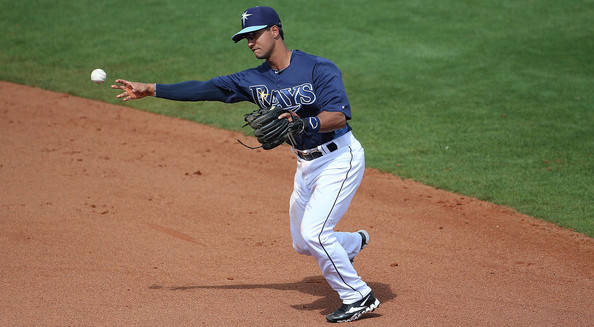 The Yankees have signed infielder Cole Figueroa to a minor league contract, reports Matt Eddy. No word on whether he received an invitation to Spring Training but I assume that is the case. The Rays designated Figueroa for assignment in November and released him a few days later. They originally acquired him from the Padres in the Jason Bartlett trade way back in December 2010.
Figueroa, 27, made his MLB debut this past season and had a 74 wRC+ in only 49 plate appearances. He hit .282/.371/.389 (114 wRC+) with three homers and four steals in 71 Triple-A Games this year, his third season at the level. Figueroa is a career .285/.359/.378 (108 wRC+) hitter with eight homers and 17 steals in nearly 1,200 career Triple-A plate appearances now. He's obviously not much of a power hitter or base-stealer.
Pretty much the only reasons Figueroa is interesting are his incredible strikeout and walk rates. He's struck out only 81 times (6.8%) while drawing 119 walks (10.0%) during all the time in Triple-A. Figueroa has walked more than he's struck out at every minor league stop since a 21-game stint in High-A back in 2009. His career rates in the minors are 11.8 BB% and 8.8 K%. That's pretty incredible. Like Dean Anna but even more extreme.
Figueroa has spent most of his time at second and third bases but has also played some shortstop and a tiny little bit in the corner outfield. He's the son of ex-big leaguer Bien Figueroa and has grown up around the game, which is why friend of RAB R.J. Anderson says Figueroa is really smart on the field. With Chase Headley re-signed, the best Figueroa can hope to do is beat out Jose Pirela for a bench job in Spring Training. Otherwise he's just an extra body for Triple-A Scranton.