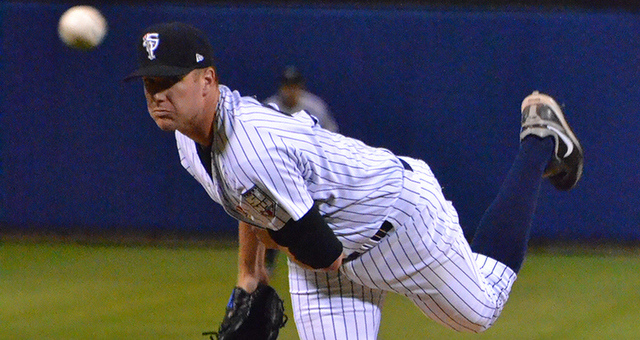 Tyler Webb | LHP
Background
Webb, whose full name is Jon Tyler Webb, is from the tiny little town of Nassawadox on the Eastern Shore of Virginia. He pitched at Northampton High School. Baseball America (subs. req'd) did not rank him as one of the 31 best prospects in the state for the 2009 draft, and Webb ultimately went undrafted out of high school. He instead followed through on his commitment to the University of South Carolina.
Webb worked as a swingman during his freshman year with the Gamecocks, pitching to a 3.96 ERA with 36 walks and 13 strikeouts spread across seven starts and ten relief appearances. He held the same role as a sophomore, and while Webb improved to a 3.00 ERA in 36 innings across five starts and 17 relief appearances, he struck out only 28 and walked 17. USC won the College World Series both years.
Baseball America (subs. req'd) did not rank Webb, who was a draft-eligible sophomore, as one of the 40 best prospects in South Carolina after the 2011 college season. The Reds selected him in the 48th round (1,465th overall pick) of the 2011 draft and whatever bonus they offered Webb wasn't enough. He opted to return to school for his junior season.
USC moved Webb into the bullpen full-time as a junior and he was excellent, pitching to a 1.56 ERA in 39 appearances. He struck out 58 and walked 18 in 57.2 innings. Despite that performance, Baseball America (subs. req'd) did not rank Webb among the top prospects in the state for the 2012 draft and he went undrafted, so he returned to school for his senior season. (The draft was shortened from 50 rounds to 40 rounds in 2012.)
Webb took over as the team's closer as a senior and saved 17 games with a 1.47 ERA in 43 innings. He struck out 60, walked 14, and, for the second straight year, did not allow a homer. That earned him a spot on the All-American Third Team. Webb appeared in 32 games that spring and set the school's all-time record with 110 career pitching appearances. He finished his career at USC with a 2.34 ERA and a 182/62 K/BB in 173 innings.
Baseball America (subs. req'd) ranked Webb as the 17th best prospect in South Carolina for the 2013 draft but not as one of the top 500 draft prospects overall. The Yankees selected him in the tenth round (314th overall) as a way to save draft pool space — they signed him to a well-below slot $30,000 bonus almost immediately, saving a little more than $100,000 in draft pool space. (That money eventually went to Aaron Judge's above-slot bonus.)
Pro Career
The Yankees assigned Webb to Short Season Staten Island after the draft but he didn't stay there long. After striking out eight and walking two in five hitless innings, they bumped him up to Low-A Charleston. Webb had a 3.86 ERA (3.25 FIP) with 40 strikeouts and only six walks in 30.1 innings across 16 appearances with the River Dogs to close out his first taste of professional baseball.
Assigned to High-A Tampa to open the 2014 season, Webb made only eight appearances there before being moved up to Double-A Trenton. He had a 2.77 ERA (1.24 FIP) with 17 strikeouts and one walk in 13 innings and eight appearances with Tampa. Webb's stint with the Thunder was also relatively short — he was there for only 35.2 innings and 23 appearances, during which he had a 4.04 ERA (2.65 FIP) with 51 strikeouts and 14 walks.
The Yankees moved Webb up to Triple-A Scranton late in the season and he had a 4.05 ERA (3.76 FIP) in 20 innings across 17 appearances with the RailRiders. He struck out 26 and walked seven. All together, Webb had a 3.80 ERA (2.74 FIP) with 94 strikeouts (32.1%) and 22 walks (7.5%) in 68.2 relief innings at three minor league levels in 2014.
Scouting Report
First things first: Webb is huge. He's listed at 6-foot-6 and 225 pounds. Not a small man. Despite all that size, Webb's fastball is only average, usually sitting in the 90-92 mph range even as a full-time reliever. His upper-70s curveball is a decent second offering but not a knockout pitch. I'm guessing the Yankees had him tinker with a cutter at some point as well. Here's some video from his senior year at USC:
Webb's average-ish stuff plays up a little bit because he has some funk in his delivery and hides the ball well. It's a classic lefty specialist profile — lefties have hit .216/.264/.353 with a 40.5% strikeout rate and a 4.0% walk rate against Webb as a pro for what it's worth, which isn't much because it's only 126 plate appearances spread across parts of two seasons — without a ton of upside. Webb has an okay fastball, can spin a breaking ball, and uses his delivery to create deception. Textbook matchup southpaw.
2015 Outlook
Given his zoom up the ladder and proximity to the Major Leagues, I expect Webb to get an invitation to big league Spring Training come February. I don't think he has much of a chance of winning a bullpen job, but it will be an opportunity to show the staff what he can do and put himself in position for call-up later in the season. Kinda like Preston Claiborne in 2013. Either way, impressive camp or not, Webb is ticketed for a return to the Triple-A Scranton bullpen to start next season.
My Take
I like Webb in a "he's exceeded all expectations a senior sign in the tenth round" kind of way. He's a little older than the typical prospect (turns 25 in July), but if all he ever does is reach MLB and throw about ten good innings, it's successful draft pick. Webb might be most useful to the Yankees as a trade chip though — granted, players like this don't have a ton of value, but some team might like him as the second or third piece in a trade — because the organization has a lot of left-handed relief depth at the moment. Andrew Miller, Justin Wilson, and Jacob Lindgren are ahead of Webb on the depth chart and James Pazos is right behind him. Webb will get an opportunity to open eyes in Spring Training, and not only the Yankees'.