Even before trading Shane Greene to get Didi Gregorius, the Yankees needed rotation help. Now they really need rotation help. Their top five starters right now are (in whatever order) Masahiro Tanaka, CC Sabathia, Michael Pineda, David Phelps, and probably Bryan Mitchell, at least until Ivan Nova returns from Tommy John surgery at midseason. Tanaka (elbow), Sabathia (knee), Pineda (shoulder), and Phelps (elbow) all landed on the DL this past season and their injury concerns will carry into 2015.
Along with Max Scherzer (Scouting the Market), one of the top two free agent starters available this offseason is ex-Red Sox left-hander Jon Lester, a legitimate ace who's shown he has big market and postseason chops. The Yankees have insisted all winter they will not hand out another massive contract after getting burned by the Sabathia, Mark Teixeira, and Alex Rodriguez deals. One Yankees executive even went so far as to tell Joel Sherman that Lester's "name never even comes up in discussions."
That said, these are the Yankees, and they could change their mind and offer a market-busting contract at literally any moment. They've done it before and it's a safe assumption they'll do it again at some point. Lester has obviously been excellent through the first nine seasons of his career, but whichever team signs him won't be getting those nine years, they'll be getting the next six or seven or however many years of his career. Those figure to look quite a bit different than 2006-14 Lester. Is 2015-? Lester a fit for the Yankees? Let's look.
High-End Performance
We're all familiar with Lester. We've been watching him pitch against the Yankees multiple time every year for nearly a decade now. He's excellent. I know it, you know it, we all know it. This section is just a formality, really. Here's how Lester has pitched these last three seasons.
| | IP | ERA | FIP | K% | BB% | GB% | HR/FB% | RHB wOBA | LHP wOBA |
| --- | --- | --- | --- | --- | --- | --- | --- | --- | --- |
| 2012 | 205.1 | 4.82 | 4.11 | 19.0% | 7.8% | 49.2% | 13.9% | 0.339 | 0.321 |
| 2013 | 213.1 | 3.75 | 3.59 | 19.6% | 7.4% | 45.0% | 8.3% | 0.317 | 0.294 |
| 2014 | 219.2 | 2.46 | 2.80 | 24.9% | 5.4% | 42.4% | 7.2% | 0.275 | 0.309 |
| TOTAL | 638.1 | 3.65 | 3.49 | 21.1% | 6.9% | 45.6% | 9.5% | 0.310 | 0.309 |
Lester had what as likely a career year in 2014, two years after having the worst year of his career. He was excellent this past season but the 2012-13 seasons weren't anything special (4.28 ERA and 3.84 FIP).
Lester did rebound from that ugly 2012 season and that's a positive. A lot of pitchers are unable to rebound after a rough season like that. Realistically, I think you sign Lester hoping you get the 2014 version in 2015 but expecting the overall 2012-14 version. That make sense? If you're expecting six or seven years of 2014 Lester, you'll be disappointed. That won't happen.
Stuff Breakdown
Unlike, say, Clayton Kershaw and Chris Sale, Lester is not a huge stuff guy from the left side. He's not going to blow anyone away with fastballs or buckle knees with nasty breaking balls. He's basically a three-pitch pitcher these days (four-seamer, cutter, curveball) who will throw two other pitches (sinker, changeup) a handful of times per start and nothing more. Courtesy of Brooks Baseball, here is Lester's pitch selection over the years: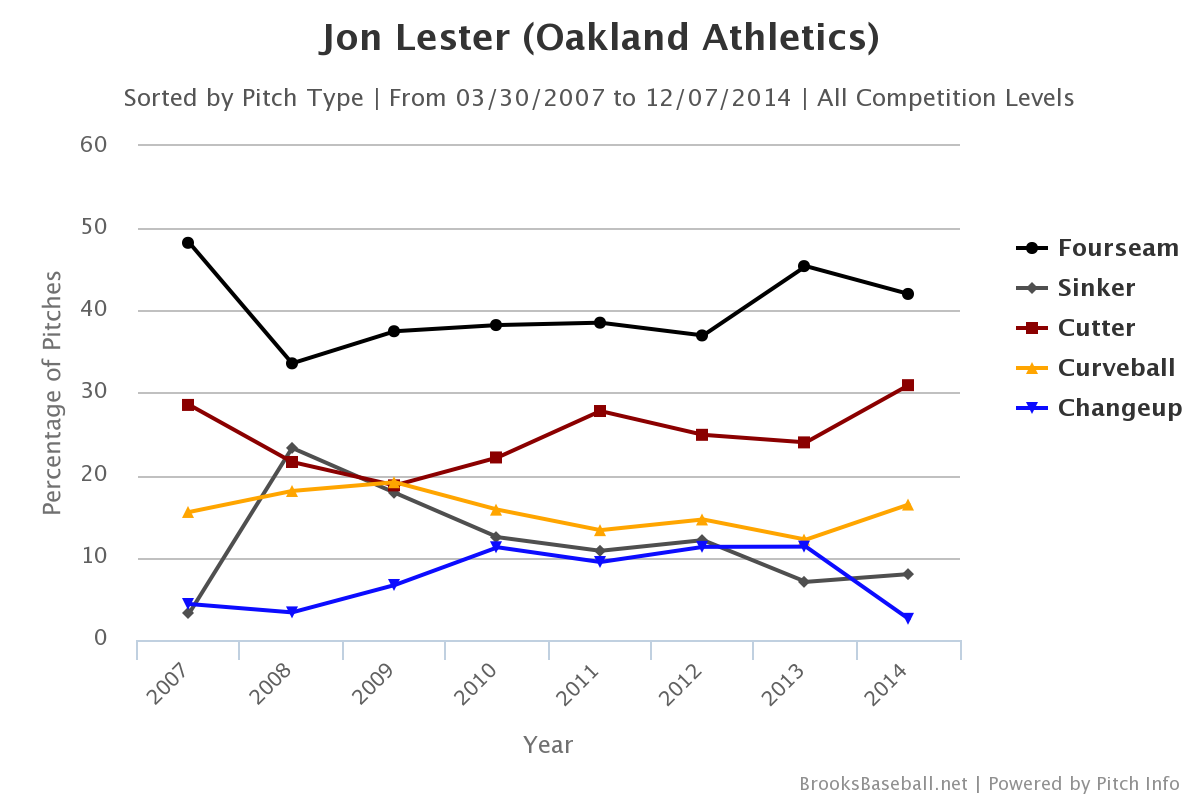 Between the four-seamer and cutter, Lester throws a fastball roughly 70% of the time nowadays. It works because he mixes the two pitches well and can locate them to both sides of the plate against lefties and righties. Chances are he'll throw you a fastball for any given pitch, but good luck guessing whether it'll be a four-seamer or a cutter, and where it'll be located. It's the Cliff Lee model — good but not great stuff that plays up because of location and unpredictability.
We're going to get into Lester's workload in a second, but he turns 31 next month and has thrown a lot of innings over the years. You knew that already. So, then, it's no surprise his velocity declined across the board last season: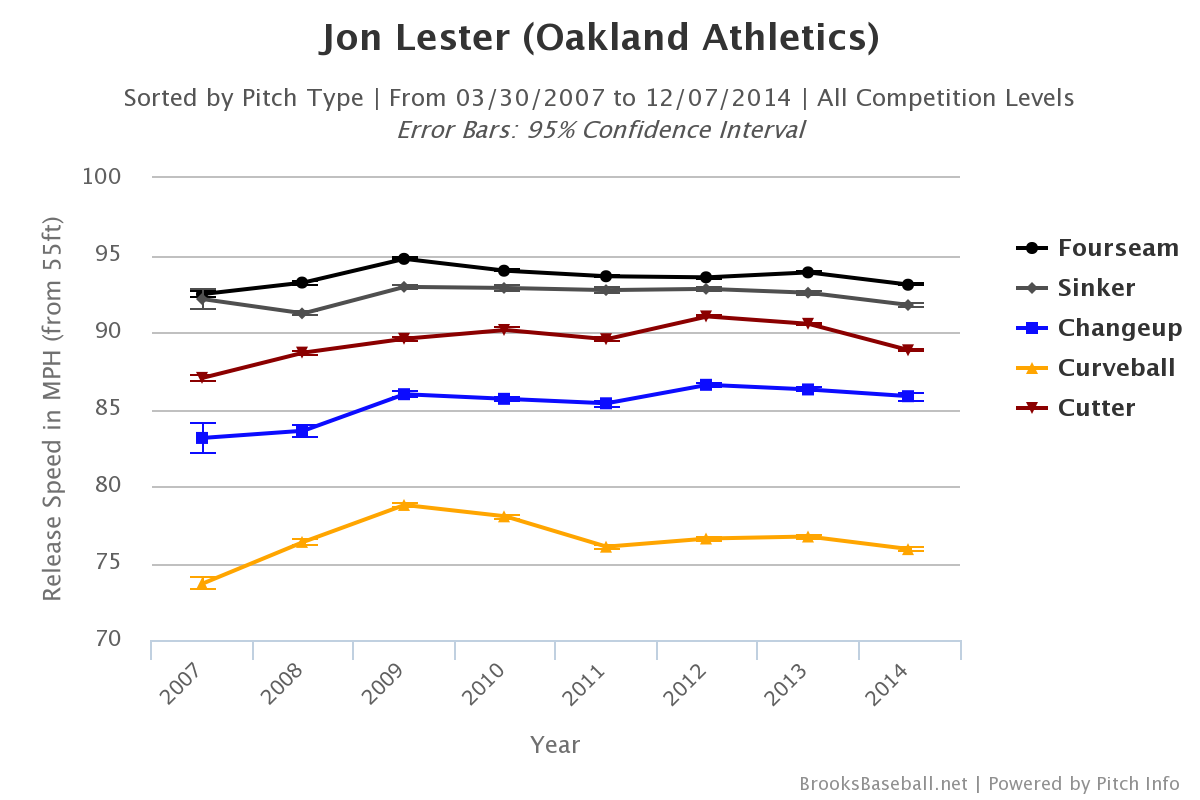 It's not a huge decline but it is a decline. Lester's four-seamer averaged 94.01 mph in 2013 and 93.15 mph in 2014. The cutter went from 90.66 to 88.88. The curveball went from 76.85 to 75.95. This is totally normal! Pitchers lose velocity as they age and Lester is probably going to lose even more velocity in the coming years. Lester's release point has gradually dropped about three inches over the years as well …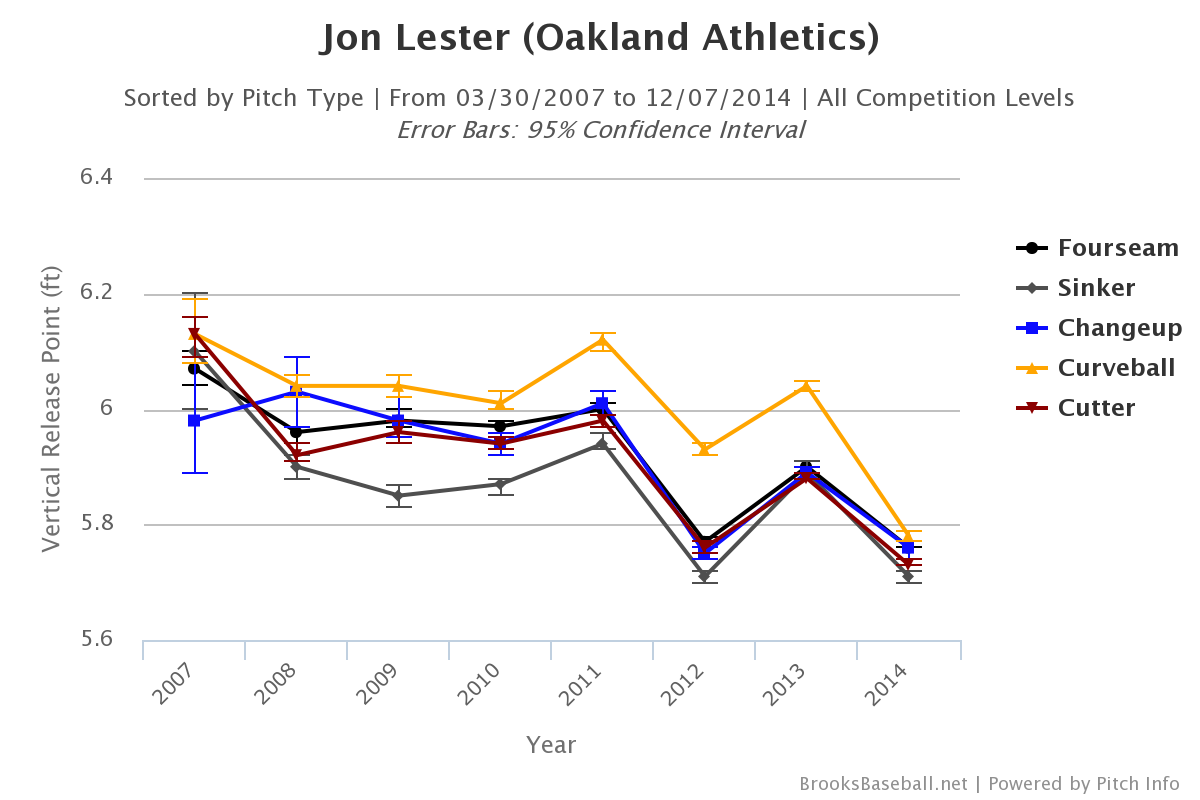 … and that's also a normal part of the aging process. That's the life of a pitcher over 30.
Lester showed he can pitch with the reduced velocity in 2014 and while it's easy to think he'll be able to adjust a la Andy Pettitte because he's a command-based lefty, the fact is we don't really know how or if he'll adjust in the future. Whichever teams sign Lester will do so assuming he can adjust and remain effective, otherwise they wouldn't give him six or seven or however many years.
Okay, so we know what Lester throws, how often he throws it, and how hard he throws it. Now let's look at how effective these individual pitches are in terms of generating swings and misses and getting ground balls. With the help of Brooks Baseball once again, here are how Lester's three main pitches rate at getting whiffs and grounders:
| | FB Whiff% | FB GB% | CT Whiff% | CT GB% | CB Whiff% | CB GB% |
| --- | --- | --- | --- | --- | --- | --- |
| 2012 | 6.2% | 36.6% | 13.0% | 47.3% | 10.9% | 48.2% |
| 2013 | 6.7% | 35.3% | 11.2% | 50.0% | 9.4% | 43.3% |
| 2014 | 6.9% | 29.3% | 12.4% | 48.1% | 18.7% | 52.6% |
| MLB AVG | 6.9% | 37.9% | 9.7% | 43.9% | 11.1% | 48.7% |
Generally speaking, Lester's four-seamer has been average at getting swings and misses and below-average at getting grounders while the cutter and curve have been above-average at getting both whiffs and grounders. The four-seam fastball is the worst of Lester's three main offerings. The cutter and curveball are his moneymakers.
The Yankees have become a very cutter-happy organization in recent years. Phil Hughes added a cutter. David Robertson added a cutter. David Phelps and Adam Warren added cutters after being drafted. Sabathia's been working to add a cutter. Manny Banuelos and Ian Clarkin both added cutters in the minors. Many teams shy away from the cut fastball — most famously, the Orioles took the cutter away from top prospect Dylan Bundy even though it's his best pitch — but the Yankees embrace it, perhaps due to Mariano Rivera's success. Lester fits right in with the organizational philosophy.
Early-Career Workload
During his regular season career, Lester has thrown 1,596 innings through his age 30 season, the 35th most over the last 25 years. Pitch count data only goes back to the 2000 season, and since then, Lester's 26,321 pitches through age 30 are the 16th most in baseball. Here's the top 25 in regular season pitches before age 31 since that 2000 season via Baseball Reference:
| Rank | Player | Pitches |
| --- | --- | --- |
| 1 | CC Sabathia | 37,026 |
| 2 | Jon Garland | 32,416 |
| 3 | Felix Hernandez | 31,478 |
| 4 | Mark Buehrle | 31,170 |
| 5 | Carlos Zambrano | 30,403 |
| 6 | Barry Zito | 30,198 |
| 7 | Zack Greinke | 29,955 |
| 8 | Justin Verlander | 29,116 |
| 9 | Matt Cain | 29,033 |
| 10 | Cole Hamels | 27,888 |
| 11 | Javier Vazquez | 27,506 |
| 12 | Ervin Santana | 26,846 |
| 13 | Dan Haren | 26,726 |
| 14 | Edwin Jackson | 26,509 |
| 15 | Johan Santana | 26,327 |
| 16 | Jon Lester | 26,321 |
| 17 | Tim Lincecum | 25,793 |
| 18 | Brett Myers | 25,763 |
| 19 | Jake Peavy | 25,662 |
| 20 | Jeff Weaver | 24,649 |
| 21 | Roy Oswalt | 24,250 |
| 22 | Josh Beckett | 24,234 |
| 23 | Kyle Lohse | 24,001 |
| 24 | Scott Kazmir | 23,889 |
| 25 | John Lackey | 23,828 |
It's a shame we can't go back any further, so this will have to do.
Now, obviously all pitches are not created equal. I'm guessing a higher percentage of Lester's 26,321 pitches before age 30 were "stressful" than Zack Greinke's 29,955. Lester was pitching in pressure packing AL East games the moment he got to the big leagues. Greinke didn't play on a contender until he got to the Brewers in his age 27 season. Throwing a lot of pitches is generally bad. Throwing a lot of stressful pitches is worse. Lester's thrown an awful lot of them in his career, I reckon.
By the way, of those 25 pitchers in the table above, I count only five (Garland, Johan, Myers, Beckett, Lackey) who had a substantial arm injury after their age 30 season. (Sabathia had knee trouble.) I wouldn't think much of that though, there's a lot of recency bias here. Most of those guys simply haven't the chance to pitch at all much after the age of 30 yet, like Lester. Heck, Felix is still only 28.
Injury History
As you know, Lester overcame a treatable form of anaplastic large cell lymphoma earlier in his career. He was diagnosed in August 2006, underwent chemotherapy, and was declared cancer-free in November 2006. That's obviously very serious and has to be noted. Lester's been a horse since then and has done all sorts of wonderful charity stuff to benefit cancer research these last few years.
As for actual baseball injuries, Lester has been on the DL just once, for a lat strain in July 2011. He missed 19 days and hasn't had any trouble since. Lester missed a start with a hamstring strain in 2012 and missed another start with a hip strain in 2013. That's his injury history right there. No arm problems whatsoever and no other significant injuries. The best predictor of future injuries is past injuries and Lester's been very healthy since become a full-time big leaguer in 2007.
Contract Estimates
Because he was traded at midseason, the Athletics could not make Lester the qualifying offer and therefore he will not cost a draft pick to sign, unlike Scherzer. Giving up a draft pick is a minor consideration when you're talking about elite players, but signing Lester and being able to keep your first rounder is pretty cool. Here are some contract estimates:
FanGraphs Crowdsourcing: Six years, $132M. ($22M AAV)
Jim Bowden (subs. req'd): Six years, $138M. ($23M AAV)
MLB Trade Rumors: "Lester should command at least the six years and $147MM Greinke received two years ago, and potentially more." ($24.5M AAV)
According to Jon Heyman, Lester already has several offers in the $130M to $140M range, though the Red Sox are in a bit lower than that. The Cubs, Dodgers, and Braves are also said to be involved to some extent. I'm sure other clubs are in the mix as well. One executive told Ken Rosenthal that Lester is going to wind up with seven years — "Book it," said the exec — and that makes sense to me. If Lester's sitting on a bunch of six-year offers, it's probably only a matter of time before a team gets desperate and offers that seventh guaranteed year, which will be the separator.
It's worth noting that when Sabathia signed his initial seven-year, $161M deal with the Yankees, he was only 28. Greinke was 28 when he signed with the Dodgers and Hamels was 28 when he signed his six-year, $144M extension with the Phillies. Lester turns 31 in a few weeks and we're talking about a difference of three peak years and that's significant. Cliff Lee had just turned 32 when he signed his five-year, $120M deal with the Phillies. That might be a more appropriate contract comparison for Lester than Greinke and Hamels.
Of course, the market is going to determine Lester's contract, not what similar-aged pitchers received the last few years. There's so much money in the game these days and so few elite players to spend it on. Lester is well-positioned to get at least six years and I do think it'll end up getting seven years when it's all said and done — maybe a six-year deal with a seventh year vesting option? — probably with an average annual value north of $24M. That's the market. Even with offense hard to find, aces come at a premium.
Wrapping Up
So, long story short, Lester is very good and healthy. He's a big guy — listed 6-foot-4 and 240 lbs. — with two solidly above-average pitches in his cutter and curveball even though his overall velocity is starting to disappear. There's an awful lot to like here. It goes without saying Lester would be an immense help to the 2015 Yankees, but, at the same time, I have a tough time overlooking all the aces — Sabathia, Cain, Verlander, Lincecum, etc. — who've suddenly fallen apart with little to no warning recently.
If the Yankees do decide to reverse course and spend big on a free agent, few targets make as much sense as Lester. I don't just mean this offseason either, few free agent starters offer this kind of pedigree. There has not yet been any indication the Yankees are going to get seriously involved in the Lester market, but, as I said earlier, that could change in a heartbeat. Personally, I think they should focus on smaller additions to upgrade as many roster spots as possible, but adding someone of Lester's caliber is never bad move.