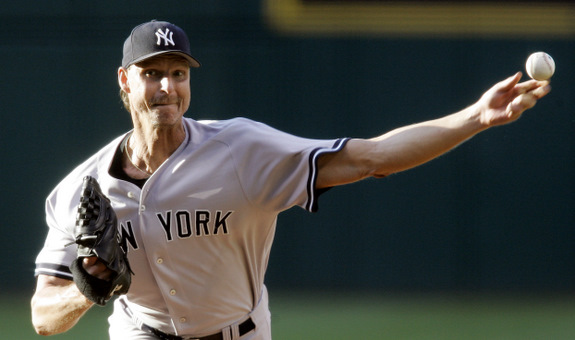 The Hall of Fame has four new members. On Tuesday, the BBWAA announced Craig Biggio, Randy Johnson, Pedro Martinez, and John Smoltz have all been inducted into Cooperstown. This is the first time four players have been inducted in one year since 1955 (Joe DiMaggio, Gabby Hartnett, Ted Lyons, Dazzy Vance) and the first time three pitchers were inducted in one year in history.
Biggio fell two votes short of induction last year, and historically when a player misses by that narrow a margin, he gets in comfortably the next year. That's what happened here — Biggio appeared on 82.7% of the ballots this year, well more than the 75% necessary for induction. The full voting results are available at the BBWAA's site.
Johnson is an inner-circle Hall of Famer and appeared on 97.3% of the ballots, the eighth highest voting total of all-time. He spent two seasons with the Yankees and is presumably going into the Hall of Fame as a Diamondback. Arizona signed him to a four-year contract in 1999 and he won four straight Cy Youngs from 1999-2002, so yeah. Pedro and Smoltz appeared on 91.1% and 82.9% of the ballots, respectively.
The Yankees had some pretty great battles against those three over the years, including beating Smoltz's Braves in the 1996 and 1999 World Series. Johnson bested the Yankees in the 1995 ALDS and 2001 World Series and is simply one of the best pitchers ever, arguably the best lefty ever. Pedro … man did he and the Yankees share some memorable moments. His 17-strikeout one-hitter at Yankee Stadium on September 10th, 1999 is one of the most dominant pitching performances I've ever seen:
Former Yankees Tim Raines (55.0%), Roger Clemens (37.5%), Mike Mussina (24.6%), Gary Sheffield (11.7%), Aaron Boone (0.4%), Tom Gordon (0.4%), and Tony Clark (0%) all fell well short of induction. Boone, Gordon, and Clark drop off the ballot because they received fewer than 5% of the vote.
In his final year of Hall of Fame eligibility, Don Mattingly received only 9.1% of the vote, so he exhausted his 15 years on the ballot and was not inducted to Cooperstown. He topped out at 28.2% of the vote during his first year of eligibility back in 2001 and has sat closer to 13% over the last decade or so, including only 8.2% last year.
Down the line, Mattingly could be eligible for induction via the Expansion Era Committee, which meets every three years to identify and vote on Hall of Fame candidates who started their careers after 1972. The Expansion Era Committee did not elect anyone this winter and will meet again in 2017. I love Donnie Baseball as much as anyone, but I don't think he's a Hall of Famer and I don't think he'll get in via the Expansion Era Committee either.
Among the first-time-eligible players set to jump on the ballot next year are Ken Griffey Jr., Jim Edmonds, Trevor Hoffman, and Billy Wagner. No notable ex-Yankees though. Jorge Posada is set to appear on the ballot for the first time the year after that, giving me two years to prepare to the mother of all Hall of Fame campaigns.