Over these next two weeks we're going to subjectively rank and analyze every player on the Yankees' 40-man roster — based on their short and long-term importance to the team — and you're inevitably going to disagree with our rankings. We've already covered Nos. 26-31 and 32-40.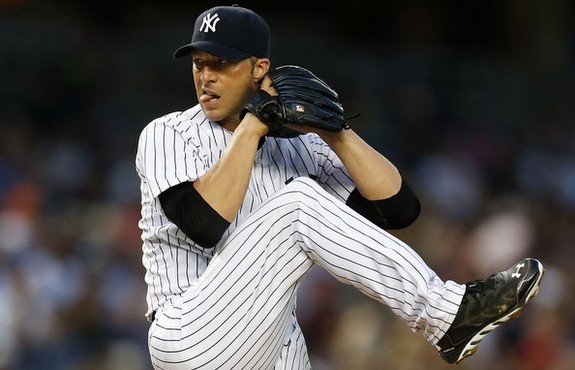 After spending the last two days looking at the 40-man roster players who might help the Yankees in some sort of limited capacity this coming season, we're now getting to players expected to have regular roles during the 2015 season. We aren't at the core of the roster yet, but some of these folks are more than fringe players.
Our 40-man roster ranking series continues today with Nos. 20-25, six spots split eventually between big league pitchers and prospects. There's not much of a common theme in this group, that's just the way the rankings fell. Boring, I know, but that's the way it goes. Alright, let's continue marching on …
No. 25: Chris Capuano
2015 Role: Fifth starter, maybe a swingman if a better rotation option comes along at some point. The Yankees re-signed Capuano to a little one-year contract worth $5M to add pitching depth and add some stability to the back of the rotation. Capuano did an alright job in pinstripes last year (4.25 ERA and 3.85 FIP in 12 starts) and the team will ask him to do more of the same in 2015.
Long-Term Role: Doesn't really have one. I mean, yeah, the Yankees could always bring Capuano back in 2016, but he is very much a year to year guy at age 36. Maybe it's more appropriate to call him a month to month guy instead. Capuano is nothing more than a stopgap rotation option. The Yankees just want him to soak up innings every fifth day and be a mentor to some of the younger pitchers on the staff. Capuano is important in 2015 because the rotation is full of injury concerns, though there's no long-term plan here.
No. 24: Chasen Shreve
2015 Role: At worst, an up-and-down bullpen arm. At best, a bullpen fixture who serves as a reliable matchup lefty for Joe Girardi in the middle innings. The Yankees acquired the 24-year-old Shreve from the Braves in the Manny Banuelos trade a few weeks ago and while he isn't guaranteed a roster spot come Opening Day, I think he is the leading candidate for the final bullpen spot. Either way, he'll get a long look in Spring Training.
Long-Term Role: A bullpen regular. Shreve reinvented himself last season by simply airing it out — he stopped holding back velocity in an attempt to improve location, and the result was across the board improvement. Even to his walk rate. I don't know if he has the pure stuff to be a late-inning reliever who can face both lefties and righties, but if the results stemming from the new approach are legit, Shreve is a guy who can hang around and contribute out of the bullpen for the next several years. I'm very intrigued by the pickup and am looking forward to seeing him this summer.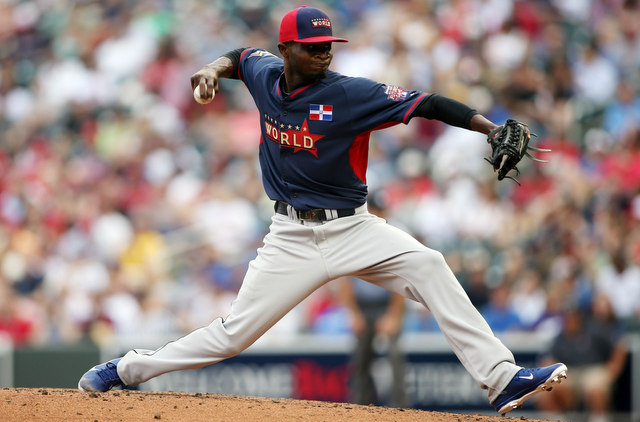 No. 23: Domingo German
2015 Role: Nothing at the MLB level. German came over from the Marlins in the five-player Martin Prado/Nathan Eovaldi trade after spending all of last season in Low Class-A. He's on the 40-man roster because the Marlins opted to protect him from the Rule 5 Draft earlier this offseason. German will head to High-A Tampa this coming year and maybe, just maybe, he'll earn a call-up to Double-A Trenton at midseason. I wouldn't expect anything more than that.
Long-Term Role: German is one of the best pitching prospects in the organization — you could easily argue he's the team's second best pitching prospect behind non-40-man-roster guy Luis Severino — and that alone makes him an important part of the team's future even if he won't realistically make his MLB debut until 2016, if not later.
The Yankees want German to do one of two things: either become a long-term fixture in their rotation or continue improving his prospect stock so they can use him as the centerpiece in a trade. He's much closer to the latter than he is the former right now. At 22, German is the youngest pitcher on the 40-man roster by 16 months and the second youngest player on the 40-man roster overall (behind Gary Sanchez), and that alone makes him an important part of the organization. He's a key piece moving forward.
No. 22: David Carpenter
2015 Role: Setup man, replacing Shawn Kelley. Carpenter has been setting up Craig Kimbrel these last two years — he came over with Shreve in the Banuelos trade — and he'll continue to work important innings in New York. It remains to be seen how the ninth inning will shake out, but if Dellin Betances gets the closer's job, Carpenter is the leading candidate to be Joe Girardi's right-handed complement to Andrew Miller.
Long-Term Role: Still setup man. Carpenter is under team control as an arbitration-eligible player through the 2017 season, so he's not going anywhere unless he's just so terrible the team dumps him. The Yankees basically reacquired Kelley. He and Carpenter are very similar pitchers — fastball, slider, lots of strikeouts, lots of fly balls — and they'll wind up filling the same role in pinstripes.
No. 21: Justin Wilson
2015 Role: Middle reliever but not just as a left-handed specialist. Wilson, who came over from the Pirates in the Frankie Cervelli swap, has a big fastball and a history of striking batters out and neutralizing both lefties and righties. The shaky control means he might never be a regular high-leverage option, but Wilson is a solid reliever who won't have to be hidden from righties.
Long-Term Role: Wilson won't qualify for free agency until after the 2018 season, so he's expected to be a staple in the bullpen for the next several years. If the Carpenter is the next Kelley, Wilson is the next Boone Logan, a lefty with power stuff but questionable strike-throwing ability. Even with Miller on board, Wilson has a chance to grow into a traditional setup role if his control improves a la Logan because he isn't held back by platoon splits.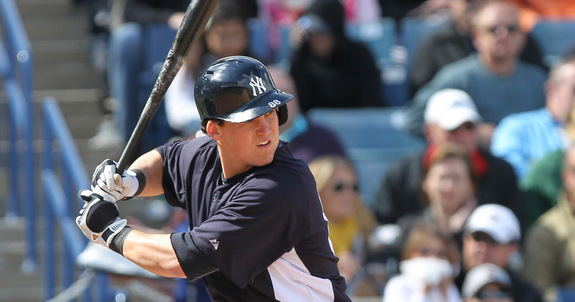 No. 20: Tyler Austin
2015 Role: These last two seasons have been physically tough for Austin, who suffered a bone bruise in his wrist in April 2013 and had it linger all the way into the middle of the 2014 season. (It didn't help that he played through it for most of 2013). He also missed several weeks with a hamstring strain last year.
Austin mashed before and after the wrist issues — he put up a .302/.355/.487 (133 wRC+) line in the final two months of the 2014 regular season and did more of the same in the Arizona Fall League (135 wRC+) — and he was added to the 40-man roster this offseason to protect him from the Rule 5 Draft. He's headed to Triple-A Scranton to start the year and could bypass Ramon Flores as the first outfielder to get called up when help is needed. So I guess that means his immediate role is up-and-down outfielder.
Long-Term Role: He's not expected to be a star, but Austin has legitimate upside as an everyday MLB player, most likely in right field. He has also seen time at first and third bases in his career, but the hot corner ain't happening. The Yankees have a full outfield at the moment, though Carlos Beltran will be an injury risk from now through the end of his contract. Among players on the 40-man, Austin has by far the best chance to come up, replace an injured outfielder, and make the team keep him in the lineup with his play.
The Yankees have a small wave of promising position player prospects at the Double-A and Triple-A levels, and Austin is in position to be among the first to get an opportunity in an everyday role. He could replace Garrett Jones as the part-time right fielder, part-time first baseman, part-time DH as soon as 2016 — Austin is a righty while Jones is a lefty, but that's not a huge deal — before settling into a full-time role. Offense is at a premium and Austin has never not hit when healthy. If he contributes at the plate at the MLB level, he'll stick around.
Coming Thursday: Nos. 17-19. Two pitchers at different points of their careers and a potential impact position player prospect.