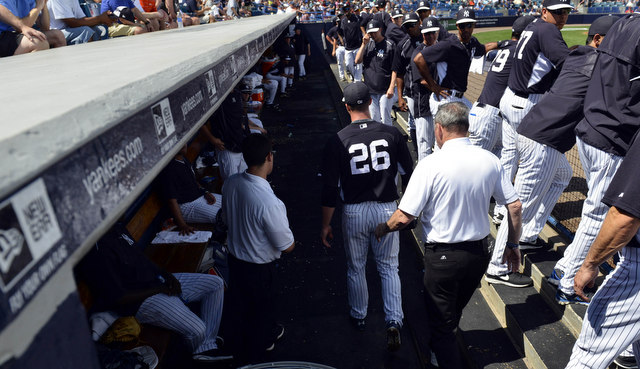 Two batters into yesterday afternoon's game, the Yankees lost left-hander Chris Capuano for what is expected to be several weeks with a Grade II right quad strain. It was a fluke injury — Capuano was covering first base on a ground ball and landed awkwardly on the bag. That's all. Not exactly an uncommon baseball injury.
The big problem here is Capuano was supposed to be one of the starters who didn't get hurt. We were all supposed to start the year waiting for Masahiro Tanaka's elbow to give or CC Sabathia's knee to crumble while complaining about Capuano slopballing is way through five or six innings every fifth day. Capuano was supposed to be the guy who stayed healthy.
"We'll look at everyone, that's the bottom line. Because we need to fill a spot now," said Joe Girardi to Chad Jennings following yesterday's game. The Yankees will now dip into their pitching reserves to bolster the rotation early in the season, something we expected to happen pretty much all winter. We just didn't think they'd be replacing Capuano. Here's a look at the team's options at the moment.
Internal Options: Warren, Rogers, Mitchell, Whitley
Adam Warren, Esmil Rogers, Bryan Mitchell, and Chase Whitley are all working as starters in camp for this exact reason: to be ready to step into the rotation if needed. Others like Luis Severino, Jose DePaula, and Scott Baker are in camp as non-roster players and yeah, I guess that makes them rotation candidates, but I get the sense they are deep depth options, not guys being seriously considered for the Opening Day rotation.
Warren was mentioned as a rotation candidate every time a starter got hurt last season and for whatever reason I get the sense this spring he's the guy the Yankees want to use as a starter if necessary, and it is necessary now thanks to Capuano's quad. Warren's been successful as a reliever these last two years but he has enough pitches to start, came up through the system as a starter, and it seems like the Yankees believe he can be an effective MLB starter.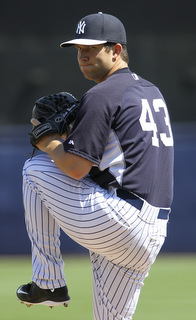 At the same time, both Girardi and Brian Cashman recently went out of their way to praise Rogers, who spent a few years floundering as a starter with the Rockies earlier in his career. "(Rogers has) thrown the ball really well. Larry (Rothschild) worked with him long and hard last year during some bullpen sessions about changing a few things … He's been really good this spring. He'll be one of the guys we're really looking at," said Girardi to Jennings yesterday, for example.
Mitchell probably has the best raw arm of the group but is the most green of the bunch. He could use some more time in Triple-A to iron a few things out, particularly his fastball location. Whitley had a nice little run as a starter last year before the league figured him out, though he has three pitches, and as long as he has three pitches, the Yankees might as well keep working him as a starter.
The Yankees have only played a week's worth of Grapefruit League games, so none of these guys have had a chance to jump to the front of the pack yet. Besides, Spring Training performance isn't — or shouldn't be, anyway — the only factor in this decision. My hunch is this four-man race is really a two-man race between Warren and Rogers. It's their job to lose, not someone else's to win.
External Options? Probably Not Happening
When Yu Darvish blew out his elbow a few days ago, Rangers GM Jon Daniels said they will fill his rotation spot internally. When Marcus Stroman tore his ACL earlier this week, Blue Jays GM Alex Anthopoulos said they will replace him internally. That's the standard operation procedure time of year. Everyone says they will replace injured players internally because saying "we're going to make a trade" just isn't smart business. It makes you look desperate.
Like it or not, the Yankees are not going to trade for Cole Hamels because Capuano got hurt. (Hamels is the kind of move that gets made regardless of the status of guys like Capuano.) They're probably not going to take on $5.3M in salary and give up a prospect to get Dillon Gee either. The Yankees might scour the scrap heap for an out of options arm — Mariners changeup specialist Erasmo Ramirez is also out of minor league options and another name to keep in mind — these next few weeks, but I don't expect a move to bring in a no-doubt big leaguer.
Remember, when starters were dropping like flies early last year, the Yankees cycled through their internal options to make sure they did need to go outside the organization for help before actually doing so. I expect the same this year. They might pluck someone off waivers or make a minor trade for depth, but a significant move isn't happening. At least not right now. Their M.O. in recent years has been to try internal options first.
The Schedule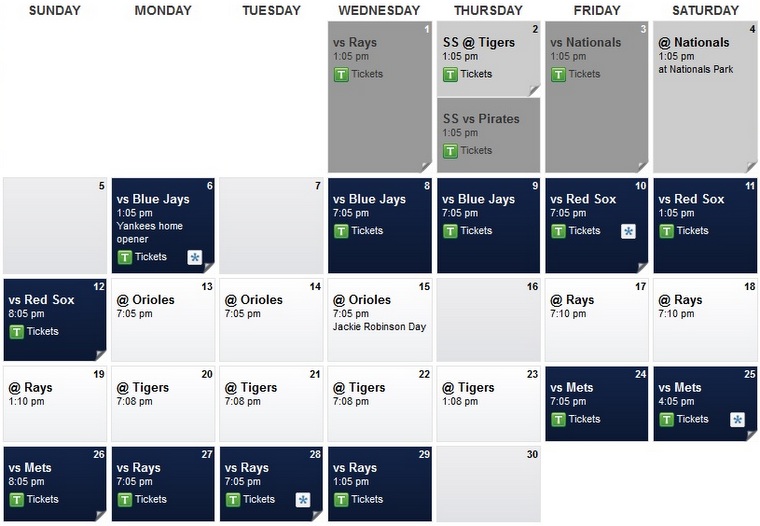 Thanks to the usual slate of early-season off-days, the Yankees only need their fifth starter three times in April. Opening Day is April 6th, so based on the above calendar they will need their fifth starter on April 12th, 21st, and 26th. They won't need him again until May 5th either. So only three times in the first 26 games of the season. Capuano might be ready to return by then.
Now, that said, the Yankees have already been talking about occasionally using a sixth starter early in the season to give guys like Tanaka, Sabathia, and Michael Pineda extra rest. I'm guessing they aren't too enthusiastic about the idea of riding their top four starters hard in April and skipping the fifth spot whenever possible. They could do it, sure, but they have to think big picture here. A few more starts by the fifth (and sixth?) starter in April could mean many more Tanaka, Sabathia, and Pineda starts in August and September.
So yes, the schedule does give the Yankees the flexibility to skip their fifth starter a few times in April. That doesn't mean it would be a good idea, however. The Yankees have played it very cautiously with Tanaka and Sabathia so far this spring and I don't expect them to change course just because Capuano got hurt. The fifth starter, whoever it ends up being, is probably going to end up taking a regular rotation turn early in the season.
What About The Bullpen?
If the Yankees do end up using Warren or Rogers to replace Capuano in the rotation, it opens up another spot in the bullpen. They already had one open coming into Spring Training. This is no big deal though. If there's one thing the Yankees have in spades, it's relievers. They have about a dozen candidates for those last bullpen spots: Jacob Lindgren, Branden Pinder, Andrew Bailey, Danny Burawa, Chris Martin, Chasen Shreve, Jose Ramirez, Jose DePaula, Jared Burton, Nick Rumbelow, Tyler Webb, Wilking Rodriguez … on and on it goes. They'll find someone to fill the necessary bullpen spots. No worries here.
* * *
Capuano's injury is unfortunate, though the silver lining is that he is the team's most replaceable starter. The Yankees also don't have to replace him today. Spring Training doesn't end for another three and a half weeks. It's not like they need to come up with his replacement in time for his start next week or something like that. They can take their time, see how every looks with some more innings under their belt, then make a decision.
The majority of RAB readers believe Warren will get the call to replace Capuano based on yesterday's poll and I agree. I just feel like he's the guy. I do expect the Yankees to keep an eye on any pitchers who may become available before Opening Day — they were going to do that anyway, Capuano injury or not — but I would be surprised if they made anything more than a minor move. That just hasn't been the way they've operated in recent years. Capuano's injury means someone who is already with the Yankees is about to get a big opportunity in the rotation.