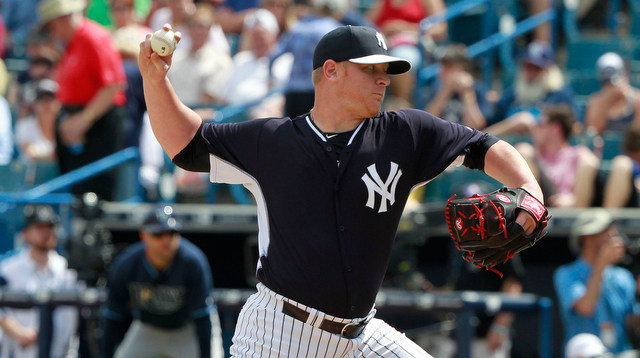 As the Yankees overhauled their bullpen this past offseason, they focused on adding power left-handed relievers, specifically guys who can get both righties and lefties out. Andrew Miller and Justin Wilson have both done that at the MLB level and Chasen Shreve projects to be that type of pitcher as well. Handedness doesn't really matter if you have no platoon split, but quality lefties are harder to find than quality righties, so they're good to have.
In addition to those lefties, the Yankees added one bonafide big league right-handed reliever in David Carpenter, who came over from the Braves with Shreve in the Manny Banuelos trade. Carpenter spent the last two years setting up Craig Kimbrel and he'll slot into a similar setup role with the Yankees, basically replacing Shawn Kelley. That's fitting because they're both fastball/slider pitchers with fly ball tendencies, though Carpenter is slightly younger and cheaper (and under control two extra years).
According to Buster Olney, scouts have been impressed by the 29-year-old Carpenter in the early going this spring. He expanded on that ever so slightly in his Insider-only blog yesterday:
Evaluators have been greatly impressed with the spring showing of Yankees reliever David Carpenter, who has been working to add a splitter to his power stuff in his first season with New York. Carpenter mentioned in conversation how good it is to be teaming up again with catcher Brian McCann, who caught Carpenter when both were with the Braves during Carpenter's impressive 2013 season.
Carpenter has only made four appearances this spring, allowing three runs on five hits and two walks in four innings, striking out three. His first two outings were very good, the last two were kinda duds. Whatever. Results don't really mean much in March. Someone, somewhere was impressed by Carpenter according to Olney. That's sort of cool but spring is always full of "this random guy looks great" stories.
Regardless of how he's looked this spring, Carpenter is filling an important role with the Yankees as the No. 2 right-handed reliever behind Dellin Betances. Pretty quietly too. Carpenter hasn't gotten as much press as Miller, Shreve, Jacob Lindgren, or pretty much every reliever in camp so far this spring. I guess that makes sense — Miller was a big free agent pickup, Shreve is trying to make the team, and Lindgren was the team's top draft pick this year.
Carpenter had a 1.78 ERA in 2013 and a 3.54 ERA in 2014, but his peripherals were very close those two seasons: 28.9 and 25.9 K%, 7.8 and 6.2 BB%, 38.2 and 37.6 GB%, 0.69 and 0.74 HR/9, and 2.83 and 2.94 FIP. There's a little of the normal year to year fluctuation in there but for the most part his 2013 performance was in line with his 2014 performance aside from the whole runs allowed thing. More importantly, look at Carpenter's platoon splits across 2013-14.
| | IP | wOBA | FIP | K% | BB% | GB% | HR/FB% |
| --- | --- | --- | --- | --- | --- | --- | --- |
| vs. RHP | 72.1 | .265 | 2.52 | 28.0% | 5.4% | 37.7% | 7.2% |
| vs. LHP | 54.1 | .284 | 3.37 | 26.6% | 9.2% | 38.2% | 8.8% |
Like most relievers, especially fastball/slider guys, Carpenter is less effective against hitters of the opposite hand. It's not a huge platoon split, but it's enough of a split that Joe Girardi will probably opt for Miller or Wilson against a tough lefty in a big situation in the late innings of a close games.
The new splitter could be a difference-maker for Carpenter, however. It could better allow him to combat left-handed hitters and become an even greater weapon late in the ballgame. And maybe the pitch is something McCann can help him develop. Carpenter has said he greatly enjoyed throwing to McCann while with the Braves and perhaps he's more comfortable using the splitter in meaningful games with his old friend behind the plate. It's one thing to toy with it in Spring Training, it's another to use it in the seventh inning of a one-run game in the regular season.
Either way, splitter or no splitter, Carpenter has the tools to be an effective late-inning reliever. He's done it the last two years and he'll be expected to do it again in 2015. If he can develop that splitter a little bit — it doesn't need to be a great pitch, just something to put in the back of a left-handed hitter's mind to keep him off the fastball and slider — Carpenter would become even more of a weapon for Girardi. For now, he's the No. 2 righty behind Betances, and that itself is a pretty significant role.