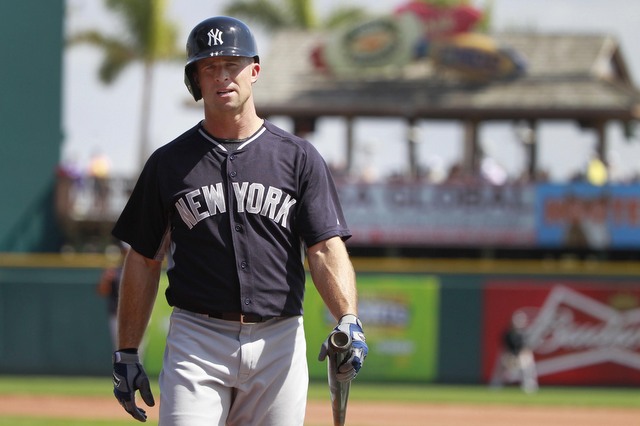 For the first three or four months of the 2014 season, Brett Gardner was the Yankees' best position player. He signed a four-year, $52M extension in Spring Training and rewarded the team by hitting .284/.363/.467 (133 wRC+) with 15 homers in his first 462 plate appearances of the season. Gardner was a middle of the order hitter batting leadoff.
A late-season abdominal injury hampered Brett down the stretch — he hit .185/.232/.306 (46 wRC+) with two homers in his final 174 plate appearances — yet he finished the season with a still solid .256/.327/.422 (110 wRC+) batting line to go along with his typically strong left field defense. The abdominal injury was bad enough that Gardner had surgery after the season.
Coming into the 2015 season, Gardner is clearly a core player for the Yankees, and not just because he's homegrown. He's arguably their best all-around position player — no worse than their third best position player behind Jacoby Ellsbury and Chase Headley — and will occupy a prominent lineup spot for the third straight season, likely leadoff or the two-hole. That comes with a lot of responsibility.
Yankees Need: The Table Set
Regardless of whether he bats first or second, Gardner is going to be tasked with setting the tone for the offense. The Yankees don't have as much power as they once did, so now their offense is built on stringing together rallies, running the bases well, and old school run manufacturing. That starts at the top of the lineup with Gardner (and Ellsbury). Get on, distract the pitcher, raise some hell on the bases, and wait for someone else to drive you in. That's Brett's offensive job in a nutshell.
Gardner Can: Get On Base, Maybe Steal More Bases
Not counting his injury shortened 2012 season, Gardner has posted .345, .344, and .327 OBPs in his last three full seasons. And, as I mentioned before, he was sitting on a .363 OBP in early-August last year before the abdominal injury more or less rendered him useless. That's Gardner's game right there. He doesn't hit for a high average — he's consistently been in the .255-.275 or so range as a big leaguer — but Brett has always posted an above-average walk rate (8.8% last year, 10.0% career) and been an on-base guy.
The on-base stuff isn't much of a question going into the new season. Gardner's not old and he's been getting on base at a similar clip his entire career, so there's not much of a concern things will change this year. He's fairly predictable in that regard. Stealing bases is another matter. Gardner stole 47 and 49 bases in 2010 and 2011, his first two full seasons, and then only 24 and 21 bases in 2013 and 2014, his last two full seasons. Furthermore, his stolen base attempt rate (steal attempts per opportunity) has dropped from 23.3% to 25.8% to 14.3% to 10.4% in his last four full seasons.
For whatever reason, Gardner simply isn't stealing as many bases as he once did. Part of that is age — a 29-30-year-old player probably won't attempt as many steals (or be as successful) as the same player during his age 26-27 seasons — and I'm sure part of it is injury. Gardner attempted 19 steals in the first half and only seven in the second half last season due to the abdominal injury. There are multiple factors in play here, at least one of which (last year's injury) is in the rear-view mirror. Gardner's job is to get on base first and foremost, and while the days of 45+ steals are probably over, I'm hopeful he can get back over 30 steals in 2015 with good health.
Yankees Need: More Of That Power, Please
After hitting a career-high eight homers in 2013, Gardner more than doubled that total with 17 long balls last year. It wasn't just a Yankee Stadium thing either — he hit eight homers at home and nine on the road. Nine of the 17 were classified as "plenty" or "no doubt" by Hit Tracker too, meaning they cleared the wall by at least ten feet. Were there some cheapies? Of course. That comes with the ballpark. Brett hit more than a few bombs though. It wasn't all luck. I don't think anyone is expecting Gardner to hit 17 homers again in 2015, but double-digits? Yeah I think the Yanks are counting on that.
Gardner Can: Pull The Ball, Ambush Fastballs
Since the start of the 2013 season, eleven of Gardner's 25 homers have come on the first or second pitch of the at-bat. Eight of those eleven (and 18 of the 25 overall) have come on fastballs. It's become clear these last two years that Brett will pick his spots to sit on a fastball early in the count and straight up ambush. He's not a power hitter by trade, so pitchers usually try to get ahead with fastballs, and Gardner has reacted by sitting heater and trying to go yard on occasion. Not all the time, just sometimes.
Furthermore, Gardner has also learned how to pull the ball in recent years, allowing him to better take advantage of Yankee Stadium's short right field porch and maximize his power in general. Hitters generally hit the ball with the most authority when they pull it. Here are Gardner's percentage of batted balls pulled to right field in the air over the years:
2008: 15.6% (141 PA)
2009: 19.4% (284 PA)
2010: 20.7% (569 PA)
2011: 17.9% (588 PA)
2012: 10.0% (37 PA)
2013: 22.0% (609 PA)
2014: 30.2% (636 PA)
He's pulled more balls in the air these last two seasons — especially last season, when only eleven qualified hitters pulled the ball in the air more often than Gardner — and that's led to the uptick in power. Former hitting coach Kevin Long helped Robinson Cano become a superstar by teaching him how to pull the ball with authority and it appears he may have done the same with Gardner. Remember, Gardner wasn't hitting nothing but cheapies. Most of last year's homers cleared the wall with plenty of room to spare.
Between his tendency to ambush fastballs early in the count and his newfound ability to pull the ball in the air, there's reason to think Gardner's power display last season is for real. Maybe he won't hit 17 homers again, I'm willing to bet that was his career power year, but maybe he won't be limited to single-digit homers going forward. That's assuming new hitting coach Jeff Pentland doesn't make any drastic changes.
Yankees Need: Dominate In Left Field
The Yankees have morphed into a run prevention team and that starts in the outfield with Gardner (and Ellsbury). Left field in Yankee Stadium is not small like right field, there's a lot of ground to cover out there, so Gardner's speed and range is not insignificant. His defense allows Ellsbury to shade towards right to cover for the range-challenged Carlos Beltran, so having Gardner in left also helps improve the defense in right-center. The Yankees are going to have to keep opposing hits and runs to a minimum next year to contend, and Gardner is a huge piece of that puzzle.
Gardner Can: Play Strong Defense
Anecdotally, Gardner played very good defense in left field lat year but wasn't quite as outstanding as he was in left field from 2010-11. The various defensive stats agree too. Here are the numbers:
DRS
UZR
Total Zone
2010
+26
+25.8
+26
2011
+23
+26.1
+23
2012 (only 15 games)

+1
+0.5
-1
2013
Played CF
2014
+3
+2.3
+1
So yeah, in his first full season as a left fielder since 2011, Gardner's defense last summer did not appear to be as good as it once was. That doesn't mean it was bad. He just went from arguably the best defensive left fielder in the game to slightly above-average. Gardner is clearly still an asset in the field, but his days as an otherworldly defender may be over.
Yankees Need: Stay Healthy!
This is pretty straight forward. Because he is one of their better players, the Yankees need Gardner to stay healthy and on the field. The Chris Young/Garrett Jones platoon would be a capable fill-in left fielder but a downgrade on both sides of the ball, as would minor league options like Ramon Flores and Tyler Austin. Gardner's important! The Yankees need him on the field as much as possible.
Gardner Can: Stay Healthy, Knock On Wood
Aside from last year's abdominal injury (as far as we know) and the oblique strain he suffered last in September 2013, Gardner's major injures have been flukes. He broke his thumb sliding into second base in 2009, needed a wrist debridement after being hit by a pitch in 2010 (he played through it in the second half and had surgery after the season), then suffered a bone bruise in his elbow making a sliding catch in 2012. Hopefully Brett avoids anything unfortunate like that and can stay on the field in 2015. The Yankees need him.