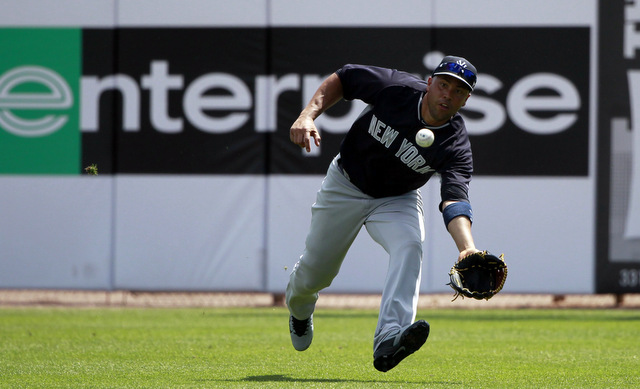 The Yankees had their first off-day of the Grapefruit League schedule yesterday and return to action later tonight, when CC Sabathia makes his spring debut. That's sort of a big deal. It's been a long time since the big man pitched in any sort of game situation. Anyway, here are some thoughts on this Tuesday morning.
1. Needless to say, Sabathia's outing is pretty important, just like Masahiro Tanaka's spring debut was important last week. The results don't really matter, but does he make it through the outing in one piece? Does his stuff and/or command look further compromised following the injury? Sabathia is 34 years old with nearly 3,000 career innings on arm. I'm not expecting any velocity to come back with a healthy knee. I just want to see him do a better job of keeping the ball out of the middle of the plate. Hopefully with a more stable landing leg and improved balance from the additional weight — that sounds weird but it's something Sabathia has mentioned as a positive — Sabathia can hit the corners and drive the ball down around the knees consistently. If he does that, I think he'll be effective. Maybe not an ace, but someone the Yankees can run out there every fifth day and have a reasonable chance to win.
2. A few weeks ago I noted Chasen Shreve was the extra guy in the bullpen early in Spring Training, not someone scheduled to pitch specific days, which may have meant he was on the outside of the Opening Day roster looking in. Shreve has since joined the ranks of the "scheduled pitchers" and the Yankees have actually made a point of testing him against right-handed batters. In his last outing, Shreve was sent out to face switch-hitter Pablo Sandoval (pop-up) and righty hitters Mike Napoli (strikeout), Xander Bogaerts (walk), Ryan Hanigan (fly out), Mookie Betts (ground out), and Dustin Pedroia (ground out). That's about as good a test as you can find for a lefty reliever in mid-March. Shreve has had success against both righties and lefties in the minors but his exposure to MLB hitters is very limited. Seems like the Yankees specifically sent him out there against the Red Sox to see how he handled all those right-handed batters. He did well and that doesn't mean he's a lock for the roster now, but it didn't hurt his chances either.
3. At this point it's clear Andrew Bailey won't be a part of the Opening Day roster. He has yet to get into a game — he did throw a simulated game this weekend — and there probably isn't enough time in Spring Training for him to show he's ready to face big league hitters. That makes sense. The Yankees have plenty of bullpen options, so they can afford to send Bailey to Triple-A for a few weeks to gauge his actual effectiveness. They don't have to continue to evaluate him in games that count. If Bailey gets on a regular reliever's schedule — pitching in back-to-back games, entering in the middle of an inning, that sort of thing — and handles it well, then the Yankees can call him up. There's no need for him to be on the Opening Day roster at this point. There are too many other quality relievers in the organization to fiddle around with Bailey, trying to see if he can help any. Let him do that in the minors.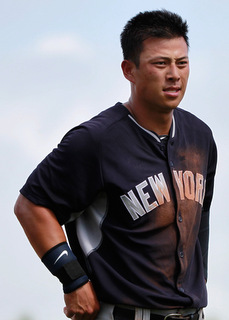 4. Another thing that is clear: Rob Refsnyder was never seriously considered for the second base job. He's seen basically no time in the field with Didi Gregorius — Stephen Drew's been playing with Gregorius so the two could get comfortable with each other as the double play combination — and he hasn't gotten a whole lot of premium playing time. He's the guy coming off the bench with the subs and playing later in games. That's not how teams treat players they want to see win a job, or at least compete for a job. And you know what? I am 100% cool with this. Refsnyder needs more time in Triple-A to work on his defense — this is painfully obvious from watching him play the last two weeks, right? Routine plays have been not so routine with him this spring — and I'm pretty sure I've written that before. He just doesn't look natural at second base, and that's not surprising. Refsnyder was an outfielder as recently as 2012, remember. He'll go to Triple-A and hopefully work on his defense. That's partially why Drew was brought in — to give Refsnyder more time to work on what is a glaring but potentially correctable flaw.
5. Eighteen months ago, the Rangers had an enviable quartet of starting pitchers in Yu Darvish, Derek Holland, Martin Perez, and Matt Harrison. Not a single one of them will be on the Opening Day roster this year. Darvish and Perez will be rehabbing from Tommy John surgery, Holland has been slowed in camp by a shoulder issue, and Harrison is trying to work his way back from a career-threatening back injury. In fact, the entire Rangers organization is a cautionary tale of just how quickly things can go south. Two or three years ago they looked poised to become a perennial powerhouse and World Series contender. Now they're coming off a 95-loss season with a ton of awful contracts and core players dealing with major injuries. The Yankees haven't been great by any stretch of the imagination these last two years, but geez, I'd much rather be the Yankees going forward than the Rangers. Who would have said that a year or two ago? At least New York's disaster contracts are expiring relatively soon.